Simone Biles Poses on Coconut Tree in Photo Taken during Her Belize Vacation
Simone Biles is having the "best Belize" vacation as the gymnast shared her latest lazy pose amid her break from the grueling routine of an Olympic gymnast.
Content with the state of her beach vacation, Simone Biles shared how one of her most favorite places in the world makes her feel. 
"Best Belize you drive me coconuts ?" Simone captioned a picture of herself posing on an oddly shaped coconut tree. But thankfully, the talented gymnast isn't taking in the sights by herself.
While speaking with PEOPLE ahead of the vacation, Simone shared that her family and boyfriend, Stacey Ervin Jr. will also soak up the sun in Belize.
Stacey is a fellow gymnast, and Simone started dating "the man of her dreams" over two years ago. "We're really excited to just go and relax on the beach," Simone said. 
Not surprising that she wants to rest, as Simone has a period of hard work behind her. During the world championships in October, she became the most decorated gymnast in the championship's history.
With a total of 25 medals earned, Simone surpassed Belarusian Vitaly Scherbo's 23, but she also holds the title as the gymnast with the most gold medals earned at a single Olympics. She won four during the 2016 Rio Olympics, and with 19 world titles under the belt, Simone Biles is not the most decorated American gymnast ever.
Said to be redefining gymnastics, Simone dominates every event she competes in, and there are even complex moves named after her abilities, like the double-twisting double tuck dismount off the beam, and the triple twisting double tuck on the floor. 
But her gymnastic abilities not only astound viewers of the competitive sport but also Simone herself, as she reportedly said:
"Sometimes I wonder how I do it. I feel like it's just like not me. I wish I could have an out-of-body experience to witness it because sometimes I think I'm going crazy."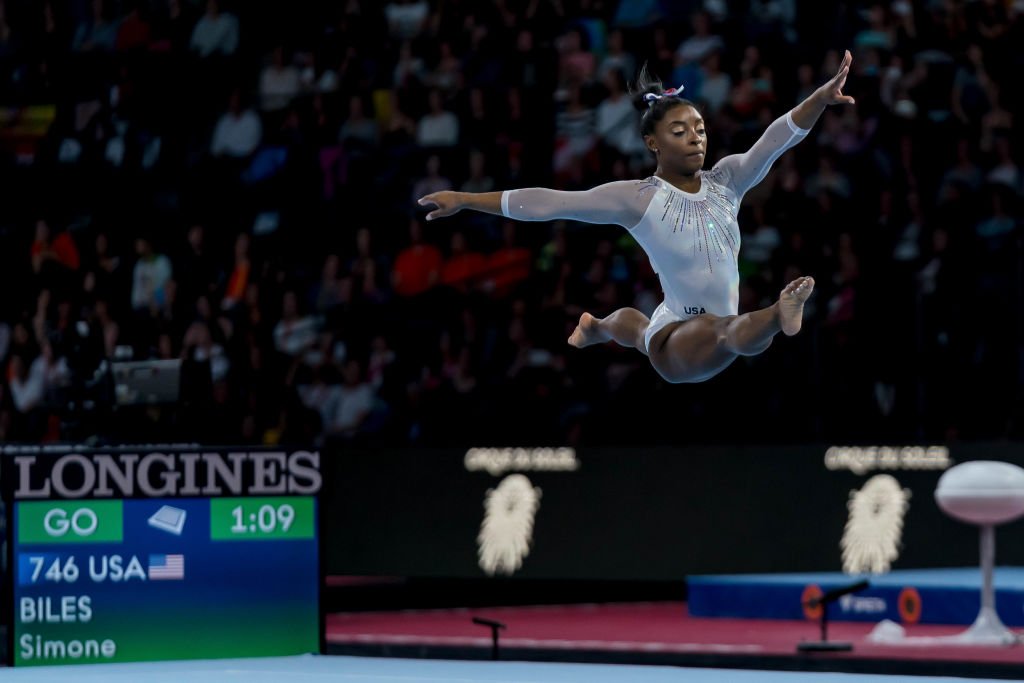 Even though Simone Biles had previously said that she plans on retiring after next year, she is still working towards competing in the Tokyo 2020 Olympics.
The talented gymnast also celebrated the earning of another coveted title earlier this year. Shortly after Simone's historic win in Germany in October, the 22-year-old also got named "Female Olympic Athlete of the Year" by Team USA.