Dwayne Johnson Cradles Baby Yoda and Can't Wait to Introduce Him to His Brother Kevin Hart in a Hilarious New Meme
Dwayne Johnson and Kevin Hart's bantering bromance continues as "The Rock" posts a humorous baby Yoda meme about introducing the little guy to his "son" Kevin Hart.
The magic between comedian Kevin Hart and wrestling actor, Dwayne Johnson is officially on display in films like "Central Intelligence" and "Jumanji." But their rapport is just as prolific offscreen, and it shows up on social media when the two friends interact.
Dwayne's meme is just the latest in what has become a standing joke whereby the actor refers to Kevin as his son. "The Rock" modified an original picture taken with his daughter shortly after her birth last year, so it instead looked like a baby Yoda cradled in his arms.
"Thank you all so much for your well-wishes, love & support. Can't wait to bring this little nugget home to meet his brother @kevinhart4real," Dwayne captioned the snap. Comedian Amy Schumer and rapper Busta Rhymes couldn't help but comment on the hilarious picture: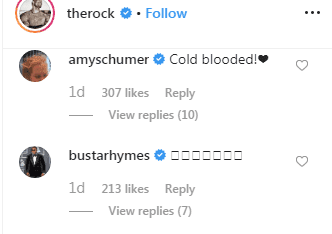 However, it's not the first time the pair used the original image to create funny memes. On April 20, Kevin shared the same picture of Dwayne, but instead of baby Yoda, the actor cradled baby Kevin. "The Internet will forever be undefeated. This is hilarious," Kevin captioned the image.
Kevin followed up on the humorous picture by doing the same in return. The comedian used a photo taken with his baby daughter and simply pasted Dwayne's head over hers. Alongside the post, Kevin explained how his actions the previous night became the cause of his plans of taking baby Dwayne to Disneyland.
When Halloween came to pass, Kevin Hart grabbed the opportunity to poke more fun at his friend. And the comedian dressed up as a 90s version of "The Rock," complete with the jeans, black turtleneck, the chains, and of course, the fanny pack.
Dwayne and Kevin first met about "two or three years" before they worked together on "Central Intelligence" for the first time in 2016. The pair attended the same awards show and quickly found out that they share "crazy chemistry."
"If we never do another movie again, then I know I got a brother for life who I have this crazy chemistry with," Dwayne said. "It's like having a brother. We talk [expletive] to each other. We give each other [expletive]. We compete with each other, but we have fun."
Kevin Hart gave everyone quite the scare in September when he suffered severe back injuries after being involved in a car accident. 
Still continuing with physical therapy after major surgery, the comedian says he feels "blessed to be alive" as the near-fatal accident had Kevin re-evaluate the things most important to him in life.