Oprah Winfrey to Produce Apple TV+ Documentary about Sexual Assault in the Music Industry
Oprah Winfrey will be collaborating with Apple on a new documentary focusing on sexual abuse within the music industry.
Oprah Winfrey has always been one of the loudest voices denouncing the dark and hidden evils of sexual abuse.
Now, Oprah has joined with the new AppleTV+ streaming platform, and one of her aims is to bring the stories of the victims to light and expose the predators hiding in the shadows.
Oprah, who was herself a victim of child sexual abuse, has been a life-long champion of survivors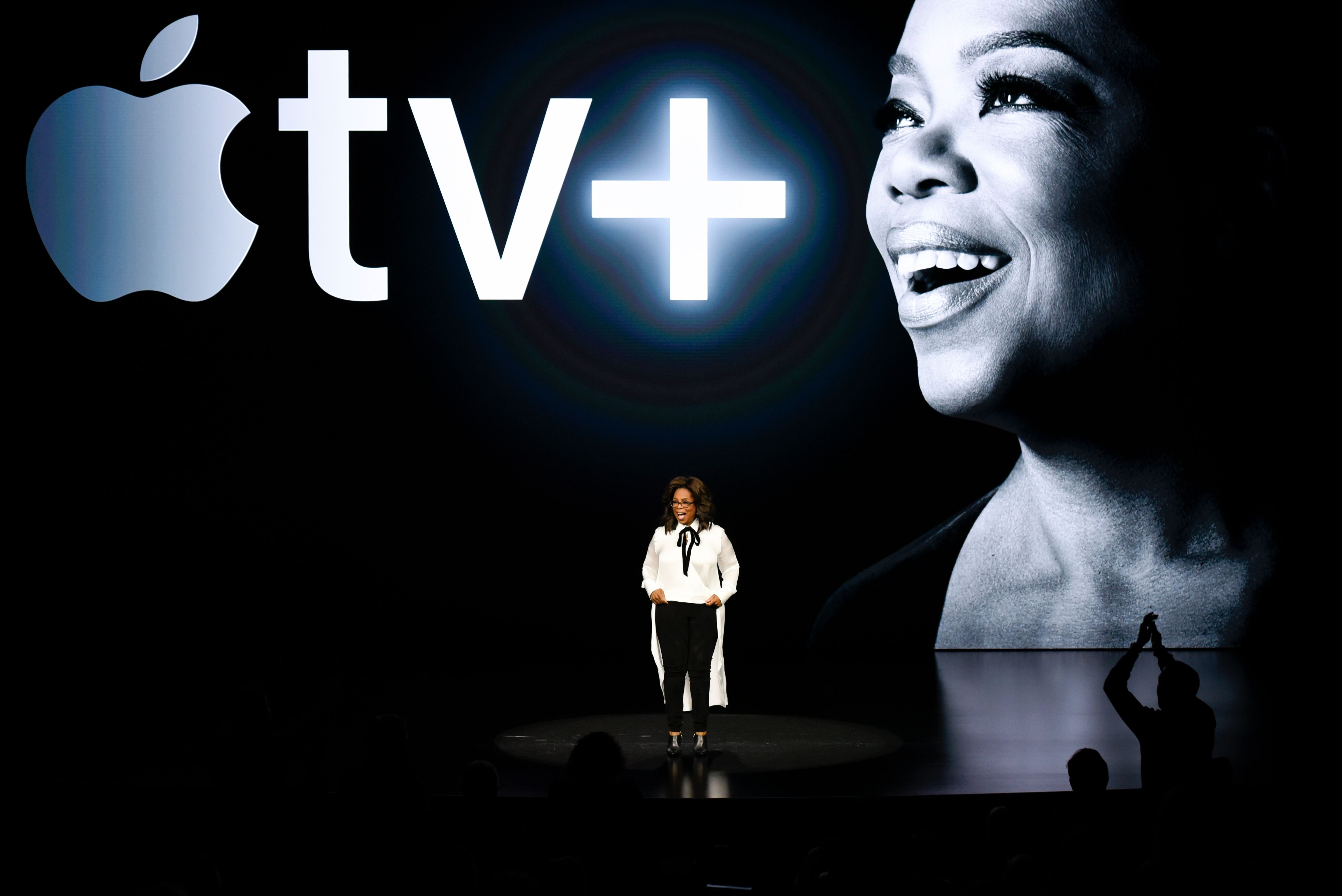 OPRAH WINFREY PRODUCES DOCUMENTARY EXPOSING SEXUAL ABUSE
Oprah's new project with Apple TV + is a documentary that will follow the story of a former music executive at arms with the decision of whether or not to expose her own sexual abuse at the hands of a music industry icon.
Oprah will be working side by side with Kirby Dick and Amy Ziering, who were the creators of the 2012 Oscar-nominated documentary "The Invisible War", which exposed sexual abuse in the U.S. armed forces; and "The Hunting Ground," a documentary about rape culture in college campuses. 
I'm partnering with @tim_cook and @Apple to leave this world a little bit smarter, kinder, and better than we found it. Apple TV Plus launches this Fall. #AppleEvent pic.twitter.com/14fkoi1sU7

— Oprah Winfrey (@Oprah) March 25, 2019
APPLE TV + DOCUMENTARY TO PREMIERE T SUNDANCE
Oprah's as-yet-unnamed documentary is slated for release sometime in 2020 and is reportedly going to premiere at the prestigious Sundance Film Festival. Apple TV + announced:
"The film is a profound examination of race, gender, class and intersectionality, and the toll assaults take on their victims and society at large."
OPRAH WINFREY ANNOUNCES SECOND DOCUMENTARY
Following on the heels of the unnamed documentary, Oprah announces another, also talking as its theme sexual abuse - but this time with a wider focus. The documentary is called "Toxic Labor" and will expose the widespread insidious presence of sexual abuse in the workplace.
Oprah is producing a documentary on sexual assault in the music industry https://t.co/9OdJQzkViD pic.twitter.com/4CYcUACDzv

— Rolling Stone (@RollingStone) December 3, 2019
OPRAH WINFREY ANNOUNCED COLLABORATION WITH APPLE
In her announcement of her collaboration with Apple, Oprah revealed that she will also be working on a multi-episode series on mental health, and resurrecting her beloved book club. She said: 
"I am proud and honored to be a part of this new platform... My intention is to illuminate consciousness and to build greater awareness through compelling conversations … with people in all walks of life."
Oprah, who was herself a victim of child sexual abuse, has been a life-long champion of survivors, giving voice to hundreds of men, women, and children to share their stories on her shows, and raise public awareness of this soul-destroying crime.
It's happening! My first @oprahsbookclub discussion with Ta-Nehisi Coates is now live on @appletv. I was so excited to be with MY PEOPLE from all walks of life discussing one thing: our love for this glorious book. 📚 pic.twitter.com/YvkZkVDjUQ

— Oprah Winfrey (@Oprah) November 1, 2019
OPRAH WINFREY'S BOOK CLUB IS BACK
Ever since she became a talk show host, Oprah Winfrey started an Oprah's Book Club to foment good reading habits and to call the world's attention to the books she most loved.
In her new collaboration with Apple TV +, Oprah is resurrecting her new book club and sharing her favorite reads with viewers.
She has already called attention to Ta-Nehisi Coates' "The Water Dancer " and Elizabeth Strout's "Olive, Again."
We look forward to discovering many more worthy and meaningful stories with Oprah.