Steve Harvey Appears to Mix up Names for Second Time at the Miss Universe 2019 Pageant
History repeated itself when Steve Harvey had another mishap at this year's Miss Universe pageant. Since he announced the wrong winner back in 2015, Steve couldn't help but call it "crazy," when Sunday night took the same disastrous turn.
Contestants came together at Tyler Perry Studios in Atlanta to compete in the Miss Universe 2019 pageant under the watchful eyes of an all-female judging panel.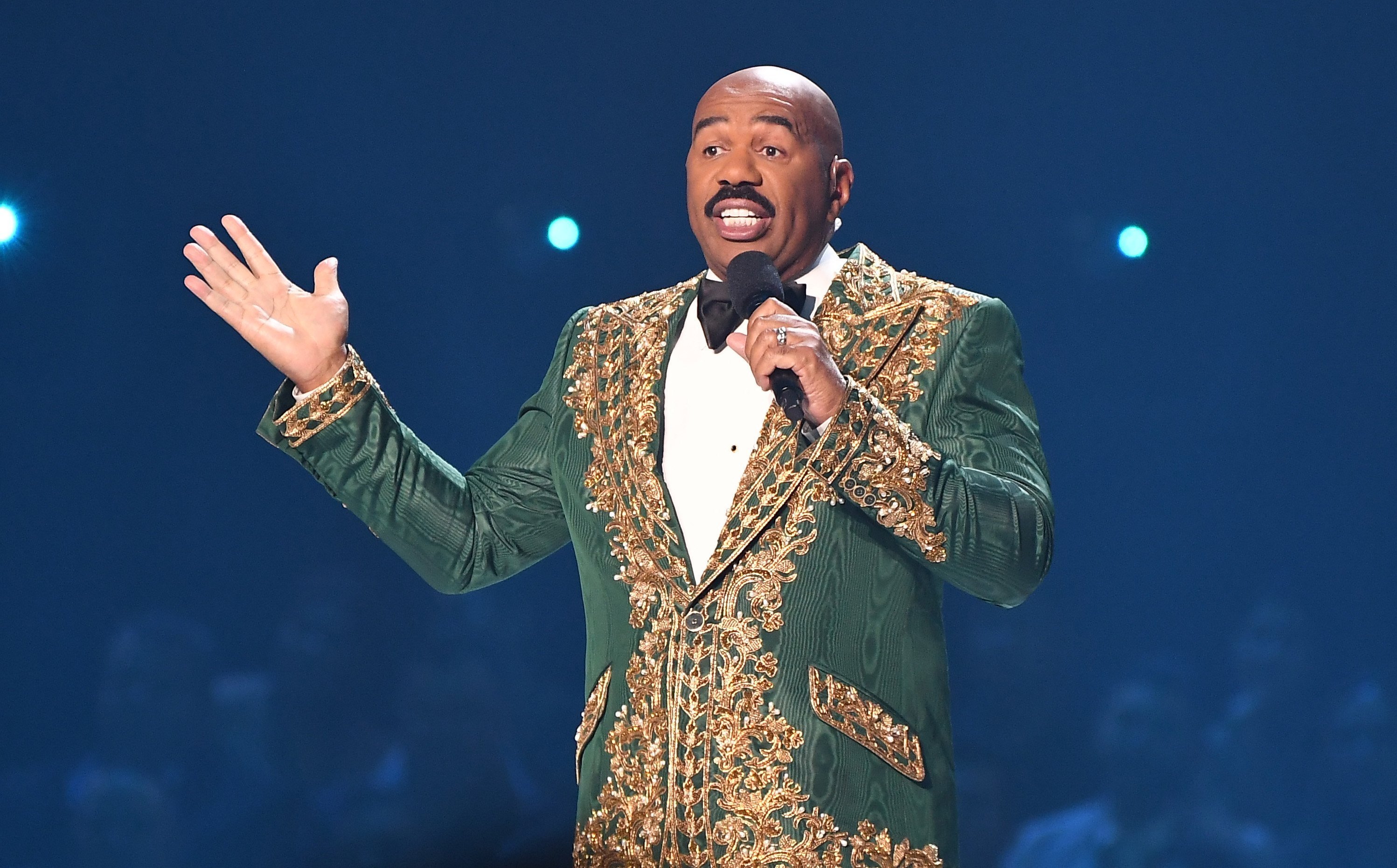 Telemundo television host Gaby Espino, 2018's Miss America Cara Mund, and Paulina Vega, who won the Miss Universe title in 2014, made up this year's judges while Ally Brooke performed during the event.
The crowning of this year's winner went smoothly, as the reigning Miss Universe Catriona Gray of the Philippines crowned Miss South Africa Zozibini Tunzi as her successor. Maidson Anderson of Puerto Rico placed second, while Sofia Aragon of Mexico came in third.
In 2015, Steve Harvey declared the wrong contestant as the new Miss Universe. He had accidentally announced Miss Colombia Ariadna Gutierrez as the winner. Only after Ariadna walked her honorary strut with her new crown, sash and flowers did Steve announce there had been a "horrible mistake."
The winning crown actually belonged to Miss Philippines Pia Alonzo Wurtzbach, with Miss Colombia as the first runner up. Steve later took to social media to offer a public apology to Pia and Ariadna as he wrote:
"I'd like to apologize wholeheartedly to Miss Colombia & Miss Philippines for my huge mistake. I feel terrible."
Miss Colombia calls Steve Harvey's Miss Universe mishap humiliating 'for the whole country' https://t.co/S1TezEH34T pic.twitter.com/Spe7CjQ7PK

— People (@people) December 31, 2015
As a co-host of the event with Vanessa Lachey and Olivia Culpo on Sunday night, Steve Harvey faced a similar situation when the 62-year-old announced the wrong contestant as the winner of the national costume contest.
The 20 finalists for the national costume contest appeared on the stage on Sunday after their preliminary round on Friday. As the big moment came, Steve reportedly said, "Here's a look at the winner, Philippines!"
The actual winner, Miss Malaysia Shweta Sekhon, corrected Steve, and it prompted "The Family Feud" host into a pre-emptive explanation. 
"OK, well, let me explain something to you. I just read that in the teleprompter. Y'all got to quit doing this to me," Steve reportedly said. "I can read. They said now they're trying to fix it now. See, this what they did to me back in 2015. Played me short like that. This is Malaysia. I really love this national costume of Malaysia. This is crazy."
But then came another twist in the story, when the pageant later confirmed via social media that Steve was actually right the first time:
.@IAmSteveHarvey had it right: Miss Universe Philippines Gazini Ganados is the winner of the #MissUniverse2019 National Costume competition! Congratulations, Gazini. 🎉 pic.twitter.com/L8DpAyNL9I

— Miss Universe (@MissUniverse) December 9, 2019
The television host's latest venture also recently came to an end. In October, Steve announced that he wants to find the next comedy star with his Standup Spotlight contest. Hopefuls submitted video clips of their stand-up routines before the cut off date of November 7. On November 8, Steve announced that from "so many great comedians," he chose Ken Miller.
November 8 has special meaning to Steve, who won his first comedy competition on that day in 1985. The win soon led to Steve landing a gig on Apollo and Showtime, which in turn led to his sitcom in the 1990s.
***SPOTLIGHT WINNER***

Thank you to all who participated in the Steve Harvey Stand Up Spotlight Competition! Man there were so many great comedians to choose from.

The Grand Prize Winner, Ken Miller @kenmiller30, Congratulations! I'm looking forward to meeting you man pic.twitter.com/XnLaZnHOv6

— Steve Harvey (@IAmSteveHarvey) November 8, 2019
The talk show host recently had a more relaxing time, when his wife, Marjorie Harvey, celebrated her 55th birthday in October.
Marjorie opted for a private birthday bash in a luxurious Mexican resort, and she showed up in style and ready to party in a floral sequined playsuit with a low neckline.
The jampacked celebration had them dancing into the early hours of the morning, and with Marjorie leading the way, it showed that age is but a number.