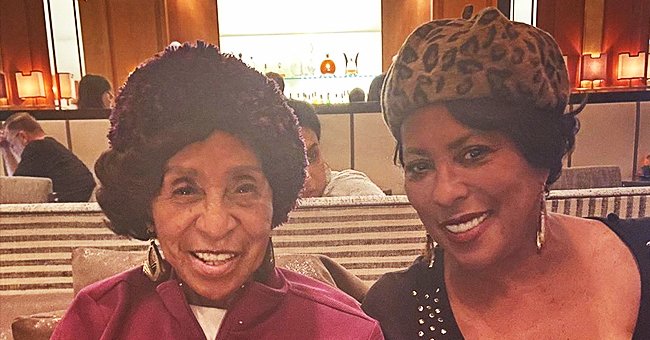 Instagram/angelaegibbs
Marla Gibbs from 'The Jeffersons' Steps out for Date Night with Her Beautiful Daughter Angela Who Looks like Mom
"The Jeffersons" beloved Marla Gibbs went out on a special dinner date with her daughter, Angela.
Marla Gibbs, the last living member of the original "The Jeffersons" cast, went out on a date night with her daughter, Angela, and she posted the photos on her Instagram.
Marla, who is 86, is as spry and as sassy as ever and got into the Christmas spirit at the Blvd Restaurant & Lounge in Beverly Hills.
Marla is the last surviving member of the 70s hit comedy "The Jefferson's" original cast
Marla Gibbs on the "JImmy KImmel Live" show/ Source: Getty Images
ANGELA GIBBS SHARES ADORABLE POST
Marla's daughter Angela shared a series of adorable photos of herself and her mother, the first of which show them standing in front of a gorgeous Christmas tree.
The rest of the photos show mother and daughter having dinner, and Angela captioned the post:
"Thank U @friendsoffullerstrikefest for the gift of dinner for two @theblvdbw we had a great time! See you again soon for another outstanding evening/ fundraiser!"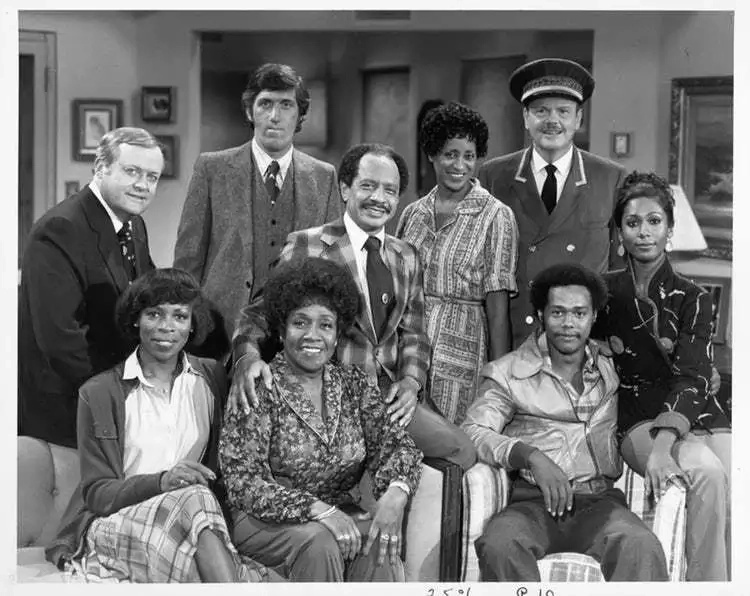 Marla Gibbs and the rest of the cast of "The Jeffersons"/ Source: Wikimedia
MARLA GIBBS - THE LAST LIVING "JEFFERSON"
Marla is the last surviving member of the 70s hit comedy "The Jefferson's" original cast, in which she played the family's sassy and deeply religious housekeeper, Florence Johnston.
MARLA GIBBS' SURPRISE RETURN TO "THE JEFFERSONS"
ABC decided to pay homage "The Jeffersons" and "All In The Family" by reenacting an episode of each, live, with a cast of stars. To the audience's delight and surprise, Marla stepped into her old role.
The cast included for the two shows included Woody Harrelson, Marisa Tomei, Ellie Kemper, Ike Barinholtz, Anthony Anderson and Sean Hayes. Kerry Washington, Will Ferrell, Jackée Harry, Stephen Tobolowsky, Amber Stevens West and Fran Bennett.
ABC had announced that actress Justina Machado would be playing Florence, but when the door opened there was Marla Gibbs, 88, and just as sassy and spry as ever.
Marla's daughter Angela Gibbs followed in her mother's footsteps and is a successful actress, director, producer, writer, and acting coach.
Talent runs in the family!
MARLA GIBBS NEVER GAVE UP HER "REAL JOB"
Back in the 70s, one of the most popular sitcoms around was "The Jeffersons." Marla Gibbs was chosen to play Florence, Jefferson's housekeeper, but the young actress didn't let fame go to her head.
While she was trying to make it as an actress, had Marla worked as a reservation clerk at United Airlines, and after she won her breakthrough role for which she won 5 Emmy nominations, she refused to give it up.
It was years before Marla quit her part-time position at United Airline, and concentrated solely on her acting. At 88, she has over 80 films and TV shows to her credit.
Please fill in your e-mail so we can share with you our top stories!