Tom Brady and Gisele Bündchen Are Parents to 3 Kids - Meet Their Blended Family
Tom Brady and Gisele Bündchen are doting parents to three beautiful children — Benjamin, Vivian, and Jack. Get to know their blended family.
In June 2019, Gisele took to Instagram to share an adorable photo of her husband Tom and their three children, Benjamin, Vivian, and Jack.
In her heartwarming post, the supermodel wished Tom Happy Father's Day, adding that there are no words to describe how much he means to her and their children.
THE GREATEST FATHER
Gisele said in her post that there's nothing that they love more than being with him.
The model added that other than being the best tickler, pancake maker, and hair cuter on the planet, Tom is undoubtedly the best father. She continued:
"Thank you for always making us feel safe and for loving us the way that you do. We love you so much!"
ONLY TWO BIOLOGICAL CHILDREN
As reported by Closer Weekly, Gisele and Tom got married in 2009. Together, they have two children: son Benjamin, born in December 2009, and daughter Vivian, born in December 2012.
Tom and Gisele are the caring dad and stepmother of the Super Bowl winner's first child, son Jack, born in August 2007.
"Two months into our relationship, Tom told me his ex-girlfriend was pregnant."
TOM'S RELATIONSHIP WITH BRIDGET MOYNAHAN
Tom dated actress Bridget, who is known for her role in the police drama "Blue Bloods," in 2004.
However, their relationship ended sometime in early December 2006.
In February 2007, Bridget confirmed to People magazine that she was more than three months pregnant with Tom's child.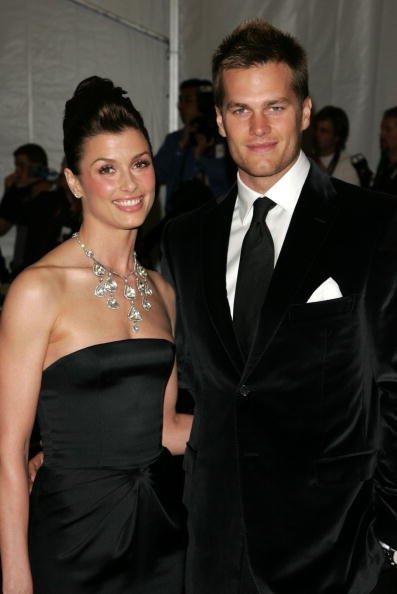 THE LOVING STEPMOM
Gisele has alluded to Jack as her "bonus child," according to Closer Weekly.
In her 2018 book, "Lessons: My Path To A Meaningful Life," Gisele discussed how Bridget's pregnancy truly messed her up. She wrote:
"Two months into our relationship, Tom told me his ex-girlfriend was pregnant. The very next day the news was everywhere, and I felt my world had been turned upside down."
EMBRACING HER ROLE AS THE STEPMOTHER
Gisele was crushed, but she chose to stick by the athlete. She has since embraced her role as the stepmom of Jack.
She wrote in her book that Tom's oldest kid helped her heart expand in ways she didn't know was attainable.
Gisele also wrote that Jack's birth really incited her and Tom to have kids not long after. 
In 2017, Benjamin captured everyone's attention by dancing and dabbing at the Patriots victory parade, as reported by Cheat Sheet.
According to Tom, Benjamin is additionally excellent at hockey and likes skiing. Meanwhile, Vivian enjoys watching her father play football, like her brothers. In fact, she usually dons her father's jersey.
At present, Vivian isn't associated with sports, but Tom holds that in the future, she's going to get into tennis or soccer.