Blake Shelton Talks about John Legend's Sexiest Man Alive Title & Appears to Suggest People Magazine Got It Wrong
During a recent interview with Ellen DeGeneres, Blake Shelton put his teasing sense of humor on full display. According to the iconic country singer, PEOPLE magazine got their wires crossed when they named John Legend the latest "Sexiest Man Alive."
On Friday, Blake joked his way through a sit down with Ellen as they spoke about his Grammy expectations, changes on "The Voice," his relationship with Gwen, and Blake's new take on John Legend's title as the "Sexiest Man Alive."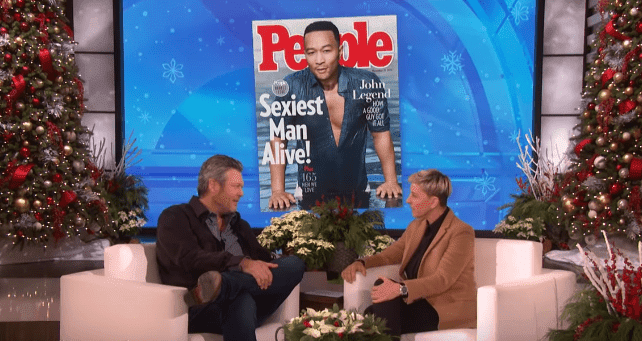 THE CORRECTION
You got it wrong," Blake jump-started the conversation with Ellen. Blake promptly reminded her of previously stating that he is no longer the sexiest coach on "The Voice," and with a straight face, Blake shared that PEOPLE will be bringing out a new "Sexiest Man Alive" edition and that he is still the sexiest of them all. 
The news left Ellen "very confused," since the magazine features John Legend on the cover of their "Sexiest Man Alive" edition. 
"I love PEOPLE magazine, but everybody has the right to be wrong sometimes," Blake jokingly explained.
BLAKE JOKES ABOUT JOHN
The audience roared with laughter, and for better understanding, Ellen felt curious about the dynamics on set at "The Voice." She wanted to know whether its a topic they avoid, or if Blake is playing along. So Blake said:
"You know, he lives in a different parallel universe, existence, then the rest of us. He is very sensitive, so I don't pick on him about things like that."
BLAKE ON HIS GRAMMY NOMINATION
Blake snagged the "Sexiest" title in 2017, and he may endlessly tease John Legend about it, but the country singer also made waves with his music this year. Despite winning a PEOPLE's Choice Award, a CMA Award for Single of the year, and a Grammy nomination, Blake doesn't think it will turn into a Grammy win. 
After being nominated eight times, as Ellen's crew on her show had to correct them, Blake still feels like its "cool" but doesn't hold his breath for the big reveal. The country singer will also have to get used to not having girlfriend Gwen Stefani with him as a coach on "The Voice," as the conversation turned to Nick Jonas.
BLAKE'S VIEW ON THE NEW COACH
Nick announced on Ellen's show that he would be replacing Gwen as a coach, and with season 18's blind auditions already taped, Blake shared his views on Nick after joining the team
"I've met him a couple of times before; he is a super nice guy. He is a sucky coach, let me tell you that right now. Terrible, horrible coach. A lot of these girls are making terrible decisions in the blind auditions. I'll leave it at that," Blake joked.
JOHN AND BLAKE 'TOO SEXY'
The coaches like to joke around on set, and when John Legend became "Sexiest Man Alive" earlier this year, he and Shelton made the most of the opportunity. To get to the reason for their hotness, John and Blake discussed the topic on an episode of "Trailer Talk with John Legend."
It didn't take long before both men credited their beautiful better halves for their sexiness, and in honor of their shared achievement, John and Blake started performing Right Said Fred's "I'm Too Sexy," wherein they were "too sexy for 'The Voice.'"
NEXT LEVEL NICK
Blake and John may be "too sexy" for the show, but Nick is "next level." Friday saw the release of his latest film, "Jumanji: Next Level" as the video-game avatar Jefferson "Seaplane" McDonough. It came hot on the heels of the November release of "Midway," wherein Nick stars as a real-life World War II hero named Bruno Gaido.
As Nick settles into his new duties as a coach on "The Voice," he feels confident in standing his ground, even though he didn't find an ally as he expected. Much to Nick's surprise, he found a nemesis in Kelly Clarkson who "regularly" battle it out with him.
Gwen Stefani served as a coach on "The Voice" for the fourth season this year, and although fans are "deeply" saddened by her departure, others are thrilled to have Nick Jonas join the veteran team of coaches.
NBC's President, Meredith Ahr, also expressed the entertainment group's delight at a member from "one of the hottest" pop groups joining "The Voice." As they expect his "exceptional" skills in navigating the music industry to be of great value to up and coming artists.