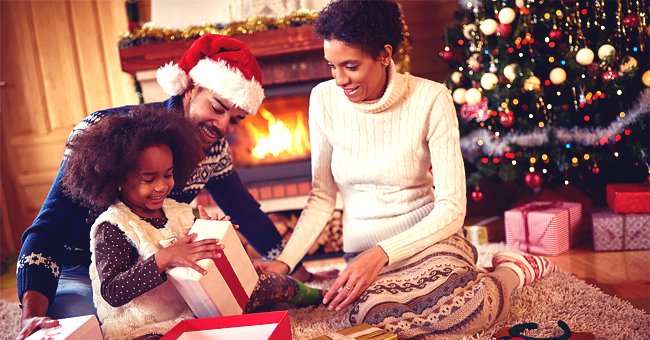 Shutterstock.com
Christmas Traditions like Hanging Stockings, Milk & Cookies for Santa, Mistletoe and Where They Came From
It's the yuletide season. As you go on to anticipate all of Santa's goodies, gracious treats and wholesome love from your families and loved ones, there are ten intriguing facts associated with this season that you are yet to know.
A fascinating truth about the end of the year holiday which ushers in the Christmas special celebration is that it promotes the practice of some traditions that have been passed down through generations. These practices have fascinating histories; they include: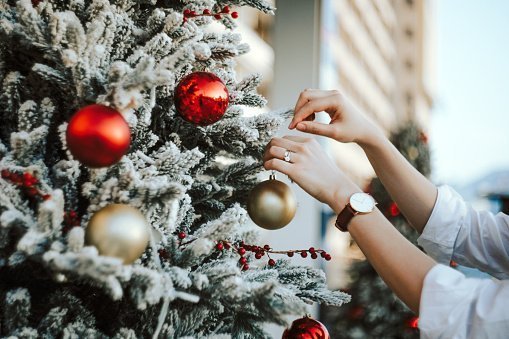 Woman decorating and hanging baubles on Christmas tree | Photo: Getty Images
10. The Ever-Green Themed Christmas Tree
Significantly, families around the world erect beautifully decorated Christmas trees in their homes for the Christmas celebration. Some put up green trees and finishes up with lights, balls, artificial apples, stars, candy sticks; the list is endless.
The history of this practice dates as far as the Renaissance period in Europe, when the German guilds embraced the tradition of planting ever-green trees for house decorations.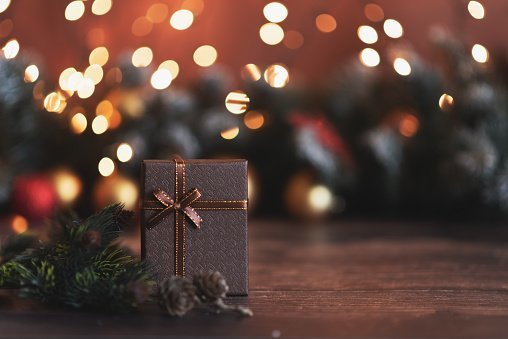 A wrapped Christmas box under a Christmas tree | Photo: Getty Images
However, Christians began to decorate it with edible fruits like apple and nicknamed it "Paradise Trees," which draws symbolism with the Adam and Eve biblical story.
Queen Victoria, an English monarch who married a German man, popularised this practice, and today millions of real Christmas trees are sold in the U.S annually.
Although a parasitic plant, it has always been believed to possess fertility and vitality as it stands firm in the coldest of winters. In modern times, lovers display a lot of affection by kissing their partner while standing under it.
The history of the importance of this tradition began in the 18th century with British servants, and then it gained popularity with its widespread practice, as men stole kisses from women standing under the plant to test their luck.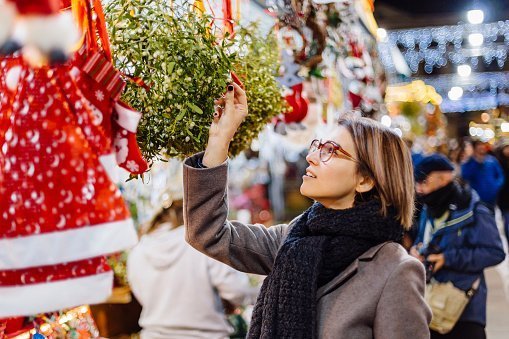 A young woman buying mistletoe at the Christmas Market | Photo: Getty Images
08. Christmas and Stockings Hung
This is a common practice by most families, and there are several tales associated with this tradition. Stockings hanging was popular with kids who expected treats from Saint Nicholas after his donkey must have eaten the hay left in the stockings overnight.
This type of singing is as old as Victorian England when the older practice of house to house singing paired with festivities.
06. Unattractive Christmas Sweaters
In an attempt to celebrate this particular season, numerous individuals rock the Christmas knitwears with unimpressive decorations. This fashion trend was notable among grandparents, unfashionable parents, and teachers.
However, after the 2001 Vancouver gathering, every Tom, Dick, and Harry puts on this assemble for Christmas.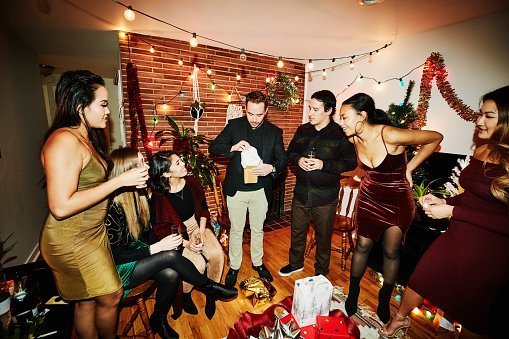 Man opening present during holiday party with friends | Photo: Getty Images
Ho, Ho, Ho, there's never a Christmas without Santa! The potbellied, white-bearded bringer of gifts. This tradition is affiliated with the tale of a Turkish man named Saint Nicholas, who had a big heart and helped people while he was alive.
The Americans call him Santa Claus, the French, Pere Noel, and the Dutch, Sinterklaas.
Christians believe that this season simultaneously matches the birth of Jesus Christ, and baby Jesus received gifts from three wise men.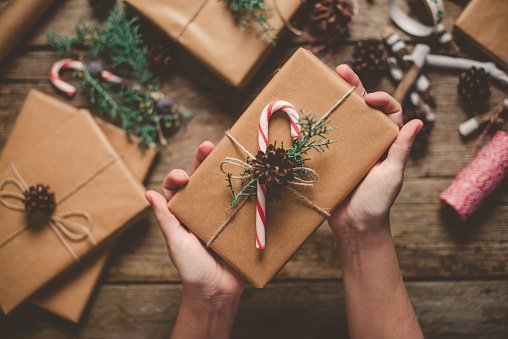 Person holding Christmas gift | Photo: Getty Images
Setting aside milk and cookies overnight for Santa has its history in a Norse myth. The myth tells of an eight-legged horse that got gifts from kids who wanted favors from his master.
02. Sending Out Christmas Cards
America holds a record of sending two billion cards annually. This practice was born in 1843, and the first set of Christmas themed cards were designed by a British called J.Horsley.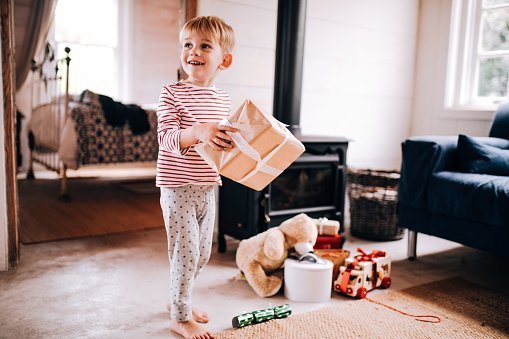 A cute toddler holding a Christmas present | Photo: Getty Images
The green and red colors of Christmas are linked to an exciting significance. The red color is likened to the blood of Christ and was first derived from holly berries. The green is from the ever-green unwavering feature of the ancient Christmas tree.
Hopefully, knowing these facts makes you appreciate the special seasonal celebrations even more.
Please fill in your e-mail so we can share with you our top stories!