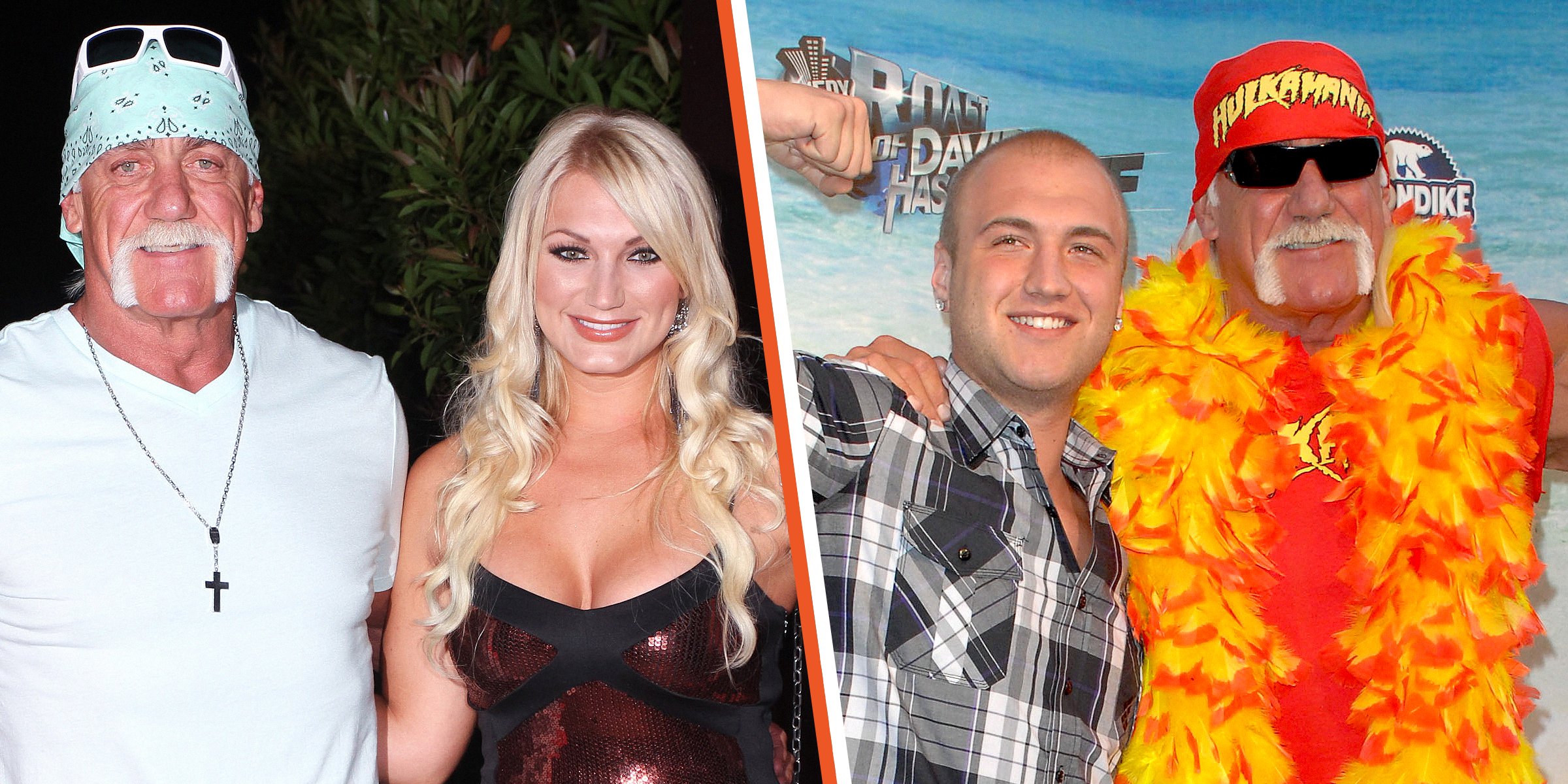 Hulk Hogan and His Children Brooke and Nick | Source: Getty Images
Hulk Hogan Has 2 Children – Meet Brooke and Nick Hogan
Hulk Hogan's children came to the spotlight because of their famous father—he is among the most popular wrestlers of all time. While he showcased a serious face in the ring, he has a soft side and is a devoted father to his children.
Hulk is a loving and caring father who has a close bond with his children. He has a special relationship with his daughter, and occasionally, she pays sweet tributes to her father on social media.
Whether celebrating a special occasion like father's day or just a random occasion, Hulk Hogan's daughter, Brooke Hogan, will always find sweet words to dedicate to her famous father. Besides that, she also shares cute throwback photos of her younger self-bonding with her father.
Hulk is also close to his son Nick Hogan, and from time to time, they do work collaborations, like shooting videos about different types of cars. Hulk Hogan's children were from his first marriage to Linda Hogan.
The pair tied the knot on December 18, 1983, and after 26 years of being together, they went their separate ways in July 2009. Even though the duo divorced, Hulk maintains a strong connection with his children. Here's what we know about Hulk Hogan's kids.
Brooke Hogan
Brooke was born on May 5, 1988, in Tampa, Florida, and her birth name is Brooke Ellen Bollea. Even though she is the daughter of a famous wrestler, Brooke has made a name for herself and is successful in her own right.
In 2007, Nick Hogan was involved in a car crash incident that left his best friend in critical condition.
Brooke is an actress and producer known for the 2012 horror film "Sand Sharks," the action/comedy film "School of the Dead," and the 2009 comedy movie "Little Hercules in 3-D."
Aside from that, Brooke is also a musician, and at the age of 18, she marked a huge milestone in her music career after her song "Everything to Me" topped Billboard's Hot 100 Singles Sales chart in October 2004. Some of the renowned singers Brooke looks up to include Mariah Carey, Alicia Keys, and Stevie Wonder.
Brooke Hogan is ambitious like her father, and it seems she's multi-talented. She is also an entrepreneur who runs BB Designs, an interior design firm based in Nashville. While Brooke is famously known for an extensive career in the entertainment industry, she followed her secret passion for interior design and founded the company in 2018.
She has worked with several property owners by giving them quality services, competitive prices, and a competent team to cater to their interior design needs. Brooke also has an active social media account with a massive following. She keeps her followers updated with her lifestyle.
Brooke was previously engaged to football star Phil Costa, but the two never made it down the aisle. According to Brook's rep, she wanted to focus on her music and wasn't ready for a long-term commitment. Currently, she's reportedly single and likes to spend quality time with her family.
Nick Hogan
Hulk Hogan's son Nick was born on July 27, 1990, in Van Nuys, California, and his birth name is Nicholas Allan Bollea. Like his sister, he has a career in the entertainment industry.
He is an actor known for "Masterminds" and the 2010 horror film "Kill Katie Malone." He also made an appearance on "WWE Smackdown." Aside from acting, he pursued a music career and is a professional DJ. He is also active on social media and has many followers.
In 2007, Nick Hogan was involved in a car crash that left his best friend in critical condition. He was charged with reckless driving and sentenced to eight months in a Florida county jail.
Nick is open about his dating life, and in December 2022, he popped the question to his girlfriend, who is a model and works as his tour manager. He went public about the engagement after sharing a short video of her hand wearing the ring.
Please fill in your e-mail so we can share with you our top stories!