Chrissy Teigen Gets Mad at John Legend for Inviting 'Voice' Cast to Finale Dinner at Their Home without Warning Her
Chrissy Teigen faced a classic husband-wife scenario when John Legend invited over "The Voice" judges without giving her a heads up. She took to Twitter to vent afterward. 
Chrissy Teigen, 34, is known for regularly being outspoken on Twitter. However, fans were still taken aback when she showed just how mad she was at her husband for having celebrity guests over unexpectedly. 
After "The Voice" finale, judges Kelly Clarkson, Blake Shelton, and Gwen Stefani visited the home of Legend and Teigen. Legend's post and Teigen's Twitter rant are found below.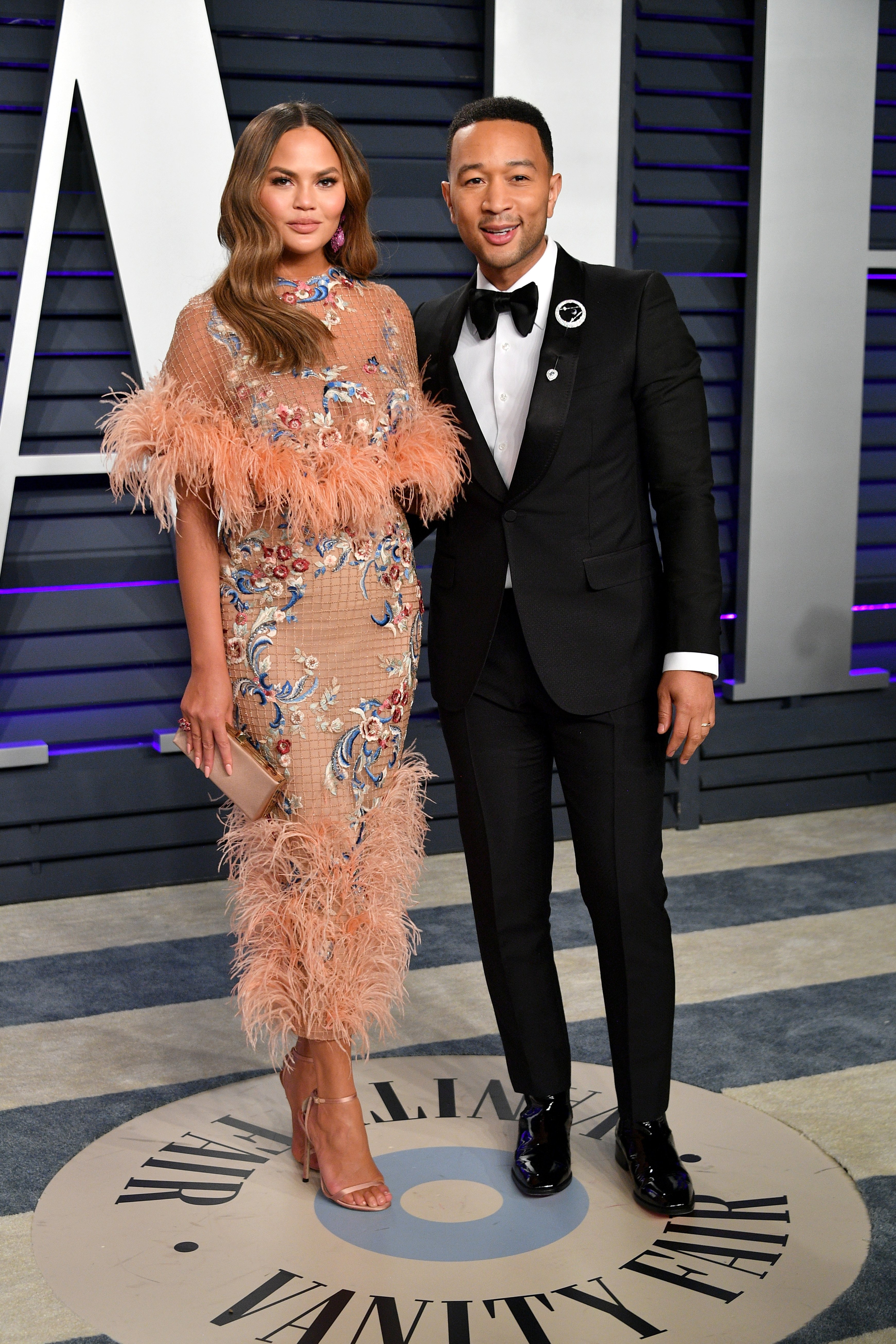 John shares photo of dinner party
Following the season 17 finale of the reality talent show, "The Voice" judges all gathered at the home of the beloved couple to hang out and enjoy a meal. 
Legend, 40, shared a group photo showing all his co-judges as well as his father, Ronald Stephens, his wife, and Clarkson's husband Brandon Blackstock. 
Arguably, Legend and his wife wore the most comfortable clothes — a t-shirt and a white robe, respectively. Teigen references that same robe in one of many furious tweets shared earlier that night.
Teigen's lengthy Twitter rant
Teigen began by revealing she didn't know it was "The Voice" finale that night, and she didn't make a "FINALE meal." In another tweet, she explained that this was a habit of her husband.

Teigen is typically the one who does planning for such occasions, and she was wholly unprepared. She challenged those who criticized her for being angry to say what they would cook for the big stars. 
Teigen posted a few other tweets expressing her rage, though in one of them, she did admit she was laughing, too. "Why does [John] not know how to be extra?" she asked in another. 

The couple go back and forth
As the tweets continued, some fans thought that Teigen had spoiled the finale by revealing who the winner was. She didn't even know herself, asking others who had been awarded the trophy. 
if they show up in their show clothes I will absolutely die in my robe

— chrissy teigen (@chrissyteigen) December 18, 2019
At the last minute, Teigen was able to get some milk bar cakes. Legend also stepped in and ordered a single cake which read — to Teigen's annoyance — "John's Solution Cake." 
At one point, Legend took to Twitter as well and apologized for the distress he had caused his wife. His fans praised him, but Teigen quickly clapped back in the comments. 
I'm working on a solution. I'm sorry for stressing you out! https://t.co/oOumx1thOl

— John Legend (@johnlegend) December 18, 2019
Chrissy does a Q&A 
The whole thing was a grand show for fans of the beloved couple who shared hilarious GIF reactions to the posts. Many of them were happy to see just how much they related to the celebrity pair. 
thanks for working on it at 8pm but like everything in your life, it's been handled

— chrissy teigen (@chrissyteigen) December 18, 2019
Teigen has already established herself as one of the most relatable celebrities these days. When she did a Q&A earlier this month, she gave fans a realistic look at her life as someone of high status. 
Coincidentally, Teigen addressed a question regarding something she dislikes about Legend, and, unsurprisingly, it was his lack of foresight to give her notice about upcoming events. 
scheduling. he will tell me something he knows I didn't hear and get mad when i am confused later. "Hey I'll take Luna to school today also I'm going to Washington DC next week" https://t.co/8hbmxQx7AZ

— chrissy teigen (@chrissyteigen) December 9, 2019
Chrissy celebrates her mother's birthday
Last week, Teigen showed how well she does when she can plan ahead for events. She celebrated her mother Vilailuck's birthday with a gorgeous cake and other goodies. 
The cookbook author later shared photos from the occasion as well as a clip showing how the intricate pho noodle cake fooled her mother. It was a happier time for Teigen then.