Kate Hudson and Boyfriend Danny Fujikawa Pose with Their Kids on the Back of a Truck in Christmas Outfits
Golden Globe Award winner, Kate Hudson has never been one to shy away from social media, especially when it comes to sharing her family pictures and family moments.
This festive period, she shared a cute picture of the family in adorable Christmas costumes. The picture features her boyfriend Danny, eldest son 15-year-old Ryder, 8-year old Bing, 1-year-old Rani Rose, and their cute dogs.
The family is seen posing on the back of a blue mini truck sitting in what appears to be the front yard of their house.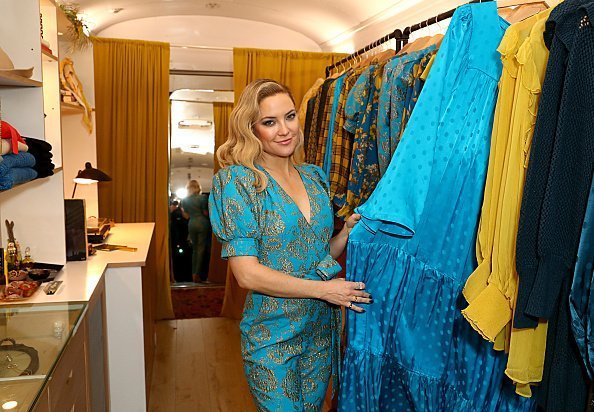 Kate who loves sharing family memories and giving them great captions captioned this post saying,
"We take Christmas MERRY seriously… #SeeHowIDidThat *emoji*. #Don'tMessWithOurXmasGame"
Fans of the celebrity took to the comments section to gush and show their love for the admirable family. One fan said, 
"Heaven on Earth. #FamiliesAreForever *emoji*. Happy Holidays. Cheers to a beautiful family unit."
Another person commented,
"Beautiful Family and happy holidays! Love the little fur-baby. So serious *emojis*"
Kate, who is not afraid to share pictures of her family, has dazzled fans with frame-worthy pictures over the years. Although, it seems not every member of the family pitches in on the pictures she posts.  
In recent times, she posted a video of the family singing to Kate's brother on his birthday, and her eldest son joked that his mother needed to ask him before running these kinds of social media pictures. He commented under the post saying,
"Mom you didn't ask if you could post this *laughter emoji*
Kate, who is mum to three amazing children has always been open about motherhood and how she manages to jug all aspects of her life together to create a balance. 
 "I wish there was a perfect balance," she said. "The truth is, there's not. I just take it day by day, you know?" 
The beautiful mum has had her fair share of broken hearts. Kate was formally married to singer Chris Robinson, whom she had her first child with, but the duo got divorced in 2007.
She then went on to become romantically involved with Matthew Bellamy, whom she had her second child Bingham with. However, love has found Kate again in the form of her friend of over 15 years, Danny Fujikawa.
Kate and Danny, who had been in the same social circles for an extended period of time, got around to dating and the couple could not be happier with the birth of their daughter, Rani Rose.