Kourtney Kardashian Kicks off Skin Care Routine Video with Skit That Features Sparkly Old-School Cell Phone
Kourtney Kardashian showed that she's just as beauty-minded as her sisters when she displayed her skincare routine. The reality star also showed off her acting chops. 
At 40, Kourtney Kardashian is taking the best care of her skin by treating it just before bed at night while consuming a special drink sold by her business. 
In a new video recorded for Harper's Bazaar, she shared a nearly 10-minute clip as she went through her full routine. She opened with a funny skit. The video is found below. 
Kourtney's bossy intro
Kourtney Kardashian might not want to consider a career in acting just yet, but she managed to pull off creating a hilarious intro for a video on Tuesday. 
Dressed in all-black, Kourtney begins by immediately turning around and asking whoever is behind the camera to give her a second. She's wearing a pair of black sunglasses.
Her script was hilarious
"Alright, secure the bag," she said as she ended the call and placed a large, gold cellphone complete with an antenna onto a desk. The phone featured an old-school design that allowed it to stand up.
Kourtney then removed her sunglasses and told viewers, "Time is money. You — come with me." She walks off beyond the frame of the camera. 
Her son loves skincare
The reality star proceeds to get into her eight-step routine. At one point, she reveals that while waiting for her mask to dry, she drinks some of her business' Pink Moon Milk which contains collagen.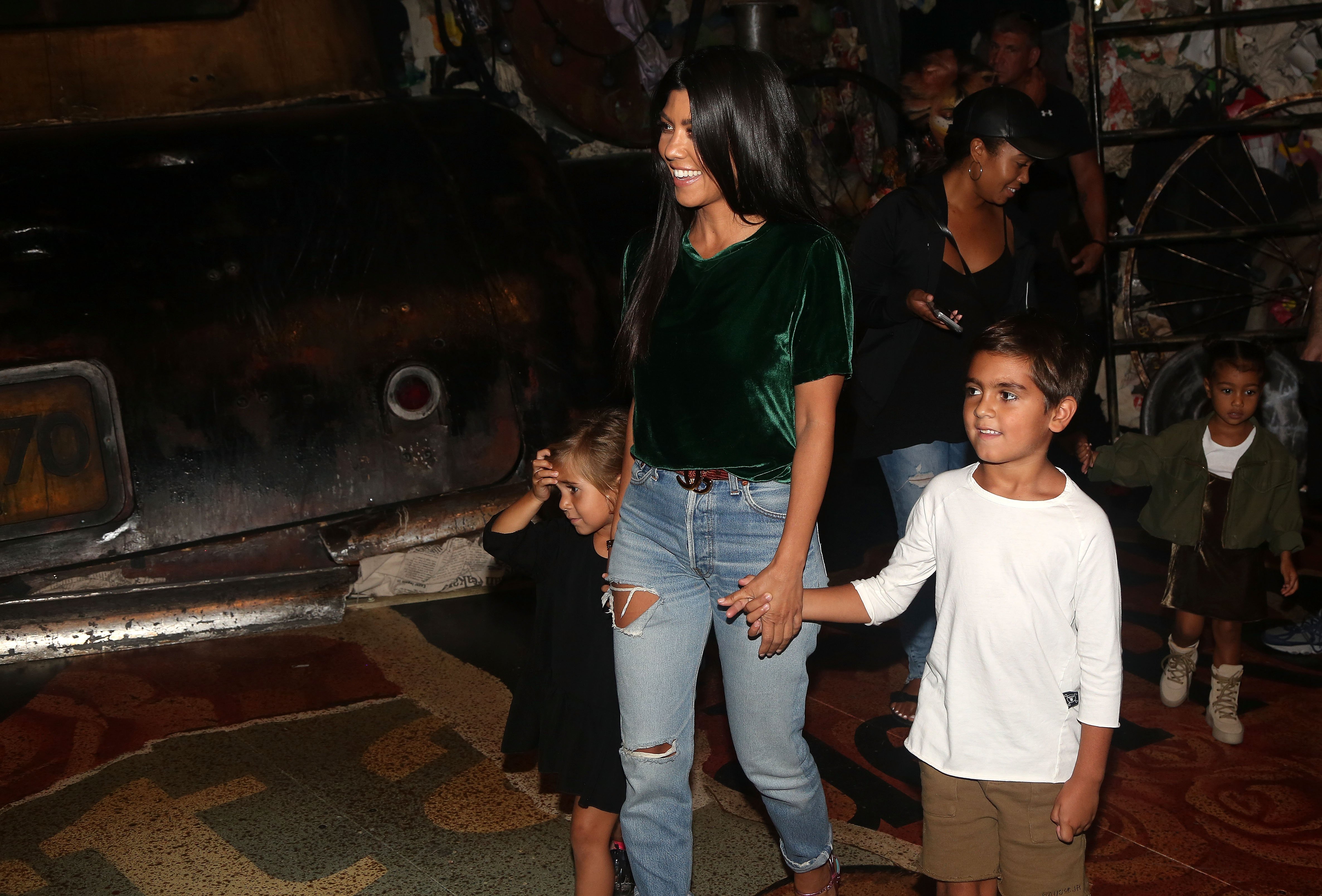 Towards the end of the video, Kourtney mentioned her son Mason Disick, who is a big fan of skincare. It started with Kourtney's mother Kris Jenner, who taught all her children good skincare habits. 
Mason, she said, has a list of all the steps for his routine in his drawer. The "Keeping Up With the Kardashians" star noted that it's important for parents to teach both girls and boys about the practice. 
Mason's sweet birthday post
Kourtney has another son, Reign, five, and a seven-year-old daughter named Penelope whom she shares with ex-boyfriend Scott Disick. Last Saturday, both her boys celebrated their birthday. 
Kourtney shared a sweet Instagram post for Mason, calling him the coolest and sweetest in her caption. She included a picturesque photo of him in a vehicle with an incredible sunset outside. 
Kourtney's kids massage her
Sometimes, the mom-of-three features her kids in more quirky posts. In early December, Kourtney shared an amusing photo showing as two of her kids gave her a massage in Costa Rica. 
The reality star posted the throwback while in Florida. It showed as Penelope and Reign stood massaging her feet and her legs. The young girl even seemingly had a bottle of massage oil or lotion nearby.
"I love a good massage," Kourtney captioned the shot. She also tagged her lifestyle page, Poosh. It looks like Kourtney always finds a way to get in some self-care.