Jada Pinkett-Smith Shows off 'Jadachella' with a Sweet Video of Will & Willow Singing
Jada Pinkett-Smith held her version of Coachella, called, "Jadachella" and it featured her husband, Will Smith, and daughter, Willow singing their hearts out.
There's no doubt that Will Smith is the musical talent between him and his wife, Jada Pinkett-Smith. His children, Jaden and Willow, took after him.
With so much talent in the family, Jada decided to host her version of the musical festival, Coachella. The actress titled hers, "Jadachella" and her artists begin and end with her husband, and daughter.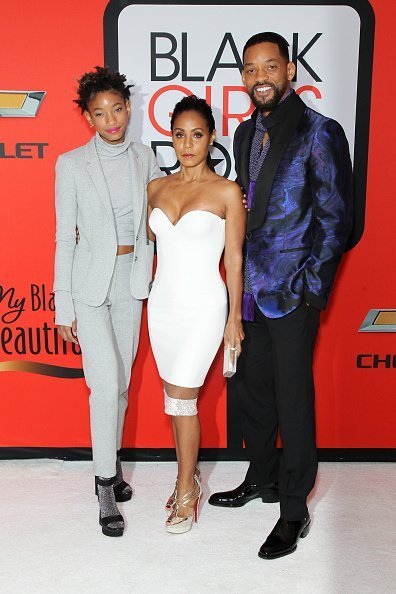 FATHER AND DAUGHTER KARAOKE
The family-held festival shared by the actress turned TV host on her Instagram stories showed Will and Willow holding karaoke mics. The actor wore a gray sweatshirt, loose red trousers, and brown footwear.
The young lady opted for a black outfit; she wore body-hugging tights, a sweater and black footwear. She stood slightly behind her father, and Christmas décor adorned the background.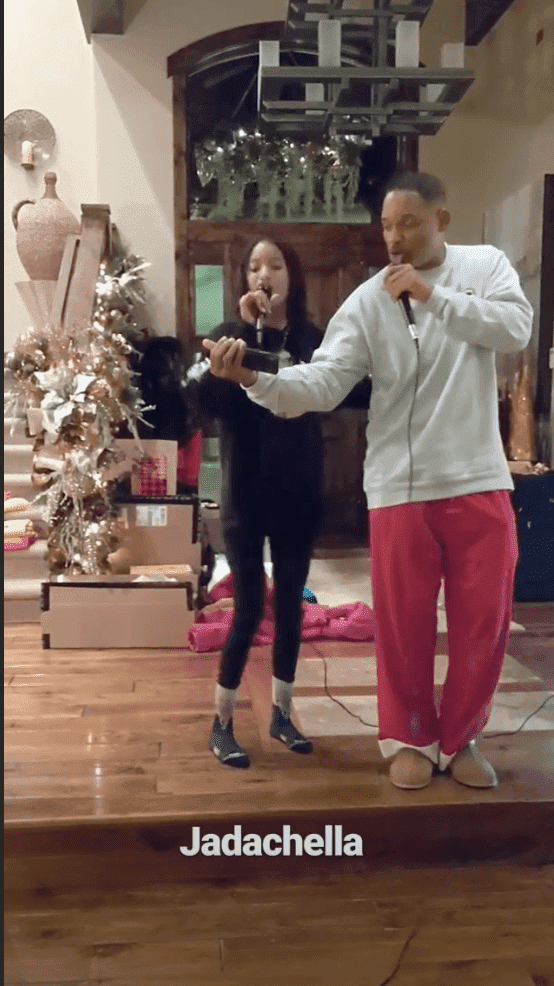 JADEN WAS MISSING IN ACTION
Before the duet by Will and Willow, the "Men in Black" star serenaded his family alone. Jada also shared a video of her daughter cuddling a puppy and dressed in a sweater with the words, Santa Claus.
The teenager was able to convince the woman who visited from CPS that she has all she needs
The only member of the family-of-four missing from the video show is Jaden. However, his mom shared a photo of him dressed in holiday outfits with a photoshopped Christmas cap on his head.
FIRST CAME WILLOWEEN
The Smith family has celebrated a lot in the last few months. On Halloween, the family celebrated Willow's nineteenth birthday bash, and in a video shared by Will of the bash, the actor said,
"[Willow] hasn't had a party in five years. Me and Jada really wanted to lay it out for her. This is her last year of teens to have her birthday party."
The "Aladdin" star and Jada indeed went all out, hiring a performance team, Creep LA, to scare their guests. They also made it a bit magical with an "Alice in Wonderland" themed cake, and dubbed the party, "Willoween."
WILLOW HAS ALL SHE NEEDS
Sometime this month, the "Matrix Revolution" actress revealed in an episode of "Red Table Talk" that she and Will got accused of starving Willow. The accusation was based on their daughter's skinny nature.
The mom-of-two noted that the situation was quite critical as Child Protective Services got involved. It started with a 13-year-old photo of Willow with an older male family friend that many saw as inappropriate.
Concerned individuals called CPS, and they showed up at the Smiths' residence. The teenager was able to convince the woman who visited from CPS that she has all she needs and other children needed her help.
Willow indeed has all she needs. With two loving parents and balanced home life, the teenager has her whole life ahead of her, and she can count on the support of Will and Jada.