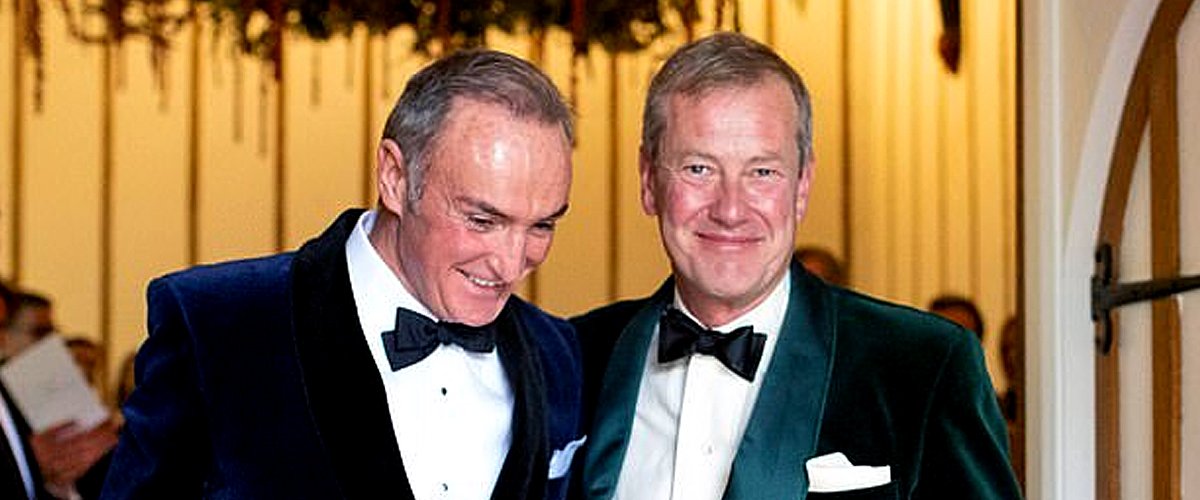 twitter.com/PhilMphela
A Look at the First Gay Royal Wedding of the Queen's Cousin Ivar Mountbatten
Almost four years ago, Lord Ivar Mountbatten became the first member of the extended royal family to come out as part of the LGBTQ community, an unprecedented move. Two years later, he tied the know with his partner, James Coyle, is the first-ever gay royal wedding.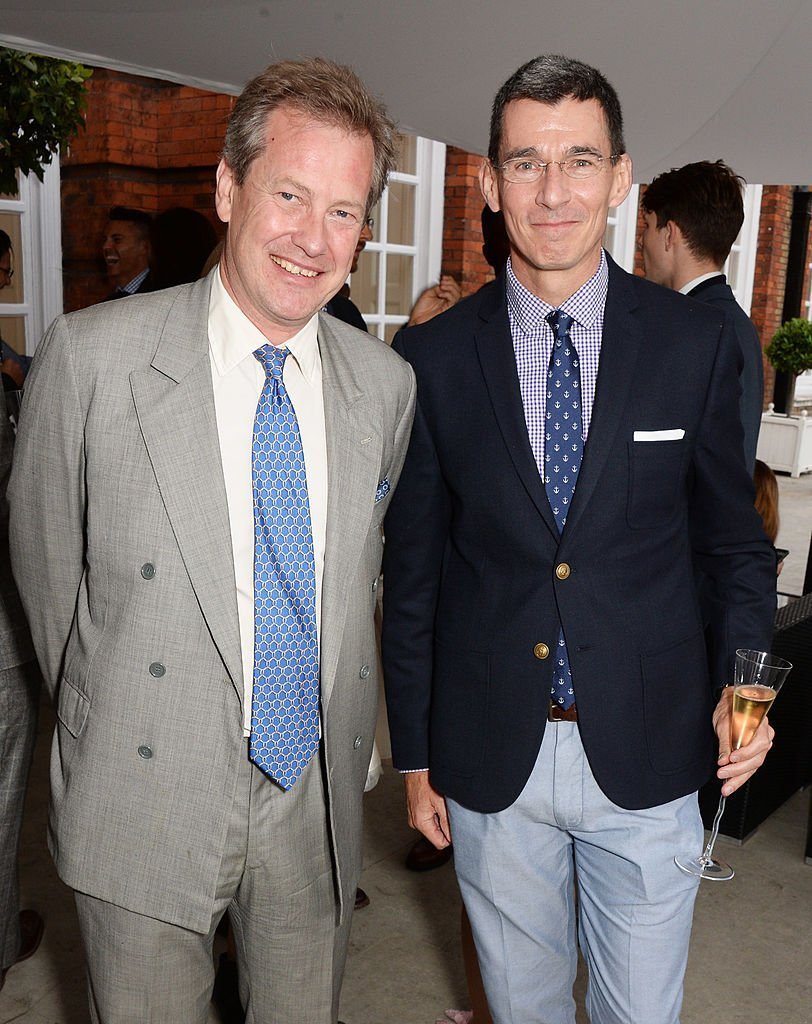 Lord Ivar Mountbatten and Chip Bergh at Kensington Palace on the eve of 'Dockers Flannels For Heroes' cricket match on June 19, 2014 | Photo: GettyImages
MEET IVAR MOUNTBATTEN
Lord Ivar Mountbatten is related to both Queen Elizabeth—he's her third cousin—and Prince Phillip. Ivar's father, David Mountbatten, 3rd Marquess of Milford Haven, was first cousin to Prince Philip, whom Ivar says was like a father figure for him after his dad's passing.
Ivar led a somewhat normal life and had a happy childhood. He attended Gordonstoun School like Prince Charles and graduated from Middlebury College in Vermont with a BA degree in geology.
He married Penelope Anne Vere Thompson in 1994, and they share three daughters: Ella Louise, Alexandra Nada, and Louise Xenia.
The family lived in the beautiful Bridwell Park estate in the countryside of Devon for 16 years, until Ivar and Penelope, known as Penny, had an amicable split in 2010 and officially divorced in 2011.
It was Penny who chose to leave, and while family and close friends criticized her for such a hasty decision, the mother of three had an excellent reason.
Her husband had been struggling with his sexuality for years, and although she was open-minded and supportive, their relationship had started to deteriorate.
COMING TO TERMS
According to Ivar, he knew he was attracted to men since he was 8-year-old. And although he had an adventure with a man before getting married, he never considered the possibility of coming out as a proud gay man to his family.
Not only because he would possibly be rejected, but because he also couldn't accept that was his reality.
It was his ex-wife, Penny, who walked Ivar down the aisle, an idea proposed by their daughters, and that Penny was more than happy to accept.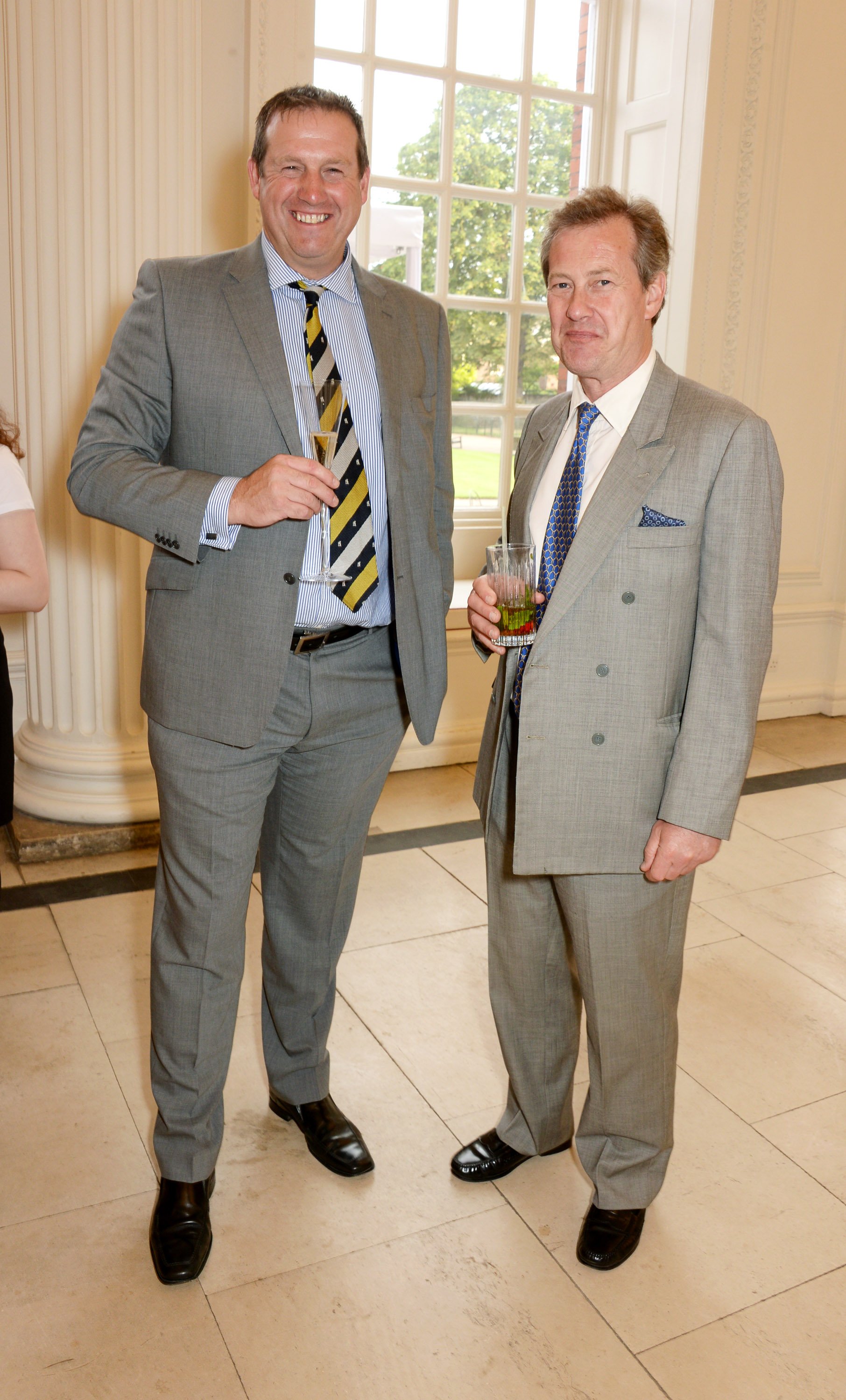 Tim Munton and Lord Ivar Mountbatten at Kensington Palace on the eve of 'Dockers Flannels For Heroes' cricket match on June 19, 2014 | Photo: GettyImages
"Certainly, without doubt, most gay blokes my age would prefer to be heterosexual," he told the Daily Mail in 2018. "The hassle of having to keep it a secret…first of all, there's the suppression of it and disbelief. Then there's denial. Thankfully, attitudes have changed."
Although he confessed to Penny before getting married that he might be bisexual, Ivar didn't want to "have assignations that might cause controversy" because it was the convention of his generation to get married to a woman.
Despite his inner struggles with his sexual identity, the lord's life came to a halt when he met James Coyle, an airline cabin services director, during a trip to a ski resort in Verbier in 2014.
Two years later, he came out as a gay man to the world, announcing his relationship to James and revealing the fact that his family, including Penny, had welcomed the man with open arms.
FIRST GAY ROYAL WEDDING
When asked about the possibility of a Royal wedding in 2016, Ivar said everything was possible.
Two years later, on September 22, 2018, they tied the knot in a small ceremony in the chapel at Bridwell Park that the lord described as "an amazing day despite the miserable British weather." It was the first-ever gay royal wedding.
It was his ex-wife, Penny, who walked Ivar down the aisle, an idea proposed by their daughters, and that Penny was more than happy to accept.
The grooms wore matching dark green and blue velvet jackets. They were serenaded by the Bristol Teachers Rock Choir and a singer named Joe Bailey, who, according to W Magazine, performed an acoustic version of Earth, Wind & Fire's "September."
Unlike his first wedding, Ivar and James' union didn't count with the presence of any member of the British royal family.
Ivar's "lifelong friend" Prince Edward and his wife, Sophie, the Countess of Essex, couldn't make it to the ceremony but sent their best wishes.
"Sophie and Edward know of our plans and are really excited for us," Lord Ivar said three months before the wedding. "Sadly, they can't come to the wedding. Their diaries are arranged months in advance, and they're not around, but they adore James. Everyone adores him."
A MODERN FAMILY
Ivar admitted that he decided to get married only for James' benefit since he had never been married before and wanted to have a family.
As for kids, the couple is happy with Ivar's daughters, who have embraced James way better than they would have a stepmother, according to Ivar.
And the feeling is mutual, as James told Tatler: "This is the icing on the cake. I've got a husband and a ready-made family."
Penny, who also has a new partner, enjoys doing yoga with James, and she thanks him for bringing out a more relaxed and happier version of Ivar to the surface.
"He probably wasn't even aware that by keeping his sexuality a secret, it was really quite tormenting him," she stated. "Now it's 'out' he's a completely different person. Everybody says they've never seen him happier."
Please fill in your e-mail so we can share with you our top stories!