LeBron James Appears in Adorable Cooking Video on His Daughter Zhuri's YouTube Channel
Daughter of LeBron James, Zhuri Nova James owns a YouTube channel, "All Things Zhuri." The 5-year-old played host to her father in a new adorable cooking video. 
Five-year-old Zhuri James is a vlogger. The toddler had her dad over as a guest on her weekly cooking tutorial. In the adorable video,Zhuri started by introducing her guest as "Friend Daddy." She began,
"My name is Zhuri, and I brought my friend daddy, so he can help me make these balls today,"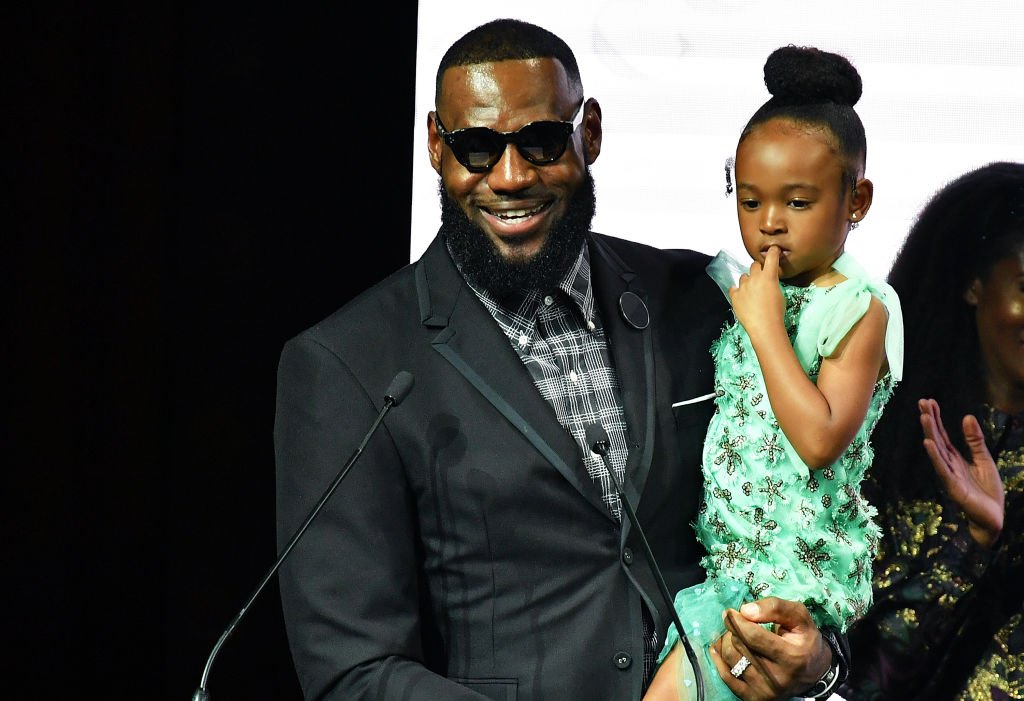 The little girl embodied the show like a pro. She proceeded to announce the name of the snack to be made in a cheerful tone. Zhuri went on to show off her already measured ingredient in attractive vessels.
"We are making peanut butter power balls, right?" LeBron asked as he grabbed a seat beside his daughter, "umm," she replied in agreement. 
The father and daughter duo proceeded to kick in the ingredients of the no-cook recipe one after another. While at it, the basketball player broke into a tune, and loud chuckles from Zhuri welcomed this.
The duo mixed all the ingredients for the peanut butter power balls in a bowl. They finished the recipe up by rolling the mix into a round snack and placing it on a plate. The end product was an aesthetically, pleasing snack. 
The five-year-old toddler is well on her way to becoming a kid lifestyle influencer
Although having just started the channel only three weeks ago, the toddler appeared to have gotten the hang of it. She ended her video by encouraging viewers to like her video and subscribe to her channel.
The proud father didn't stop his support by only appearing as a guest on the vlog. He took to Instagram to announce the third episode on his daughter's vlog to his audience. The professional basketball player shared a snap from the event. He wrote alongside love emojis. 
"Daddy and Z for episode 3!!! @allthingszhuri, thank you for letting me be on your YouTube channel."
This is not the first time the father is coming out to support his daughter's vlog. Over Christmas, the NBA superstar took to his social media handles to spread the word on his daughter's new YouTube channel. 
In the promotional video, the cheeky toddler gave an insight into her life and her upcoming vlog. The five-year-old told the audience that although she's just five and in preschool, there's still a lot going on in her life. She ended her introduction by urging people to subscribe. 
The channel garnered over twenty thousand subscribers a few days after it went up. As at this moment, the "All Things Zhuri" platform boasts of a staggering 89.5 thousand subscribers. 
The five-year-old toddler is well on her way to becoming a kid lifestyle influencer.
Her cooking tutorial video garnered over 150,000 likes, and even before setting up her Instagram page, Zhuri already won many hearts, thanks to her parents splattering her cute pictures on their pages.