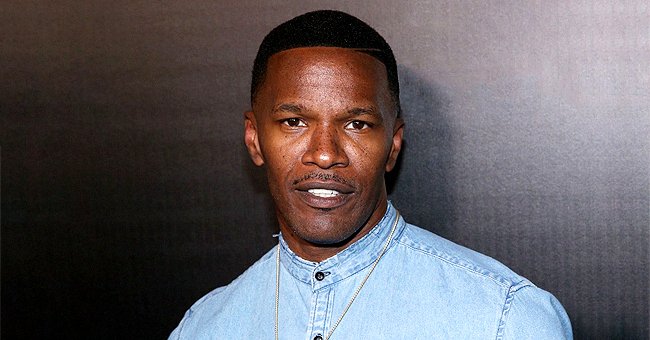 Getty images
Jamie Foxx Makes Family Appearance with His 2 Daughters Corinne and Anelise at The 2020 SAG Awards
Jamie Foxx turned his SAG Awards appearance into a family affair. He showed up with his two daughters, Corine and Anelise, and they looked divine.
It matters who a celebrity chooses to work the red carpet with, and Jamie Foxx chose his family. The actor showed up at the 2020 SAG Awards flanked by his two daughters, Corinne and Anelise.
The party-of-three posed on the red carpet, smiling for the camera. The actor and his younger child made double peace signs, while his older daughter looked divine in a strapless gown.
Jamie Foxx attends the premiere of Showtime's "White Famous" in West Hollywood, California on September 27, 2017 | Photo: Getty Images
In the accompanying caption, the proud father-of-two, Jamie Foxx, gushed about his amazing daughters, calling them his heart and light. He wrote,
"The reason I live. Sharing these moments with my daughters is priceless. @corinnefoxx, you are my [heart]. Anelise Foxx, you are my [light], and both of you are my love."
In an earlier post, the actor shared a video clip of him and his children on their way to the awards. Jamie proudly announced that his children are his date, as his older child happily shouted, "Yeah."
The actor/comedian expressed his joy in having his girls with him in the caption. He called them beautiful, and his followers agreed with the compliment.
Jamie's relationship with the actress ended in August, and he relied on his daughters for support.
Josh Brolin laughed at the cute family moment, while Porsha Coleman wrote that the family looked great, adding "A father's love." Julio Rocha also commented, writing that the actor has a beautiful and sweet family.
A LOVE THAT GOES BEYOND THE MOON
Foxx is a dotting and hands-on father who adores his daughters. In October, when Analise turned 11, he wrote this touching tribute for her on Instagram,
"Happy birthday! I love you to the moon. Eleven years have flown by, and it's been beautiful. Keep shining, Anelise!"
The "Beatz Shazam" host shares the young girl with Kristin Grannis. The latter prefers to stay away from the spotlight and was revealed as the mother of the actor's child when she and Anelise got photographed in Los Angeles.
SUPPORTIVE AND LOVING CHILDREN
They had a fun day at the park and enjoyed quality family time. At the time, the "Annie" star was still dating his ex-girlfriend, Katie Holmes.
Jamie's relationship with the actress ended in August, and he relied on his daughters for support. He shared on Instagram a photo of him, Corinne, and Anelise having daddy-daughter time.
Foxx is enjoying life as a single man and focusing on his children. He spends every available time with his girls, and he is a vital part of their lives.
Please fill in your e-mail so we can share with you our top stories!