Steve Harvey of 'Family Feud' Fame Shares Adorable Video of His Chat with Grandson Ezra in a Large Copper Bathtub
Steve Harvey had hearts melting when he shared a video of his chat with his grandson Ezra. The grandpa-grandson moment took place during the little guy's bath-time in a giant copper bathtub, and fans can't help falling in love.
For a guy who once said he's not as happy as most grandparents, Steve sure knows how to get his grandpa game on. If anyone wasn't sure, his recent video is enough proof.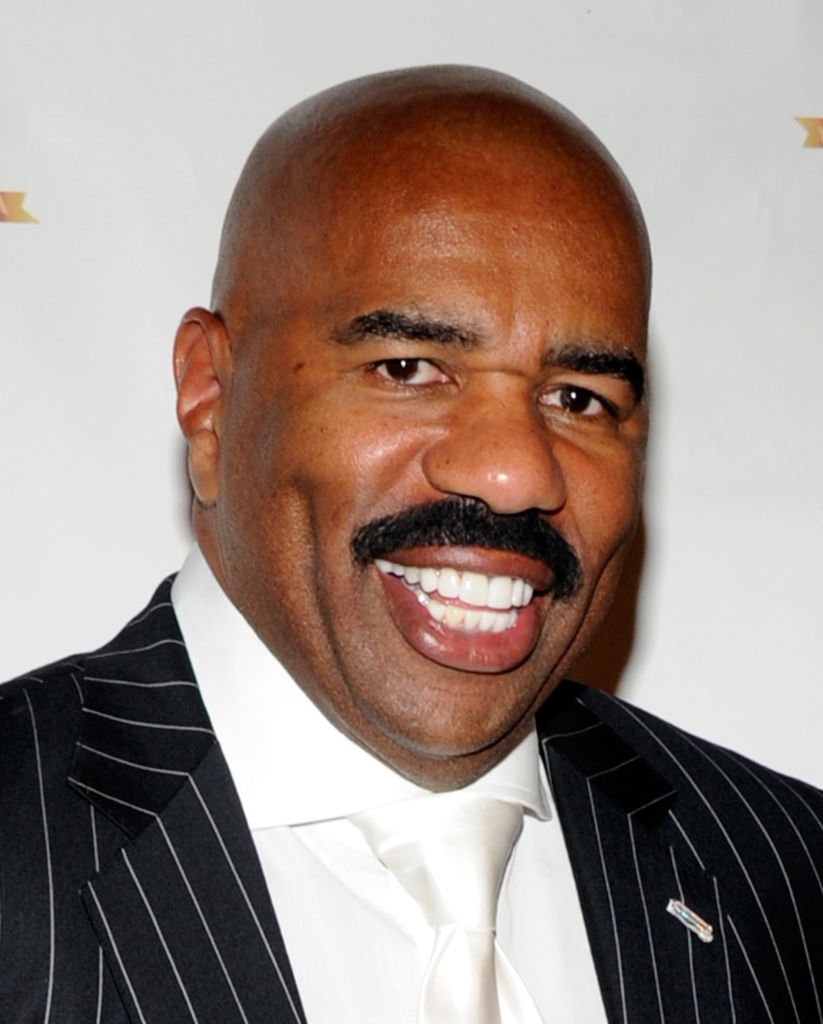 Steve took to Instagram with a video from one-year-old Ezra's bath-time. The little man stood in an impressive copper bathtub while the TV host knelt by the side.
Steve and Marjorie have sometimes become trolling victims just by sharing precious moments with their grandkids.
It's not easy to make out what Steve was saying to Ezra, but their conversation seemed pretty intense. At some point, the 63-year-old appeared to be showing the younger one how water comes from the faucet.
"Morning inspiration and motivational words given by Ezra during tub time," Steve captioned the hilarious post that has since garnered nearly one million likes and comments.
"Awww this makes my heart go thump thump!" one Instagram user fawned. "Too cute! Having grandpa time with grandson," chimed in another.
Steve's wife, Marjorie, had shared the same video in December. While fans couldn't help gushing over the adorable moment between Steve and Ezra, most were distracted by the luxurious copper tub and fireplace in the bathroom.
According to Good Housekeeping, a quick Google search revealed that getting a similar tub would cost anywhere from $2000 to $4000. Steve and his wife, however, seemed to be more concerned with their grandson's cuteness.
Between them, Steve and Marjorie – who tied the knot in 2007 – have seven children and five grandchildren. The "Family Feud" host has four kids from two previous marriages, while Marjorie has three, also from two previous marriages.
During a 2018 appearance on "The Ellen Show," Steve said he wasn't thrilled about being a grandparent because his wife would always insist on the grandkids staying over.
Of course, Steve was joking, and his social media feed is enough proof that the comedian adores his grandkids. For the holidays, he even sat for a photoshoot with all the male grandchildren and shared the hilarious results online.
Sadly, as it is with many celebrities, Steve and Marjorie have sometimes become trolling victims just by sharing precious moments with their grandkids.
One such occasion happened last year when Marjorie posted a video of their granddaughters, Elle and Rose, pretending to breastfeed their dolls. While most fans saw a cute moment, others claimed it was inappropriate.
Marjorie did not need to offer any explanation, however, because several fans came to her defense and matched the trolls comment for comment. She and Steve have also never let it stop them from sharing more moments with their grandbabies, and fans can't get enough.