Getty Images
Martin Lawrence Is a Proud Father of 3 Beautiful Daughters Who Bear a Striking Resemblance to Him
Martin Lawrence may be an accomplished actor, but his daughters are stars in their own rights. One of them followed in his footsteps as an actor and is dating another celebrity's son, while the others make waves on social media.
If there is one thing Martin Lawrence is most proud of, it is raising his three beautiful daughters to be excellent and powerful women. Not only is he supportive of their pursuits, but he is also grateful to have been their father.
Martin gushed over his girls in one Instagram post, whom he referred to as his whole universe. "I'm forever grateful for the laughs, the unconditional love, and the bond we'll always have," he said.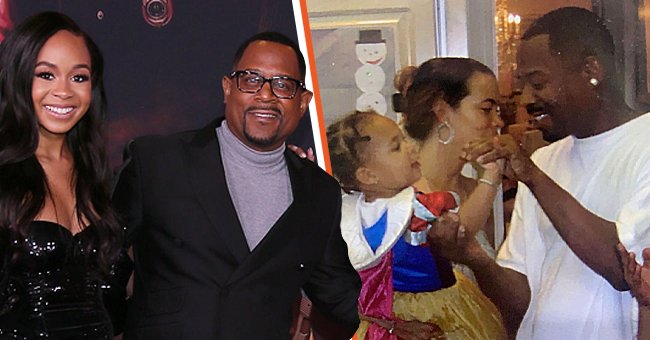 Marin Lawrence and his young daughter, Jasmin. | Source: Instagram/jasmin_lawrence
Martin became a first-time dad in 1996 when he welcomed Jasmin with Miss Virginia USA candidate Patricia Southall. The couple tied the knot in 1995, a year before their little angel came, but divorced in 1997.
The comedian's first short-lived marriage didn't stop him from finding love again. In the same year, he began dating actress Shamicka Gibbs and welcomed two daughters, Iyanna in 2000 and Amara in 2002.
The pair decided to legalize their union in 2010, but unfortunately, their marriage did not last. Martin and Gibbs ultimately separated in 2012 after 15 years together. Although Martin's two marriages failed, he was left with a priceless gift – being a father.
Martin raised his eldest daughter, Jasmin, born in 1996, close to him and instilled values that she lives by. According to the Duke University alum, her father has had one of the most positive influences in her life. She once told him:
"I'm so incredibly blessed that God gave me a father like you. You're extremely loving, dedicated, passionate, hard-working, patient, and hilarious. You've set an incredible example, and you've treated my sisters and I like queens."
Jasmin followed in her father's footsteps as an actress and appeared in "Bad Boys for Life" and "Family Time." In 2022, she debuted on "Relatively Famous: Ranch Rules," a television show that focuses on eight celebrity children. Jasmin has since accumulated a reported net worth between $300,000 and $500,000.
Aside from her acting career, she is also known for dating Eddie Murphy's firstborn son, Eric. The couple first revealed their status when they made their relationship Instagram official in July 2010. Jasmin paid tribute to her beau at that time with a sweet birthday message alongside photos together. She wrote:
"Happy birthday, my love! I'm so incredibly blessed to know you, to love you, and to have you by my side. Cheers to many more blessings, laughs, and beautiful memories! I love you so much!"
Previously, Eric shared a photo with his girlfriend on his social media account. "Head over heels in LOVE with YOU," he wrote. Eric is the "Welcome to America" star's son with Paulette McNeely. He is also in the entertainment industry, working as a voice actor and writer in Los Angeles.
Meanwhile, their fathers, who are superstars in their own right, have not spoken out about their children's relationship. With their children dating, the actors are stepping their relationship up a notch from being Martin colleagues to, potentially, family members.
Martin is undoubtedly proud of being a girl dad, but aside from his daughters, his heart holds a special place for another woman – his longtime fiance, Roberta Moradfar.
Martin and Eddie have a history of working together. Both starred in the romantic comedy "Boomerang" in 1992 and reunited in the 1999 movie "Life." The same way Martin made a comeback on "Bad Boys For Life" alongside his good friend Will Smith, Eddie Murphy also reprised his role in a hit franchise with "Coming 2 America."
Martin's second child, Iyanna, maintains a relatively private life as a college student at Sarah Lawrence College. Born in 2000, she is considered the quietest of the bunch, choosing to keep to herself rather than share a chunk of her life on social media.
Nonetheless, Iyanna has nearly 27,000 followers on Instagram, an avenue she chooses to spread awareness of pressing issues. Her older sister once told Iyanna:
"I'm such a proud big sister. You are beautiful, kind-hearted, passionate, resilient, tenacious, intelligent, and the list goes on."
Two years following Iyanna's birth came Martin's youngest daughter, Amara. Amara has thousands of Instagram followers graced by her cute selfies and music like her sister. Although not much is known about the youngest Lawrence, she sometimes appears on her parents' Instagram.
In May 2019, her mom gushed about sending her daughter to a high school prom, describing Amara as a beautiful and confident young woman. Last year, Amara celebrated her 19th birthday with family and friends, which was documented on Jasmin's Instagram.
In some snaps, it was evident that the three sisters share striking similarities with their father. Apart from appearances, they also inherited his wit and creative talent. Although nothing is sure, his two youngest may even end up in show business as well.
Martin is undoubtedly proud of being a girl dad, but aside from his daughters, his heart holds a special place for another woman – his longtime fiance, Roberta Moradfar. The couple has been engaged since 2017 and is expected to become husband and wife soon.
By the time he walks down the aisle, Martin will be a thrice-married man, and hopefully, third time's the charm for the comedian.
Please fill in your e-mail so we can share with you our top stories!