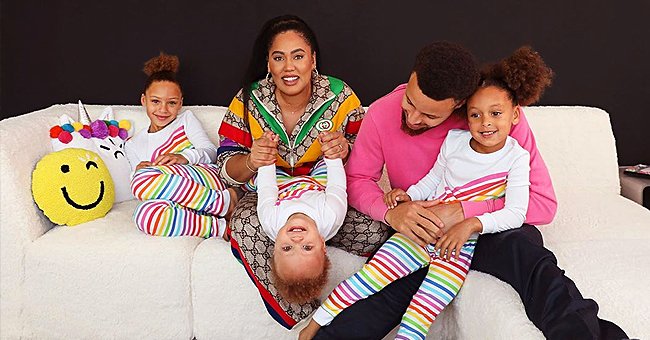 Instagram/ayeshacurry
Steph Curry's Wife Ayesha Shares Photo of Son Canon & Admits She Misses Her Kids While She's Away on Vacation

Steph Curry's wife, Ayesha Curry, can't wait to have her mini-me's in her hands once again as she misses them while on vacation.
Ayesha is currently taking a much deserved break; she went on a getaway vacation with her husband, the American professional basketballer, Steph Curry.
It's barely been a week since she left, and the mother of three already misses her babies. She took to Instagram to share her plight.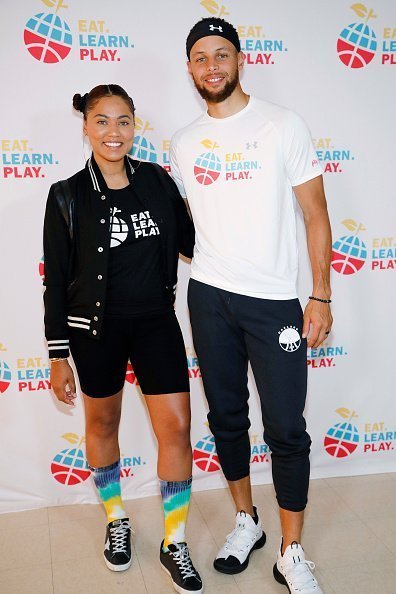 Ayesha Curry and Stephen Curry are seen at the launch of Eat. Learn. Play. Foundation on July 18, 2019 in Oakland, California | Photo: Getty Images
In a recent post, she shared a picture of her youngest baby, one-year-old Cannon looking adorable as he sat in his high chair and looked into the camera.
In the picture, Cannon looked like he had just finished eating as he had a bib around his neck and chunks of food all over his mouth and his hand. She captioned the post:
"I'm having a blast w my love and the curry crew but can't wait to get back home to my baby boy and the girls! I mean ... this face?! He just snatches my wig and my heart everytime."
Her fans and followers hit the like button and took to the comment section to laugh at her hilarious caption and gush about adorable little Cannon.
"Definitely be snatching ladies hearts ?," someone said. "He is the cutest little guy!! ?," another added. "Who wouldn't want to get back to be with him? He's adorable," added a third fan.
They get to spend quality time alone and still have tons of family time with their kids
As much as she hates being away, Ayesha is obviously having the time of her life with the love of her life, and it seems Steph isn't ready to release his wife to the kids just yet.
He took to his Instagram page to share with his fans, moments of his vacation with his wife. On Valentine's day, he posted a picture and added the sweetest caption:
"Happy Vday babayyy! You are all the adjectives and more. Love you! 'He who finds a wife finds a good thing!' ?"
It's been almost a decade since Steph tied the knot with Ayesha curry. Together, they have raised a family of three children. Riley, Ryan, and Cannon.
Steph and Ayesha have managed to balance their lives in such a way that they get to spend quality time alone and still have tons of family time with their kids.
Last year, the basketball player went through the toughest season of his career after he broke one hand and couldn't play for three months. Even with his efforts at rehab, he didn't neglect his family.
Ayesha was proud of how her husband handled that time of their lives. She expressed her appreciation on Instagram, referring to him as the most amazing man, husband, father, and friend.
Please fill in your e-mail so we can share with you our top stories!