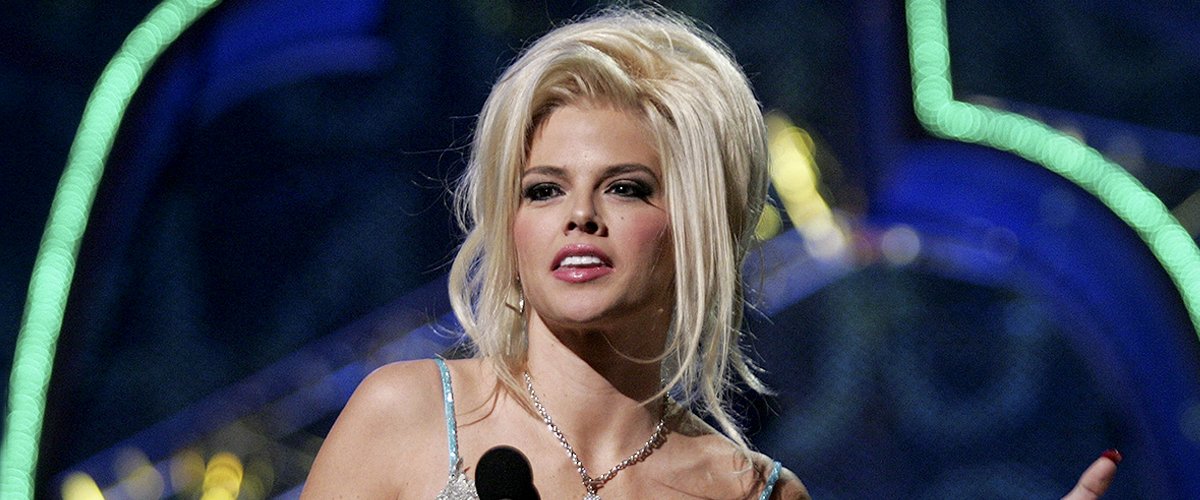 GettyImages
Larry Birkhead Once Revealed Anna Nicole Smith Didn't Want to Reconnect with Her Family
Late Playboy model and actress Anna Nicole Smith had an estranged relationship with some members of her family, and according to Larry Birkhead—the father of her daughter Dannielynn—she had some good reasons to avoid reconnecting with them years before her tragic passing in 2007.
Anna Nicole Smith is often remembered as the bombshell blond whose life spiraled down when she started abusing over the counter meds and alcohol.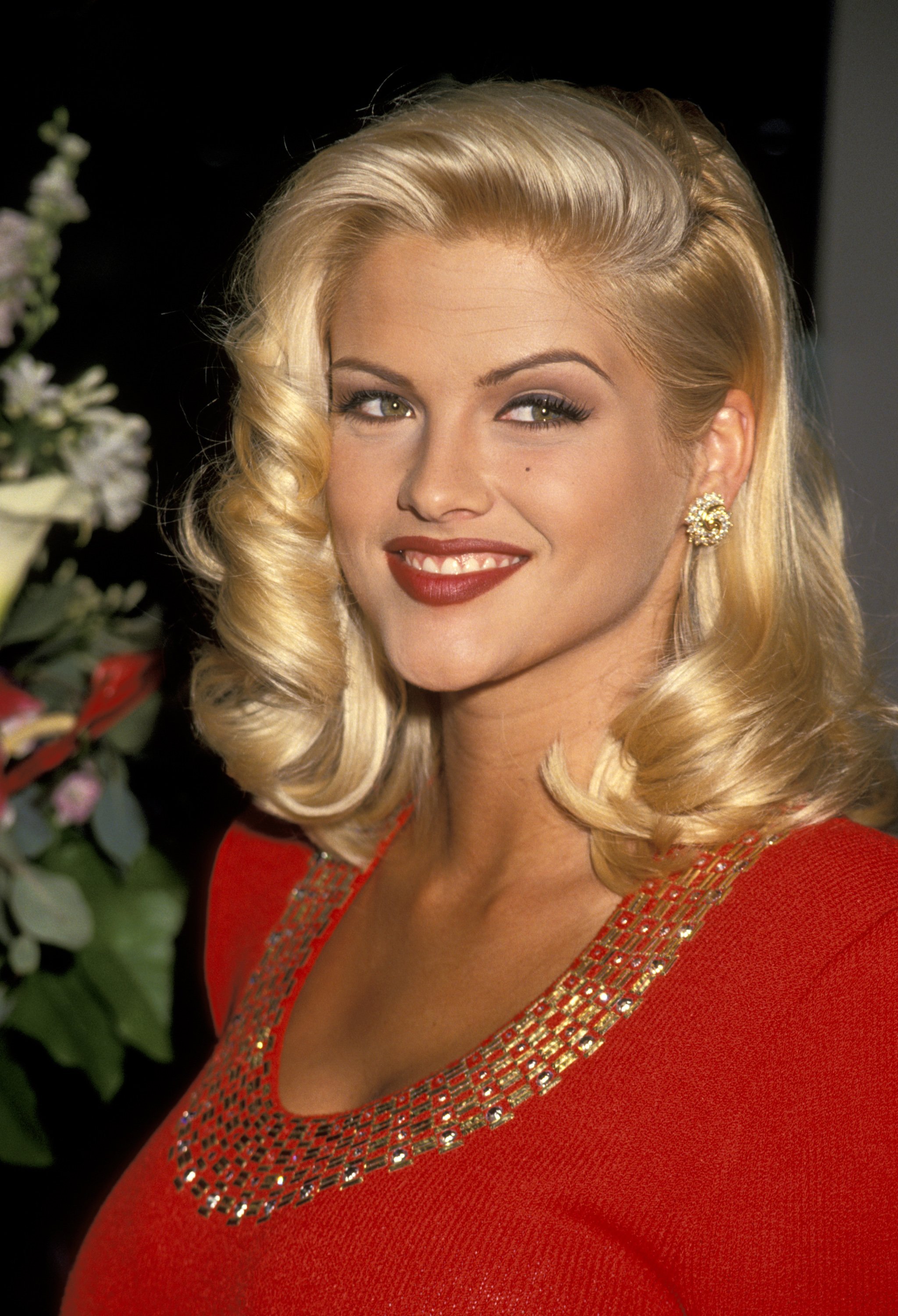 Anna Nicole Smith at the Video Software Dealers Association Convention in Las Vegas - July 11, 1993 | Photo: GettyImages
She first gained fame in the early '90s when she appeared on the cover of Playboy magazine, and later went on to earn the interest of the media when she married oil tycoon J. Howard Marshall when she was 26, and he was 89 years old.
People painted Smith as a gold digger who was with the billionaire for his fortune, but she always claimed to have genuine feelings for the man.
However, after Marshall died, Smith fought his family in court for half of his inheritance, a legal battle that reached the supreme court, and that went on for years even after her passing.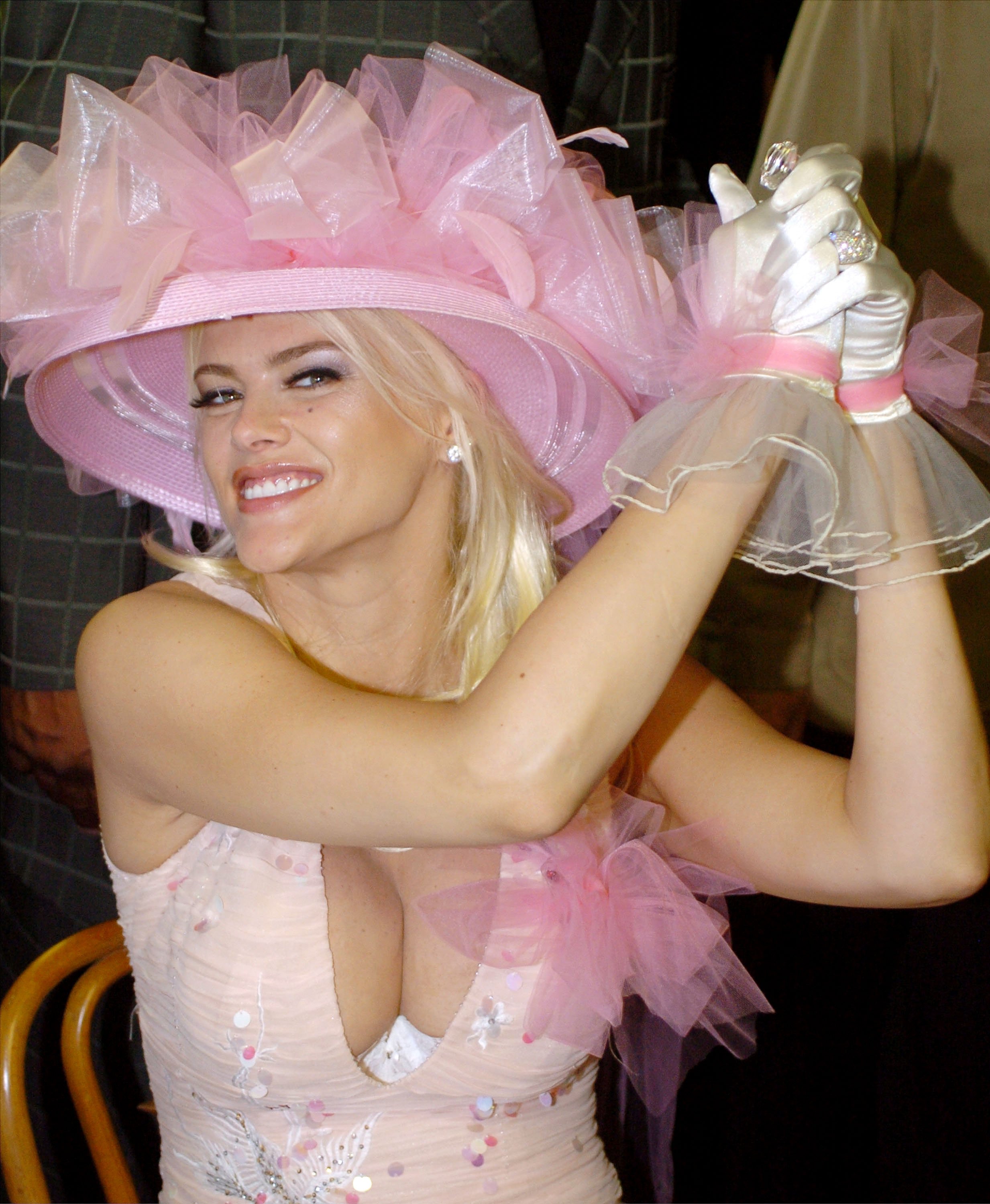 Anna Nicole Smith at the 130th Kentucky Derby May 1, 2004 in Louisville | Photo: Getty Images
AWAY FROM HER FAMILY
By the time Smith died on February 8, 2007, after an accidental overdose of prescription drugs, she was allegedly not speaking to her family, whom she reportedly said was very hard to please after she started taking care of them with her money.
While Smith battled in court, she was starting to become addicted to painkillers to deal with the pain from her breast enhancement and other surgeries.
According to Larry Birkhead, Smith's former boyfriend and father of her daughter, he tried several times to encourage Smith to reach out to some members of her family, but she flat out refused.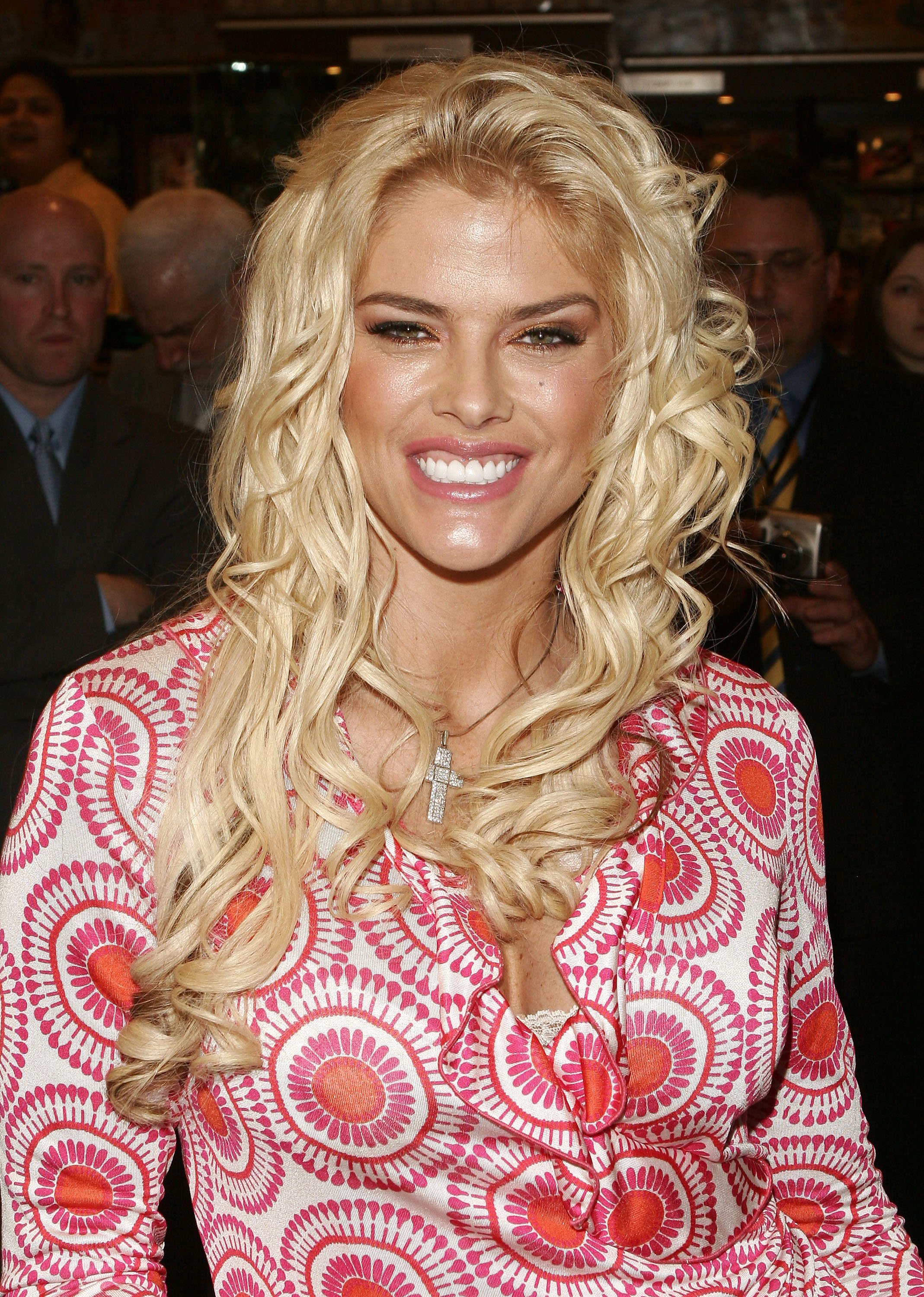 Anna Nicole Smith signs autographs at Grand Central Station to kick off the new National Enquirer magazine on April 7, 2005 | Photo: GettyImages
"She would tell me stories about buying people cars, and then they would cuss her out because the car was not the right color," Birkhead recalled in an interview with Reelz.
She also paid some relatives to watch her home, but then claimed they had come inside and took some of her belongings. Birkhead added:
"I don't know what their version of it is, but I'll tell you that since Anna's passed, I've had a big battle with having to police the media outlets with things that they've been flooded with [from her family]."
He explained that things that were stolen from her home, from clothing items to personal, were put up for sale for personal profit.
However, Anna's mother, Virgie Arthur, told the Daily Mail in 2017 that she never had an estranged relationship with her daughter, and that although they didn't see each other that much, Smith always called and sent pictures of her and her son.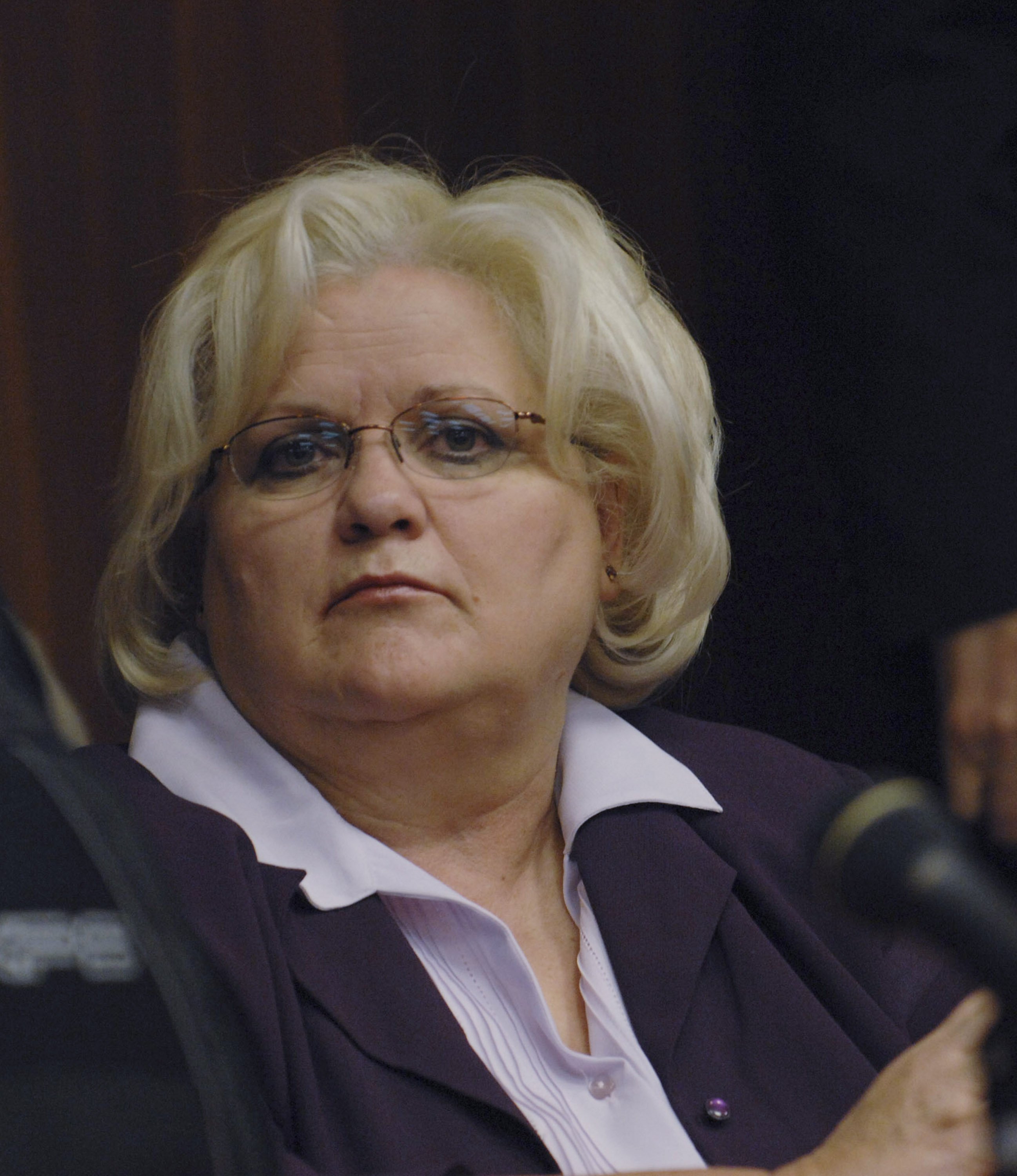 Anna Nicole Smith's mother Virgie Arthur listens during hearings that will determine who will hold custody of Smith's remains in a courtroom at Broward County Circuit Court February 20, 2007 | Photo: GettyImages
FROM TEXAS TO HOLLYWOOD
Anna Nicole Smith was born as Vickie Lynn Hogan in Houston, Texas, the only daughter of Donald Eugene Hogan and Virgie Arthur.
She dropped out of high school in her sophomore year and went on to work at a fried chicken restaurant. There, she met who would become her first husband, Billy Wayne Smith, whom she married in 1985.
The young couple welcomed son Daniel Smith the following year, and soon after, Smith, who had moved to a job at Red Lobster, started stripping at a club to make more money, going against her mother's advice.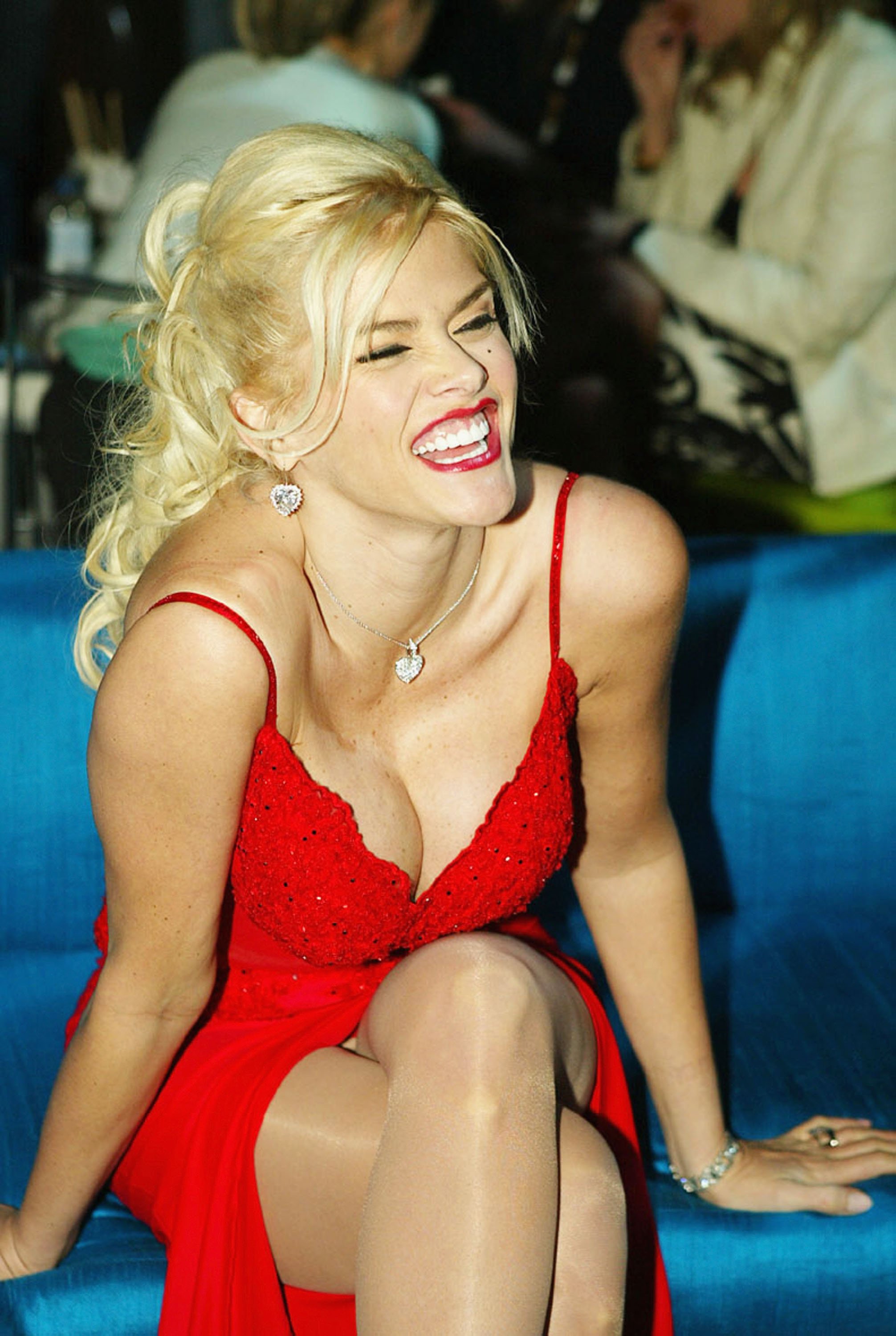 Anna Nicole Smith poses at the after party for the Premiere of MGM's "Be Cool" at the Hollywood Palladium on February 14, 2005 | Photo: GettyImages
She also sent some nude pictures to Playboy magazine, which led her to appear on the cover of the magazine in 1992 and to be named Playmate of the Year by Hugh Hefner in 1993.
That same year, Smith divorced Billy Wayne and moved on to have a public relationship with J. Howard Marshall, whom she had met while working at the strip club. They married in 1994.
The exposure from her playboy cover took Smith to become the image of Guess jeans in an ad campaign that had her face on billboards all over the country. That, combined with the interest in her marriage, turned Smith in a tabloid sensation.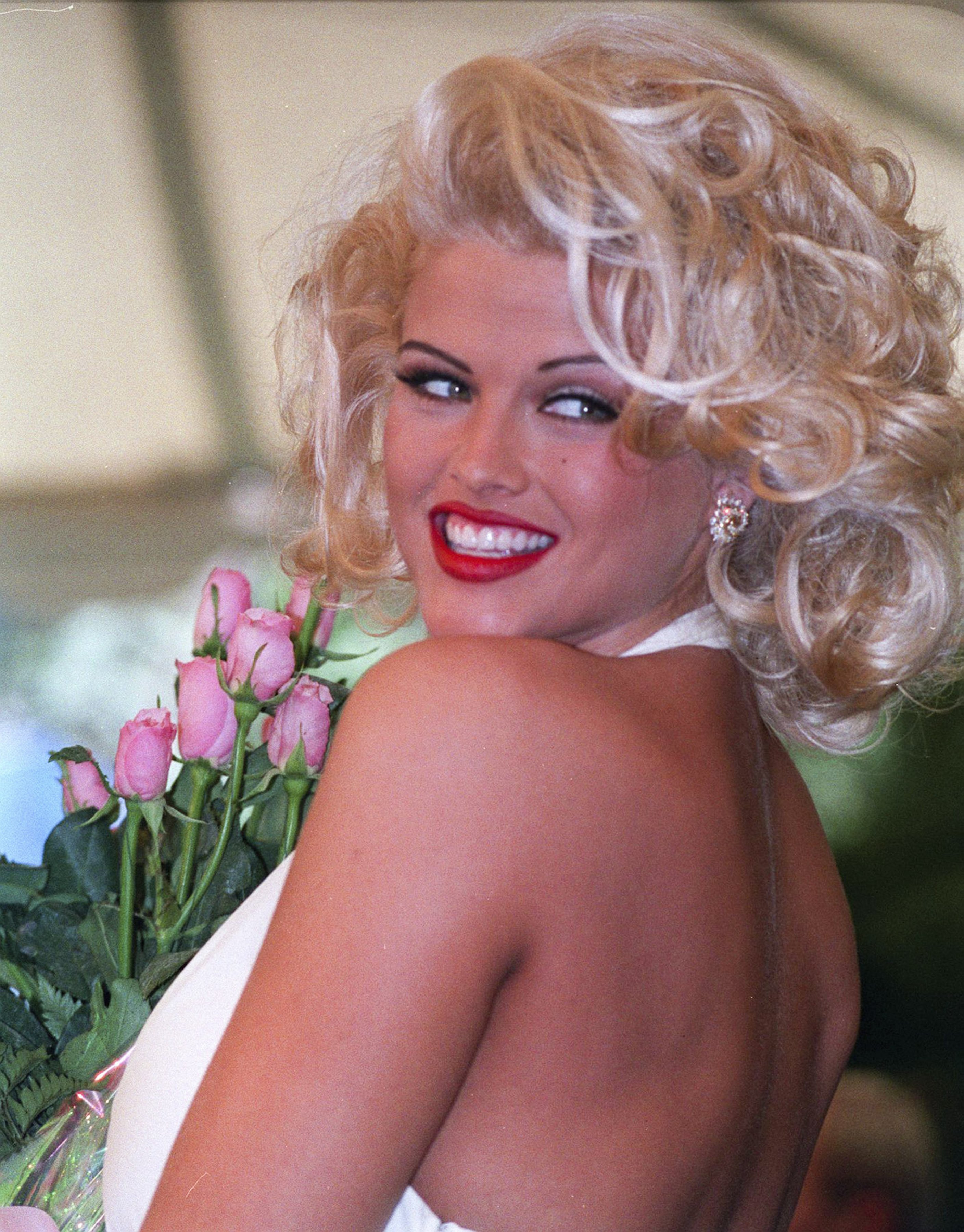 Anna Nicole Smith (1967 - 2007), circa 1990 | Photo: GettyImages
THE BATTLE FOR THE MONEY
After Marshall died from natural causes in 1995, Smith sued his sons for half his estate, claiming that Marshall had promised her to set up a fund to take care of her and her son. However, he didn't include her in his will.
The legal battle for the money went on for several years. At one point, Smith filed for bankruptcy, and a minor bankruptcy court in California sided with her ordering Marshall's estate to pay her $449 million-plus $25 million in damages.
The amount was later reduced to $88 million, and after Marshall's son took the suit to the U.S. District Court in Los Angeles, Smith ended up with nothing although the battle continued for even more years.
RED FLAGS
While Smith battled in court, she was starting to become addicted to painkillers to deal with the pain from her breast enhancement and other surgeries.
At the same time, she was trying to build an acting career on the side, although unsuccessfully.
Then in 2002, she was offered a reality TV show with E! Entertainment network. Although the series lasted only one season, Smith's incoherent yet funny behavior raised red flags among her fans.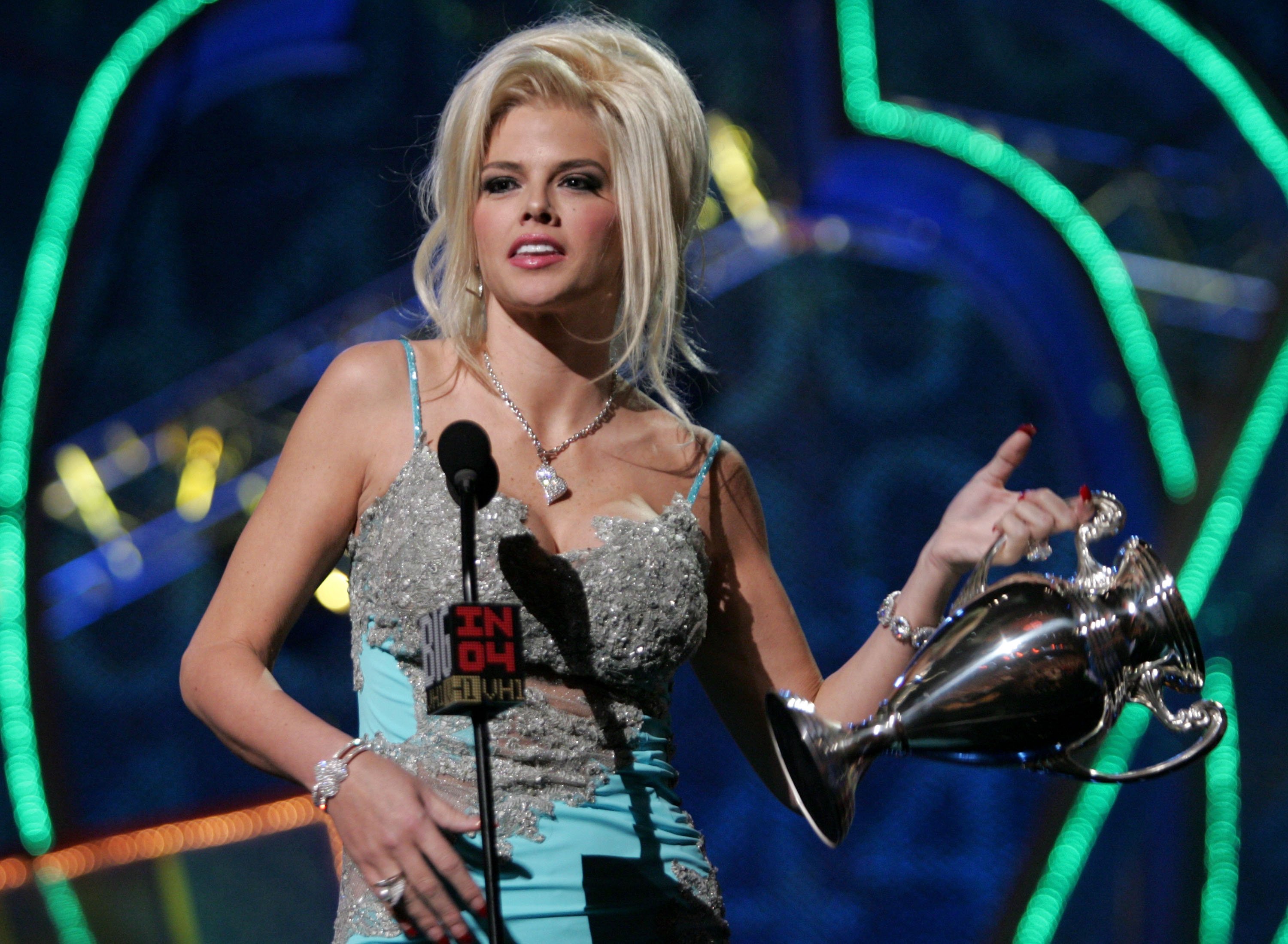 Anna Nicole Smith accepts the Big Makeover Award on stage during the VH1 Big in 04 at the Shrine Auditorium on December 1, 2004 | Photo: GettyImages
And in 2004, when she appeared at the American Music Awards to introduce Kanye West, Smith famously gave a slurred speech as she asked the audience "like my body?" while raising her arms to show off her figure.
HER SECOND CHILD
Anna Nicole met photographer Larry Birkhead at the 2004 Kentucky Derby, and they started dating almost immediately. However, no one ever knew Birkhead as Smith's boyfriend, because she asked him to stay out of the spotlight.
In June 2006, Smith announced she was pregnant with her second child, but she didn't reveal the father's identity, although in private, she had assured Birkhead the child was his.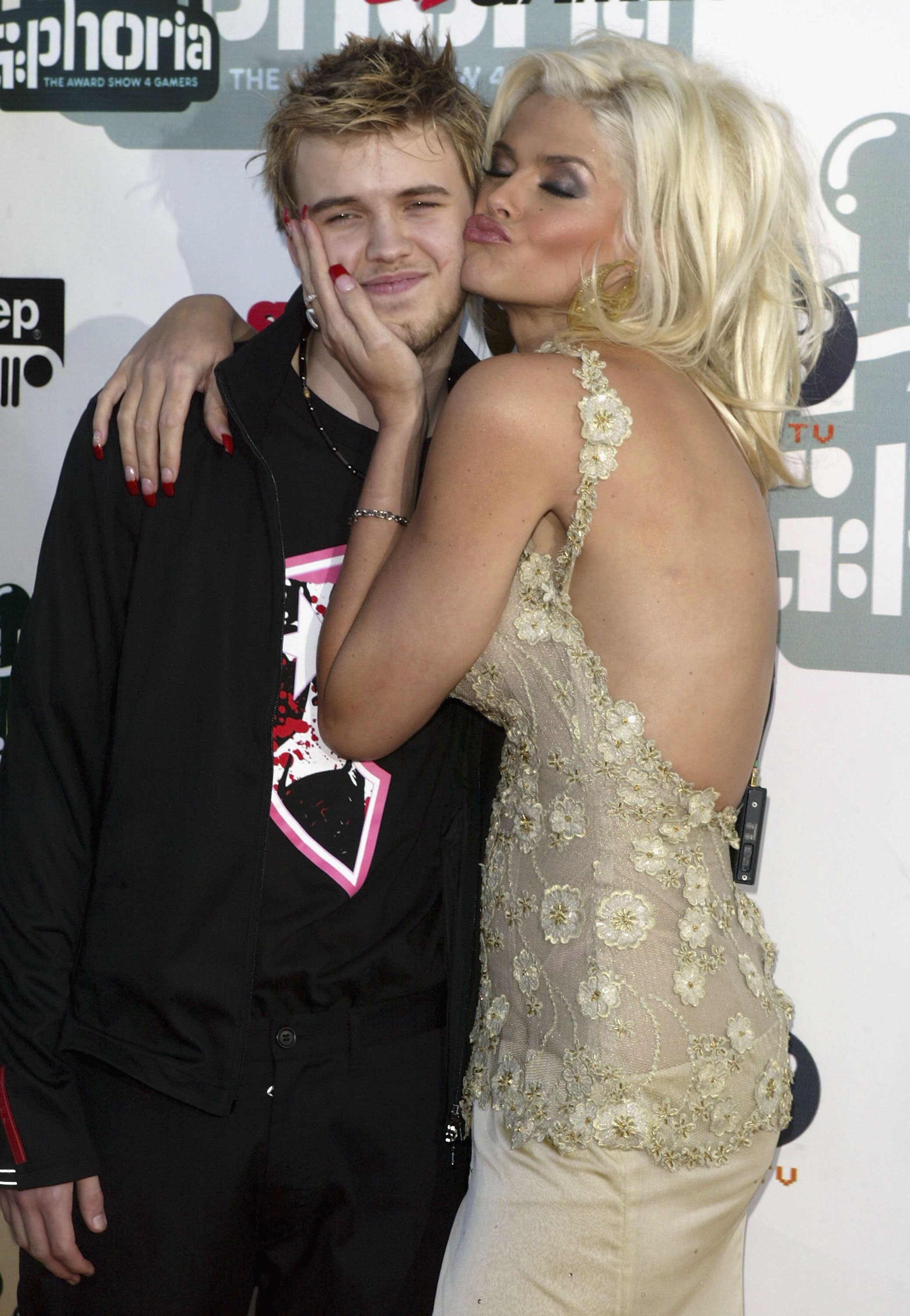 Anna Nicole Smith, and her son Daniel Smith arrive at G-Phoria - The Award Show 4 Gamers held on July 31, 2004 | Photo: GettyImages
Less than a month later, Smith left for the Bahamas after discussing with Birkhead. And on September 6, she welcomed daughter Dannielynn.
Smith went from unmeasurable happiness to grief only three days later, when her then 20-year-old son Daniel passed away in her hospital room from an accidental drug overdose.
The 39-year-old mother was devastated. And only five months after that, she died in a hotel room in Florida, while Dannielynn was in the Bahamas.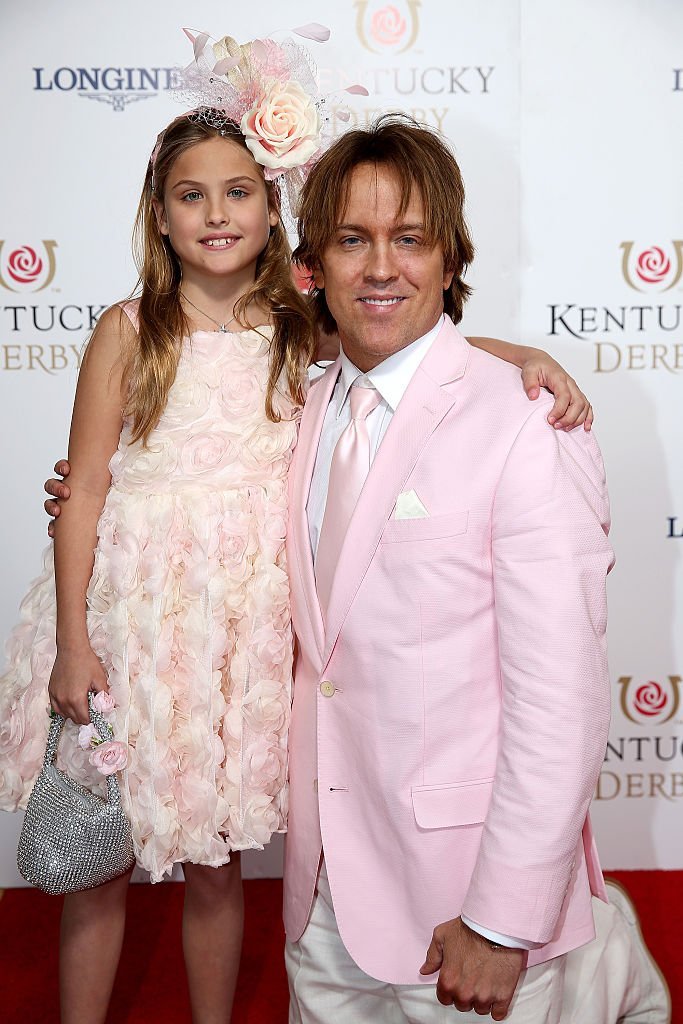 Dannielynn Birkhead (L) and Larry Birkhead attend the 141st Kentucky Derby at Churchill Downs on May 2, 2015 | Photo: GettyImages
What followed was a legal paternity battle with Birkhead claiming he was Dannielynn's father, while her birth certificate listed Smith's lawyer, Howard K. Stern as the father.
Eventually, a DNA test proved Birkhead as the real dad, and he obtained full custody of the girl, who is now 13 years old and living a normal away from the spotlight in Kentucky.
Please fill in your e-mail so we can share with you our top stories!