Harry Makes First Public Appearance in the UK since Moving to Canada with Family in Environmental Summit in Scotland
Prince Harry returned to the UK to make his first public appearance since stepping down as a senior member of the royal family and moving to Canada.
Since stepping down as a senior member of the royal family, Prince Harry expressed in a statement his desire to balance a life between Canada and North America.
After weeks living under the radar, as he and his wife Meghan Markle and son Archie. The couple has been plan how they are going to live the life of financial independence they were granted by Queen Elizabeth. Harry has returned to make a few final appearances as a working royal. 
In his first public appearance since his royal exit, Harry arrived in Edinburgh, Scotland, to speak at the Travalyst summit. Travalyst is an initiative he started in support of environmental tourism. Sussex royal revealed:
"Travalyst is working to build a future where people are able to take holidays and trips that have social, environmental and economic benefits to communities and destinations built in."
During the launch of Travalyst in September, Harry recalled an encounter with a young Caribbean boy that inspired him to launch the initiative focused on environmental tourism.
At the time of the launch, he told the press that while visiting the Caribbean for a coral reef replanting project, a seven-year-old told him that because of his country the coral reef in the Caribbean was dying.
The encounter inspired Harry to partner with Visa, Skyscanner, Trip.com, TripAdvisor, and Booking.com to come up with travel mechanisms that are better for the environment.
Despite all the anticipation for it being his first public event since his royal exit, Harry did not say a speech at the summit. According to PEOPLE, he simply made a brief welcome before the other speakers took the podium.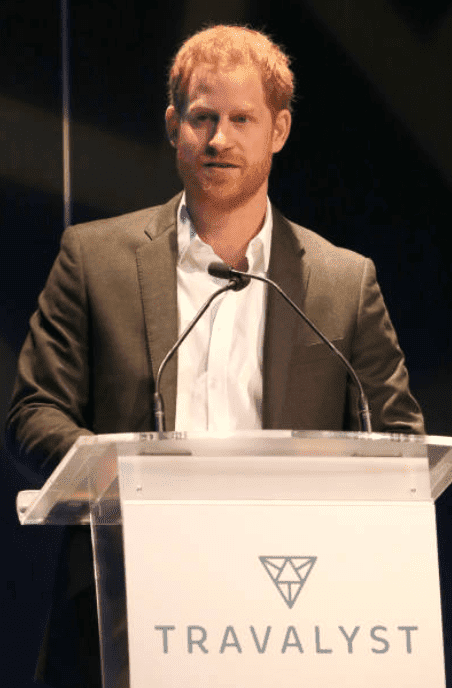 Since the Queen announced that 
Meghan and Harry
 could no longer use their royal titles, his name change was announced at the summit. During his introduction, the host Ayesha Hazarika 
said:
"He's made it clear that we are all just to call him Harry. So ladies and gentlemen, please give a big, warm Scottish welcome to Harry."
"I want to help create a platform where all of us concerned about these issues can work together, where competitors can unite and incentivise a positive systemic change. There's a reason why this hasn't been tried before, but with our partners we have the best shot." — Harry pic.twitter.com/AoMxxyyR9p

— Omid Scobie (@scobie) February 26, 2020
Daily Mail
 reports, the Queen was hurt with Meghan and Harry after they responded in a lengthy statement to her announcement that they could no longer use their royal titles.
An insider said she doesn't want to talk about the drama in the royal family and "[the Queen] just wants it over and done with."