Snoop Dogg Sends Prayers to Kobe Bryant's Sisters, Says They Have a Brother in Him & Fans React
Snoop Dogg made a heartwarming gesture to the Bryant family when he sent prayers to Kobe Bryant's sisters and said that they have a brother in him. Many fans have since applauded the kind gesture. 
After Kobe Bryant's public memorial at Staples Centre, Snoop Dogg took to Instagram and shared a picture of the basketball legend's parents, Joe and Pam Bryant.
Besides the couple's snap, Snoop also sent prayers for the bereaved parents and expressed his gratitude towards them for blessing the world with their legendary son. 
SNOOP'S PRAYERS
In the comments, fans also acknowledged that nobody had taken the time to send condolences to the Bryant parents and, not long after, Snoop also went to the comments to share his prayers for the Bryant sisters.
"Prayers to the. Bryant sisters u have a brother in me ???"
The hip-hop artist also consoled Kobe's sisters by saying that they still had a brother in him, and fans could not help but admire his noble heart for making such a kind gesture.
FANS REACT
One fan called Snoop out to be a beautiful human being with a big heart for doing what he did before sending her love to Kobe's wife, Vanessa Bryant, and anyone who loved Kobe and his daughter Gianna.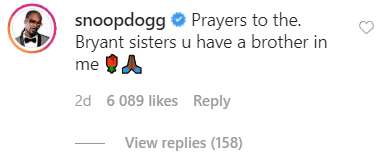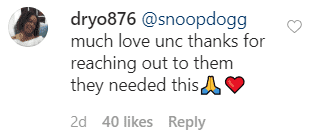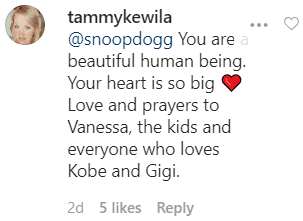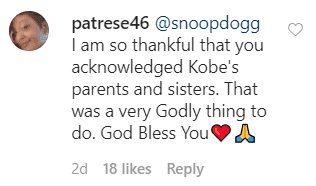 Another fan claimed that she was very thankful that the "Young, Wild and Free" singer acknowledged the loss that the Lakers star's parents and sister went through and even blessed him for it. 
Other fans soon followed with emotional comments and a mutual thankfulness towards Snoop because they believed that it was due time that Kobe's parents and sisters received love and prayers. 
NOT JUST SNOOP
However, Snoop wasn't the only one to show support for the grieving couple. Byron Scott, who coached Kobe and the Lakers from 2014 to 2016, also shared a snap of Joe alongside an emotional caption. 
Although Kobe and Joe were known to have had a fair share of tension between them, things were looking up for the father-son dup since the Lakers Legend retired back in 2016. 
Wayne Slappy, Kobe's former coach, and a family friend, also revealed to "Daily Mail" that he had witnessed the father and son embracing each other in a hug just recently in Kobe's camp in Santa Barbara. 
Kobe had claimed that his father had an issue with Vanessa's Latin heritage in a 2003 interview with "Orlando Sentinel," and that had caused hurt feelings, estrangement, and unresolved issues.