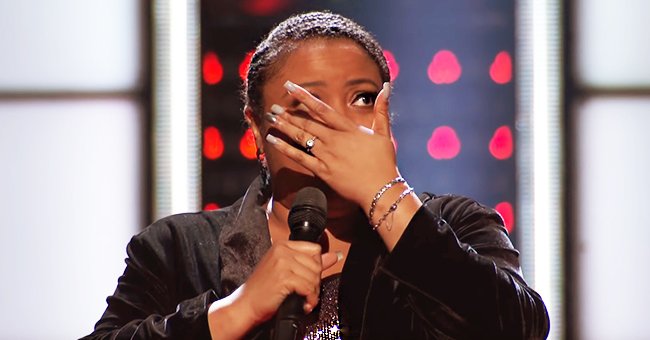 youtube.com/The Voice
Toniesha Harris Earns 4-Chair Turn on 'The Voice' after 8-Year Audition Delay Due to Son's Illness

For "The Voice" contestant Toniesha Harris, she had to wait eight years before pursuing her dreams by going to her first audition on "The Voice." And it was all worth it.
As season 18 of "The Voice" gets underway, viewers can confirm that there's no shortage of talent from new contestants. The judges also showed this with a 4-chair turn earlier this week.
When 44-year-old Toniesha Harris took the stage of NBC's hit talent show on Monday, all the judges were taken aback right away. Their reactions are in the clip found below.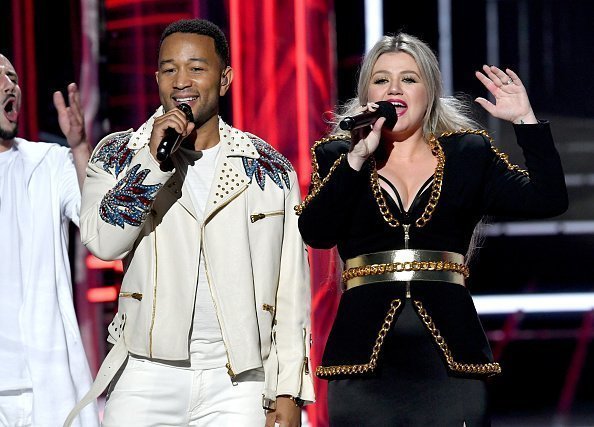 John Legend (L) and host Kelly Clarkson speak onstage during the Billboard Music Awards on May 20, 2018 in Las Vegas, Nevada | Photo: Getty Images
Tonieisha gets four chair turns
John Legend, Kelly Clarkson, Nick Jonas, and Blake Shelton all gave "ooh's" and "aah's" upon the start of Harris' rendition of Foreigner's "I Want to Know What Love Is."
R&B star Legend turned around first. Jonas followed. And then Shelton and Clarkson. Receiving chair turns from all four judges is nothing short of remarkable, and, in this case, well-deserved.
However, it was long in the making for the Maryland native who has been singing since she was a little girl. Harris revealed that she was meant to audition for the show back in 2012.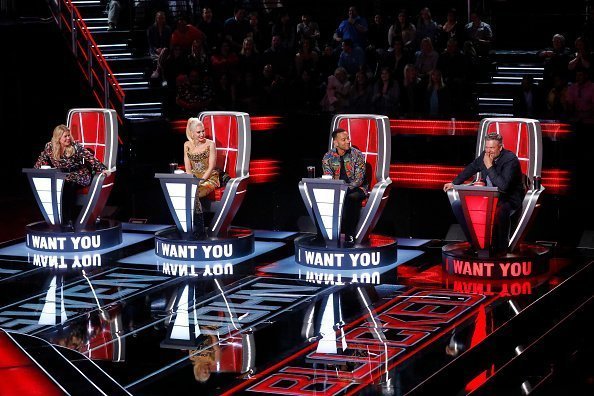 Kelly Clarkson, Gwen Stefani, John Legend, Blake Shelton on set of "The Voice" season 17 | Photo: Getty Images
Why she took a break
Unfortunately, her son was diagnosed with leukemia. Harris put her life on hold to care for her child. The young man is now much better and in his second year of college.
A teary Clarkson told Harris, "You might have taken time off, but your voice didn't." She admitted that she was deeply moved by the performance and was thankful for the woman's presence.
Shelton spoke next, making his case for why Harris should pick him. As the longest-running host on the panel and with six wins in the bag, Shelton had a good argument.
She makes her choice
Despite Legend's touching speech, Harris indeed went with the country singer. Behind the scenes, Harris' two sons stood looking on with pride at their mother.
Another contestant didn't get four chairs, but instead got two turns from Jonas and Shelton. This time, Shelton used controversial means to convince the contestant, Tate Brusa, to choose him.
Shelton attempts a bribe
After Jonas cleverly did some real-time coaching with Brusa, showing him how to avoid a breaking voice while singing, Shelton stepped up with his strategy.
The country superstar didn't use words. Instead, he tried to bribe Brusa with an adorable puppy, telling the teen that the dog would go back to the shelter if he didn't choose him.
This season's Battle Advisors
Brusa wasn't fooled and went with Jonas despite the underhanded move. This season, the contestants and judges will be working with a new group of battle advisors that some fans don't support.
The advisors are Bebe Rexha, Dua Lipa, Ella Mai, and Jon and Kevin Jonas. For some, they understood that all the artists are well-known in their genres.
Others, however, felt that the young advisors were not around long enough in the industry. Regardless, the singers are here to stay, and we can't wait to see what help they offer the contestants.
Please fill in your e-mail so we can share with you our top stories!