'The Voice' Announces New Battle Advisors for Season 18 and Fans Have Mixed Reactions
"The Voice" just announced what megastars will be joining their star-studded team of coaches. While some viewers are impressed, others think the choices were poor. 
On Wednesday, "The Voice's" Twitter page posted four photos unveiling the identities of those who will be helping out each judge on NBC's popular reality talent competition series.
The show's current coaches are Kelly Clarkson, Blake Shelton, John Legend, and new addition, Nick Jonas. The tweet revealing each of their battle advisors is found below.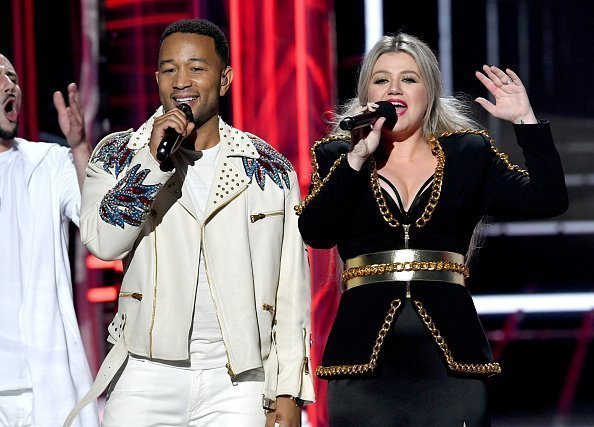 "The Voice" battle advisors announced
Shelton, who's been on the show since it's inception, was paired with Bebe Rexha for "The Voice" season 18. This isn't the first we've seen of Rexha as she was the Comeback Stage coach last year. 
"New Rules" singer Dua Lipa will be Clarkson's advisor. Dua Lipa took to Instagram to share the news with fans and thank the "Since You've Been Gone" singer for their collaboration. 
The Jonas brothers unite
John Legend, who joined Clarkson as a new coach in season 17, will have Ella Mai as his battle advisor. The R&B icon will show off his singing chops at the Grammys this Sunday. 
As for the newest — and youngest — coach Nick, 27, he'll be joined by none other than brothers Joe and Kevin Jonas. The three once made up a boy band called the Jonas Brothers when they were younger. 
Fans react to the choices
After the announcement, fans voiced their opinions. One person commended all the advisors, pointing to the fact that they all have a rich history on the radio and elsewhere. 
All of them are well known in their genres and have all been on the radio mulitple times and have had major success

— lilbevstan (@steinfanclanCC1) January 22, 2020
Another user noted that some of the artists were not around for very long  — as far as they were aware, anyway — and so they would have preferred different selections. Others defended some of the longtime artists. 
Not impressed. If it were me, I'd rather hear from artist who have been around longer.

— Mama S (@cdshep66) January 22, 2020
Some viewers acknowledged they didn't know a couple of the artists, but were still on board with the choices. Last season, it was a completely different story. 
Not all viewers are millennials. I'll be 60 this year. The Jonas Brothers and Bebe have been around for years . I didn't know who Dua Lipa was until she was on Kelly's show. Never heard of the other girl. It should be interesting.

— t (@BrendaLynnV) January 23, 2020
Last season's battle advisors
For season 17, the show made history by having an all-black group of battle advisors for the first time: Darius Rucker, former "Voice" coach Usher, the multi-talented Will.I.Am, and singer Normani.
The show also received help from pop icon Taylor Swift, who was the season's mega mentor. In November, Swift was so moved by one particular duo competing that she shed tears. 
Taylor Swift gets emotional
When Hello Sunday, a duo of two 14-year-old girls, sang Ariana Grande and Nathan Syke's "Almost Is Never Enough," Swift was overwhelmed. "The Voice" shared the emotional clip online. 
*sees @taylorswift13 in concert*

You: #TaylorOnTheVoice pic.twitter.com/NApaY5wlzv

— The Voice (@NBCTheVoice) November 5, 2019
The touching moment, which happened during rehearsals for the Knockout Rounds, was a highlight last year. This year, we can't wait to see what's in store, especially with the talented new advisors.