Chip and Joanna Gaines: 10 Fun Facts about the HGTV Stars' Marriage & Business That You May Not Know
The "Fixer Upper" stars, Chip and Joanna Gaines, are the "real-life" definition of couple goals. There are many things about the power couple that many are unaware of.
The HGTV stars, Chip and Joanna Gaines are popularly known for their reality TV show, "Fixer Upper," which ran for five seasons and ended in 2017. Asides the home design and renovation show, the Couple also founded Magnolia, a versatile company.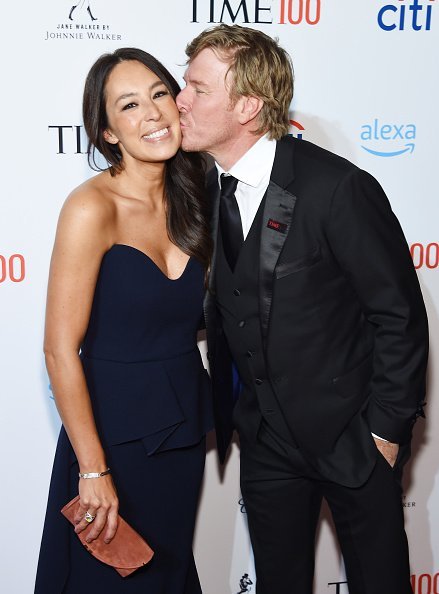 However, that's not all for the power couple. They are expanding their business together by launching their TV Network this year. However, what's really special about the duo, however, is how romantic their marriage is. Here are 10 fun facts about Chip and Joanna Gaines' marriage;
The power duo attended the same university. Although it's not where they met, Chip and Joanna both attended Baylor University. Chip graduated in 1998 while his better half graduated from the same higher institution in 2001.
Before the couple met officially, Chip already loved Joanna. For a good part of her young life, Joanna worked at her father's Firestone Tire store before she made it to Tv doing commercials for business.
It was during this time that Chip visited the store and saw a picture of his future wife on the counter. He said, "I knew I'd marry her one day just by the picture on the wall."
Joanna Didn't Reciprocate Chip's Feelings Immediately. Chip may have fallen at first glance at Joanna's picture, but it was different for her. It took her months to discover that, "he was the one because [she ] knew [she] could trust him."
Chip said "I love you" first and Joanna replied "thank you." Although their co-owned multi-faceted business is quite successful, Chip and Joanna had different career goals.
Chip had dreams of playing baseball professionally or being a politician while Joanna wanted her own cooking show as well as a career in journalism.
Chip motivated Joanna to start building her own business. With support from her hubby, Jo went on to create Magnolia Market before Chip joined the business. They launched in 2003 and closed in later to shift their attention to their children.
Chip was already into flipping houses since college. Although the duo went on to have their own real estate company, Joanna didn't get into the business of flipping houses until she met Chip.
The name of their company has a romantic story behind it. The Couple named their company, Magnolia after a romantic gesture from Chip to his wife on one of their first dates. The father of five climbed up a Magnoli tree to pick flowers for his wife.
They exchange letters when they're not together. Whenever any half of the pair is out of town or they're apart for a while, the two lovebirds share letters.
They named their first child after their honeymoon hotel. Their eldest son, Drake, who's a baseball fan like his dad, was named after the hotel where his parents spent their honeymoon. 
The Gaines' marriage and business are both interestingly managed by the Couple, as well as their five kids. Most recently, Joanna, 41, took to social media to appraise her 15-year-old son, Drake, for taking a "grown-up" move and getting his driver's license.
The reality tv star reminisced of her youngest child, Crew, and how he still holds her hand to walk.
She spoke of the feeling of both events and said, "Parenting is about training these babies up to eventually let them go." Chip and Joanna share five kids -Drake, Ella, Duke, Emmie, and Crew.