Porsha Williams from RHOA Takes Mom Diane and Daughter Pilar Jhena on Vacation to Greece in New Photos
"Real Housewives of Atlanta" star Porsha Williams heads to the European city of Greece for one of her bucket list vacations, and with her were her baby daughter, Pilar Jhena, and her mother, Diane. 
There is never a dull moment in the life of "RHOA" star Porsha Williams, and things are about to get even livelier with her vacation trip to Greece. 
Porsha is, however, not going alone to the European country as she has the company of her mother, Diane, and her 11-month-old daughter, Pilar.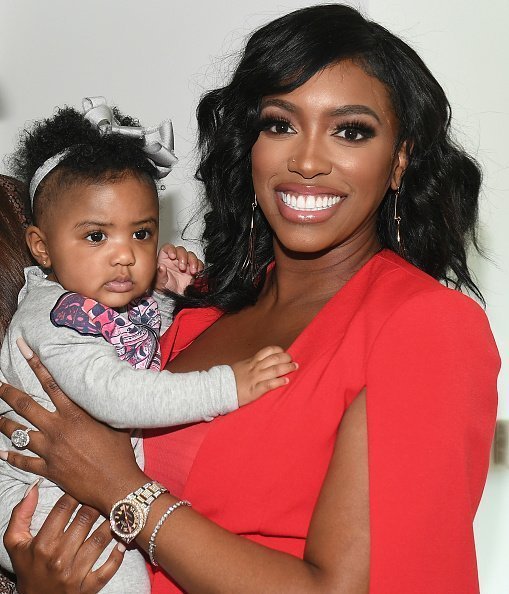 Porsha made a post on Instagram in which featured three pictures of the traveling trio, the first showing her and her mom sharing an embrace, while baby Pilar was strapped in her rocker. Their luggage was also seen. 
The second photo showed Pilar in her rocker, in a cute pink dress, fiddling with her toys, while the third picture showed Diane posing for the camera, and smiling happily. Porsha captioned the post with the words:
"Off to Greece!! So blessed to take them with me to one of my bucket list vacays! @mrsdianeofficial @pilarjhena #RHOA #Throwback."
Porsha's fans felt delighted with the pictures, and showed it with their comments, with one of them describing the photos as "generations of phenomenal women."
Meanwhile, Pilar continues to grow so fast, and at just 11-months-old, already has her style. Her proud mom recently shared a cute picture and a video of the sweet baby rocking a new hairdo that featured white beads. 
Porsha Williams bought Porsha who would be one on March 22, a pink drum kit just right for her size
The pictures were posted on Pilar's Instagram account, which already has large followership, as she has over 317,000 fans. The picture showed Pilar looking seriously and intently at something while drinking from her cup. 
The video showed Pilar still drinking from her cup and moving all over the couch. At one point in the video, she lost hold of her cup, but grabbed it back and continued to roll on the couch. Porsha, captioned the post thus:
"Look at my big girl hairstyle!! [emojis] #11Months."
As expected, Pilar's followers, as well as those of her mother, were head over heels in love with the baby's hairstyle, with some of them even asking about the stylist. 
The little tot not only has her own hairdo, but also has her own musical instruments, and is already learning how to play them, courtesy of her mother. 
Porsha Williams bought Pilar, who would be one on March 22, a pink drum kit just right for her size, and tried her best to teach the cute princess how to play it. 
The proud mother shared a series of videos of Pilar playing the drums while she cheered her on. At the rate Pilar played the drums in the videos, it will only take a short while for her to become a drum prodigy.