Jessa Duggar of 'Counting On' Fame Shares Adorable Pic of Her 3 Children as Spurgeon Shows Love to Sister Ivy Jane
"Counting On" star Jessa Duggar Seewald gets nostalgic as she shares an adorable picture of her three children Spurgeon, Henry, and baby Ivy, spending time together.
Jessa is a proud mom to her three children with husband Ben Seewald, and she regularly updates fans on the happenings in the family.
SIBLING LOVE
Most recently, the reality star shared the cutest picture of her kids, and she can't believe they are growing up so quickly.
On Wednesday, Jessa said that her "babies are growing up too fast" as she posted a sweet snap of the three youngsters sitting together outside. Ivy laid cozily in Spurgeon's arm, while Henry got preoccupied with his toy.
After Ben and Jessa welcomed Ivy to the world on May 26 last year, the mom of three told Us Weekly that Henry and Spurgeon absolutely "adore her," clearly visible in Jessa's latest picture by Spurgeon's tenderness towards her.
BIG BROTHER SPURGEON
The couple had Spurgeon about a year after they married at the First Baptist Church in Bentonville, Arkansas in November 2014, and named him after one of Ben's personal heroes as he previously said:
"One guy that has really impacted my life is a great preacher of the past, Charles Haddon Spurgeon."
A British preacher that lived during the 1800s, Charles Spurgeon became one of the best-known Baptist preachers in England who attracted thousands of people to his sermons.
Before his death in 1892, Charles founded the theological college in London named Spurgeon's College.
CONCERN OVER HENRY
Jessa gave birth to Henry two years after Spurgeon, and his development took a different turn to that of his siblings, which had the couple worried for a while.
In November last year, Jessa shared on their family's TLC show that Henry suffers from developmental delays as he mainly communicates through "grunts and pointing."
The couple took Henry for evaluation shortly after, which ruled out any kind of problems with his hearing and development. Regular visits with a speech pathologist soon followed, and the tot started improving.
UPDATE ON HENRY'S PROGRESS
On March 8, Jessa happily shared that Henry "caught up" after working on his delays as she responded to a fan's question and wrote: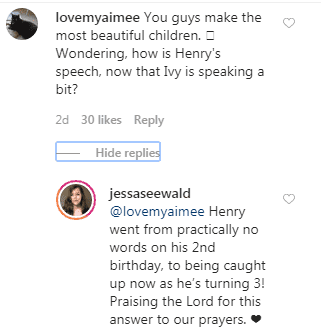 BEN & JESSA MAKE TIME FOR EACH OTHER TOO
While Ben and Jessa love spending time together as a family, they also make an effort for alone time, as the couple recently enjoyed a date night.
The "Counting On" couple turned a visit to a Whole Foods grocery store into their evening out, as they picked up items to later prepare a meal with the children at home. 
In the pictures, Ben also debuted his new clean-shaven look as they smilingly held the grocery bags filled with fresh produce while Jessa captioned her post:
"Let's be real— I live off grocery pickup most of the time. But grocery shopping is never more enjoyable than when we do it together. #datenight @ben_seewald."
Even though the children are still young, Jessa Duggar and husband Ben make sure they have a fun time together as a family as well.
In February, Jessa shared the joyful time they had during game night, when the family of five, including baby Ivy, played the game Hedbanz.