Terra Jolé from 'Little Women: LA' Shows off Baby Bump in Black Dress at 38 Weeks Pregnant
The celebrity mum, wife, YouTuber, and entrepreneur, LA' Terra Jolé, took to her Instagram page to give an outlook of her physical appearance after thirty-eight weeks of pregnancy. 
The reality star, Terra Jolé, is a great wife and mother to her two kids. Amidst attending to her graceful career as an entrepreneur and YouTuber, she still managed to look perfectly in shape after thirty-eight weeks of pregnancy.
The picture shared by the star was captioned, "So proud to have made it 38 weeks ❤" and hashtagged #minimama.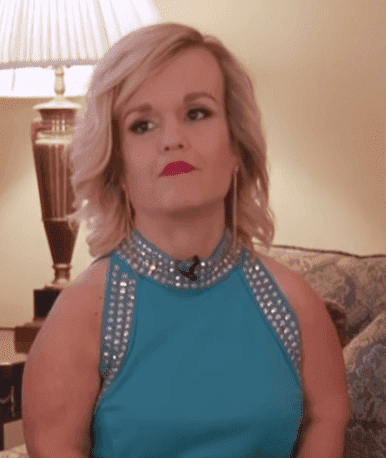 The full-body picture showed the pretty blonde standing in front of a mirror wearing a black gown and flat slippers. 
Terra Jolé has two kids, a boy and a girl with husband, Joe Gnoffo. The couple welcomed their first child, Penny Penelope, in March 2015. 
At the arrival of the baby girl, Terra Jolé called her a miracle child owing to the many complications and difficulties that surrounded her childbirth. 
Whilst she was still pregnant for Penny, the unusual development of the baby in her womb gave her serious fears. Fortunately, she delivered Penny without having any of the medical issues she was scared of. 
However, raising the little girl has come with its own peculiar challenges. Months after her birth, Penny had a skull surgery. Thankfully, she survived it. But the throes were not over. 
Penny has had difficulties walking ever since childbirth. She was diagnosed with hydrocephalus, a medical condition in which some fluids in the brain hamper proper functionality. 
Although the doctors gave Terra Jolé several surgical options, they strongly advised her to take Penny for a shunt. 
Feeling empathic, the mother of two shunned the advice because the chance of survival was fifty-fifty. She said in an interview with Pop culture that,
"We are still exploring other possible options… I just want Penny to feel like a normal small person like I do." 
Terra talked about the social consequences of Penny's illness. She disclosed that her daughter's medical challenges had revealed who her true friends are. 
She said the condition affected her relationship with her peers. In her words, "I don't need people to bow down to me… It will be nice if they can ask about my daughter instead."
Around August 2016, the couple had their second child, Grayson Vincent. Though Grayson has no issues walking and is already attending daycare, he was also diagnosed with pseudoachondroplasia; the same dwarfism his father suffers from. 
Terra, who hesitated to release the results of her son's test, later let the cat out of the bag and came to terms with the fact that although they had unique challenges, they are a "little happy family."
The couple is hopeful that the third child will bring the charm and come out free of all the challenges it's older siblings have had to face. Pregnancy looks good on Terra. And, who knows, she might have a fourth.