Drew Scott from 'Property Brothers' Shares Adorable Photos with Family Spending Time Together
Drew Scott warmed up his social media timeline after sharing rendering pics of his family members smiling and enjoying a cozy moment.
"Property Brothers" star, Drew Scott, proved that family times are precious in a new post he shared on Instagram. In the heartwarming post, Drew and his family members stood in twos as they cheerfully posed and gave fans a lovely view.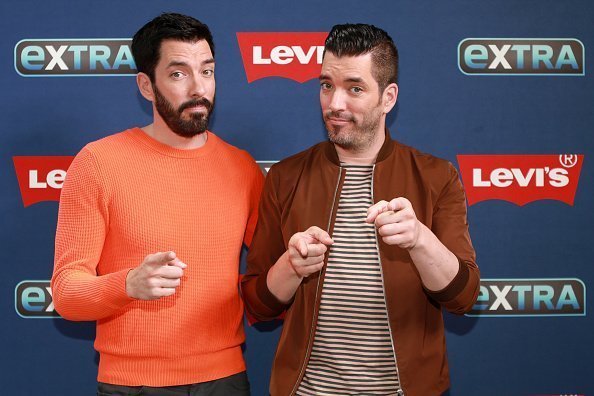 FAMILY IS EVERYTHING
While Drew stood dearly holding his wife, Linda Pham, at one end, his twin brother and co-star, Jonathan Scott, held on to his pretty girlfriend and fellow celebrity, Zooey Deschanel. Drew captioned the pleasing post:
"I love these guys. #familytime."
Even without the TV star's hashtag, one could see that family times are valued in the Scott family. Also present in the snapshots were the twins' brother, his partner, and their ever-youthful parents. The grownups held on to their partners as they heartily smiled for the camera.
FAMILY TIME PLEASES FANS 
After the Real Estate star's post, fans were happy about the images on their timeline, and they wasted no time in putting out their comments. Someone exclaimed: "The best picture ever!" 
A second person added: "Family is the most treasured and precious." Addressing Drew Scott, one fan wrote: "Love the pictures of you and your family." Someone chimed: 
"I love how happy you all look here."
EXPANDING THE FAMILY 
Drew and Jonathan Scott might be big on family, but the brothers are willing to take a step back when it comes to procreating. Once in an interview, Drew, who is married to Linda Phan, opened up that they were not in a rush to have kids.
Jonathan also once echoed his twin brother's sentiment while divulging that he was taking it a step at a time. Nonetheless, the "Brother Vs. Brother" stars do see kids in their futures. Jonathan is not married but is currently in a relationship with Hollywood star, Zooey Deschanel.
THE PROPERTY EMPIRE
Last year, the TV personalities took their real estate business higher after announcing the advent of a lifestyle magazine centering on their designs and decors.
In an exclusive reveal to People, the home design experts gave an insight into what fans should expect from their issues.
Basically, the Scott duo looked forward to compiling each of their tasks on designs and renovations into the lifestyle magazine while adding backstories of each successful home revamping and decor.