Amy Roloff from LPBW Shares Sweet Moments with Her Fiancé from Portland Beach Weekend
Amy Roloff and her fiancé Chris Marek look head over heels in love in the photos shared by the "Little People, Big World" star on social media.
Amy took to Instagram recently to share photos of herself and her fiancé. "What a wonderful fun weekend at the beach with Chris, who always makes me smile everyday," she captioned the post.
The 55-year-old reality star added that they were there taking the yearly friend's weekend trip to the beach. She continued that although the Portland area has gotten some dusting of snow, it was totally excellent at the beach.
A HAPPY COUPLE
Amy's fans immediately commented on her adorable post, which already amassed more than 42,700 likes. One fan wrote:
"Beautiful scenery! You two look so happy! Happy for you!"
Another fan added that the couple, who have been dating since late 2016, are so beautiful together. Someone else said it "looks like a great trip away."
STAY HOPEFUL
The photographs came only a day after Amy shared a video of herself, encouraging everyone to remain hopeful. She also said that people should do everything they can to be healthy and safe.
As reported by Good Housekeeping, Amy is keeping her fans occupied with details about her wedding to Chris. Along with her longtime friend Lisa Dixon, she went on Facebook live on February 23 to respond to inquiries from fans. 
Amy recently moved out of the Roloff family farmhouse.
THEIR MARRIAGE PLAN
A few fans asked about the Roloff matriarch's big day. Amy then answered that she and Chris are planning to tie the knot in 2021. She added that they haven't set a date yet and that they'll deal with that later in the year. 
Last September, Amy announced that she is engaged to Chris. She told PEOPLE at the time that she's extremely excited and happy by the proposal. She added that she never thought she'd be getting married again.
Amy was previously married to Matt Roloff. The pair, who got married in September 1987, ended their relationship in March 2014. Their divorce was finalized after two years.
Amy recently moved out of the Roloff family farmhouse. On February 21, she shared an update with her fans that she's nearly done moving her things out of her previous home.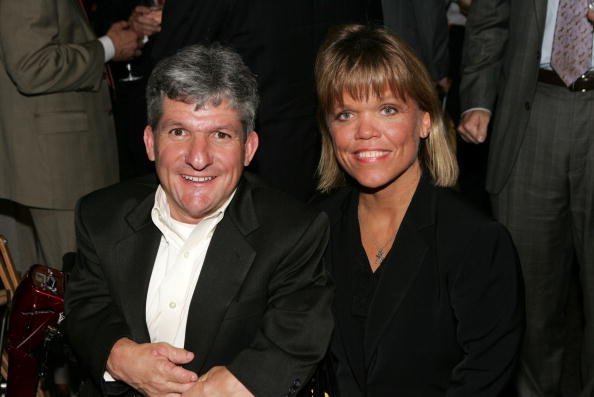 Meanwhile, the famous TLC star is not just thankful to be a fiancée, but she is also thankful to be a grandmother.
On February 26, she took to Instagram to share photos of herself and her beautiful grandchildren — Ember and Bode, Audrey and Jeremy Roloff's kids. The proud grandma has two other grandchildren — Jackson and Lilah — thanks to her son Zach Roloff and his wife, Tori.