DJ Khaled Shares Cute Photo of Baby Son Aalam as He Turns 2 Months Old
DJ Khaled gushed over his newborn son, Aalam Khaled's latest milestone, as he shared a picture in honor of him turning two-months-old.
Recently, DJ Khaled gave his fans a glimpse of his son, Aalam Khaled, when he celebrated a special milestone for his newborn.
The proud father took to Instagram to celebrate his youngest child, turning two-months-old. In the caption, he gushed, "love you so much! @aalamkhaled ! My son! #WETHEBEST."
In the picture, Aalam is lying in a baby rocker holding a piece of paper that has two months written boldly on the front.
DJ Khaled's son was born a week before he took home his first Grammy at the 2020 Grammy awards. In his acceptance speech, he revealed the meaning behind his son's name, explaining, "his name is Alealam. It means 'the world' in Arabic."
The record producer got the year off to a great start when he welcomed his son and won a Grammy award in the same month.
The award for Best Rap/Sung Performance for the song "Higher," was a bitter-sweet moment as he took the stage to accept the award on behalf of Nipsey Hussle, who was killed months earlier.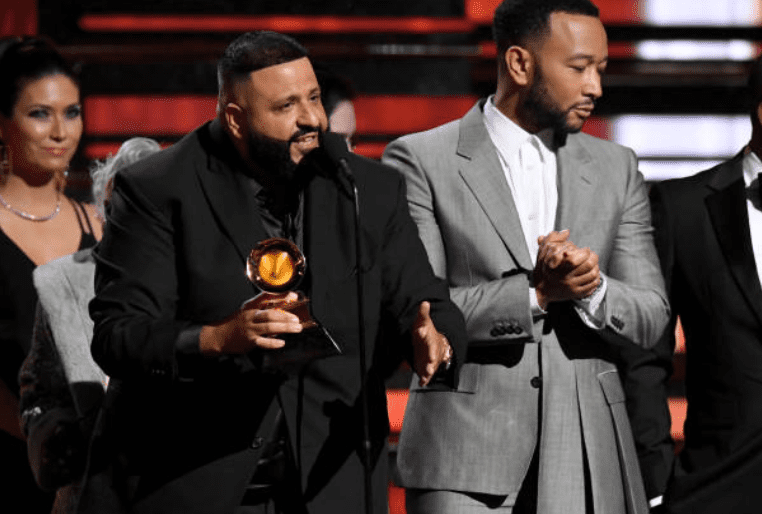 DJ Khaled made a special mention to his late-collaborator when he shared with cheering audience that he felt that he and Nipsey spoke the award into existence, he 
revealed:
"This is my first GRAMMY and I won it with my brother, Nipsey Hussle. And we talked about it."
DJ Khaled and his wife Nicole Tuck are already parents to three-year-old, Ashad. The birth of his first son was widely publicized by him when he excitedly live-streamed the birth.
However, he chose a different approach for his second son. According to Daily Mail, he only shared a few pictures from the hospital room, including one of him celebrating with his doctor.
The famously driven producer has great aspirations for both of his sons. When Ashad was born he made him executive producer on his highly acclaimed album titled, "Father Of Ashad."
Aalam doesn't have any music credits to his name like his big brother. However, at two-months-old, he is already making a name for himself with over 67 000 followers on Instagram.