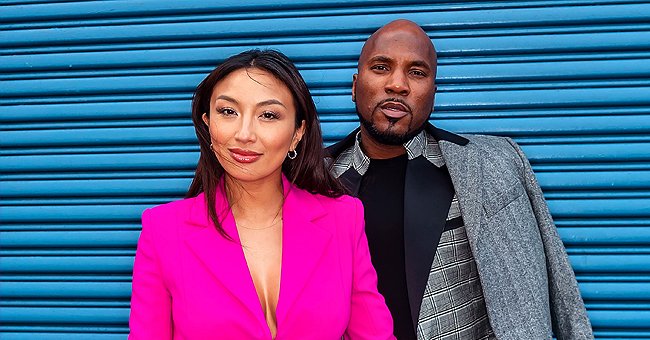 GettyImages
Jeannie Mai From 'The Real' Makes Cucumber Salad for Boyfriend Jeezy During Quarantine in New Video
She has spent quarantine for weeks in the company of her famous boyfriend and her mother, and she constantly takes to her Instagram feed to keep her audience both entertained and informed.
On March 27, talk show host Jeannie Mai once again took to social media to try to be of help to her many followers and fans in these times of social distancing, sharing a quick salad recipe.
41-year-old Mai uploaded a video that featured herself in a fancy robe and looking thoroughly fabulous as she guided anybody interested through the making of a cucumber salad that she made for her boyfriend, 42-year-old rapper Jeezy.
"I'm talking to you while I wash my hands because I want to share with you a recipe that I discovered while in quarantine that I've become obsessed with," Mai said as an introduction before starting to chop a giant cucumber.
As she went to the recipe step by step, she reminded the viewers that she was quarantining with Jeezy, who, as we know now, loves both cucumbers and spice, and nothing makes Mai happier than to please him.
Upon finishing the recipe, Mai turned the camera to her beau for "the moment of truth" and offered him a plate to hear his reaction about it, and after tasting it, all he let out this brief comment:
"I like it. Made with love. Tasty and spicy."
Mai was as impressed as we all are about Jeezy's eloquence when talking about food, and she captioned the video "Jeezy's review," adding a laughing face and tagging her boyfriend along.
FANS REACT
Mai's followers gave the post a good reception, with the video being reproduced nearly 650.000 times as of March 30, and earning more than 90.000 likes.
Several of them also took to the comments section of the post, mostly to comment on how good the TV personality looks while being locked in at her home for weeks already.
"Imagine looking this good during a lock down," wrote one of her fans. "[She] woke up looking good and she knows it," another person suggested. "You look great!!! The lockdown has u glowing," praised someone else.
"Congratulations to you and Jeezy on his album release today! Stay safe and healthy!" wrote yet another person, in reference to the rapper's latest album "Twenty20PyrexVision."
ON "THE REAL"
Mai has been self-isolating for nearly 20 days, and while her TV show "The Real" is currently on a hiatus, she recently addressed the future of the show amid the forcible interruption that is the coronavirus pandemic.
Talking to ET Online on March 24, Mai stressed out the importance of social media nowadays to keep the show's co-host engaged with their audiences during these uncertain times
"I love that our show is meant to entertain and educate and also just enlighten people. We're silly, we're fun and we're passionate, and so the show going on every day helps for people to just take their minds off things," Mai said.
About when the next season of the show will start shooting, Mai admitted that "it could be months" before it is safe to gather again, since currently, the CDC keeps recommending to keep social distancing.
"We're due to come back mid-April, but at this point, nobody is doing anything until we know that America is safe, until we know that America is healed... that's our focus for right now," Mai added.
A NEW CHAPTER
It is comforting to see that Mai is doing well in her private life, and with her divorce from her husband of 10 years, Freddy Harteis finally settled in January, she is definitely ready to leave the past behind and start a whole new chapter.
Even though she stayed with Harteis from 2007 to 2017, she has been open about how low her standards were during that relationship, something that made it harder for her to eventually understand that she was wasting her life away.
Now, when comparing her current relationship with Jeezy, Mai cannot help but get emotional. But instead of blaming it on her ex, she invites others to always "be mindful of your standards."
Please fill in your e-mail so we can share with you our top stories!