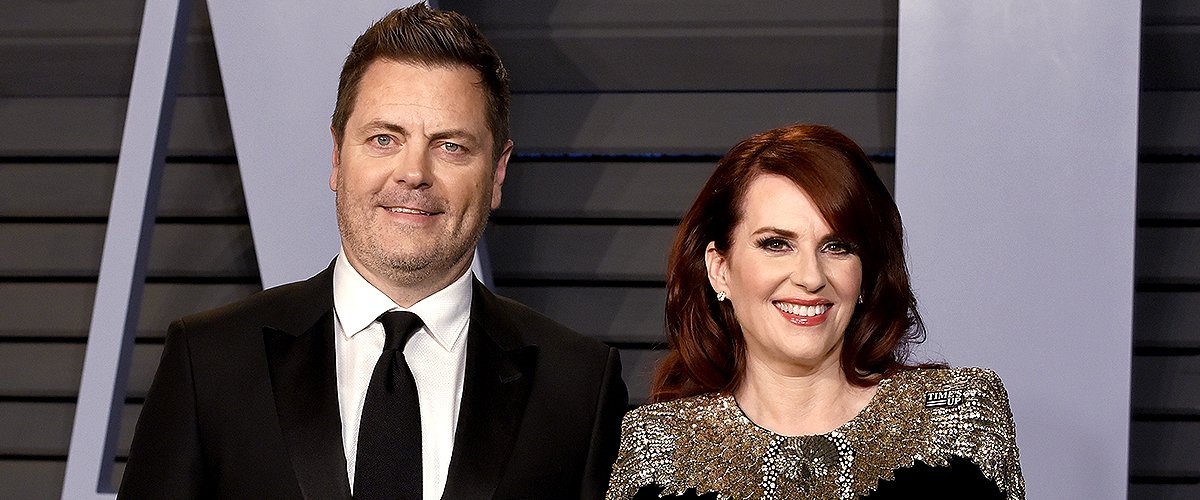 Getty images
Megan Mullally's Marriage to Her 11-Year-Younger Husband Nick Offerman — inside the 'Will & Grace' Star's Family

Megan Mullally and Nick Offerman are so happily married that they wrote a book about the secret that keeps their love alive.
'Will & Grace' star Megan Mullally opened up about what makes her marriage to her 11-year-younger husband Nick Offerman a success after 19 years together, and 16 years of marriage.
Megan and Nick's book "The Greatest Love Story Ever Told " was released in 2018 and reveals every detail of their epic love story which began in 2000, when the actors met while working together on "The Berlin Circle," a play about the fall of the Berlin Wall in 1989.
After dating Megan for two years, Nick decided to propose and went about it in a characteristically zany manner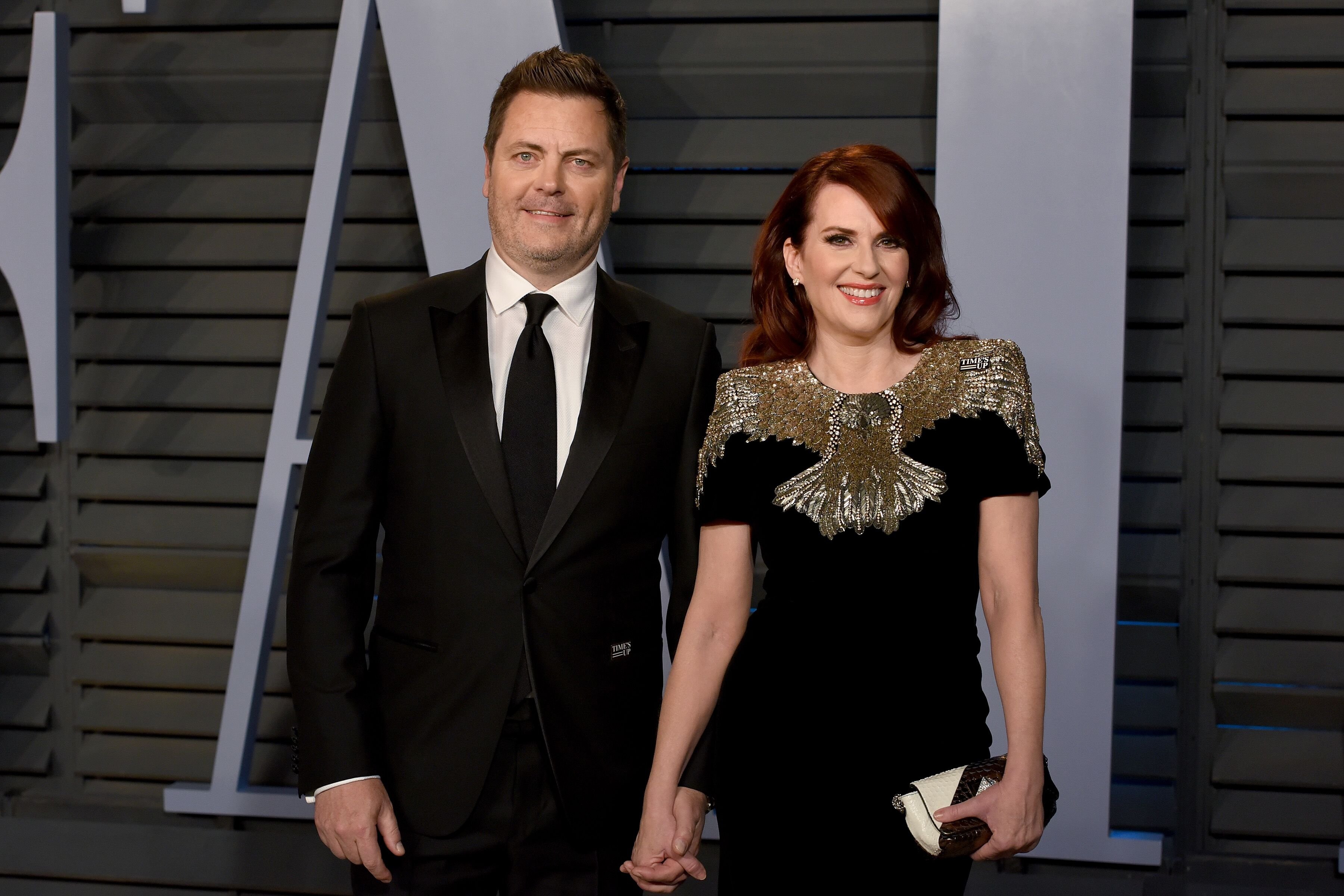 Nick Offerman and Megan Mullally attend the 2018 Vanity Fair Oscar Party in Los Angeles | Source: Getty Images
MEETING A SOUL MATE
Nick confessed that when he first met Megan he was intimidated. She was an established actress, with a hit TV show, and an Emmy Award, while he was a struggling actor.
Even though Megan was friendly, and she seemed to have taken a shine to him, Nick was still uncertain about making a move though he was more than a little in love with her salty sense of humor. He revealed:
"She had just done two seasons of Will & Grace, she was about to win her first Emmy that fall. And I was living in someone's basement… And so we were at quite different levels."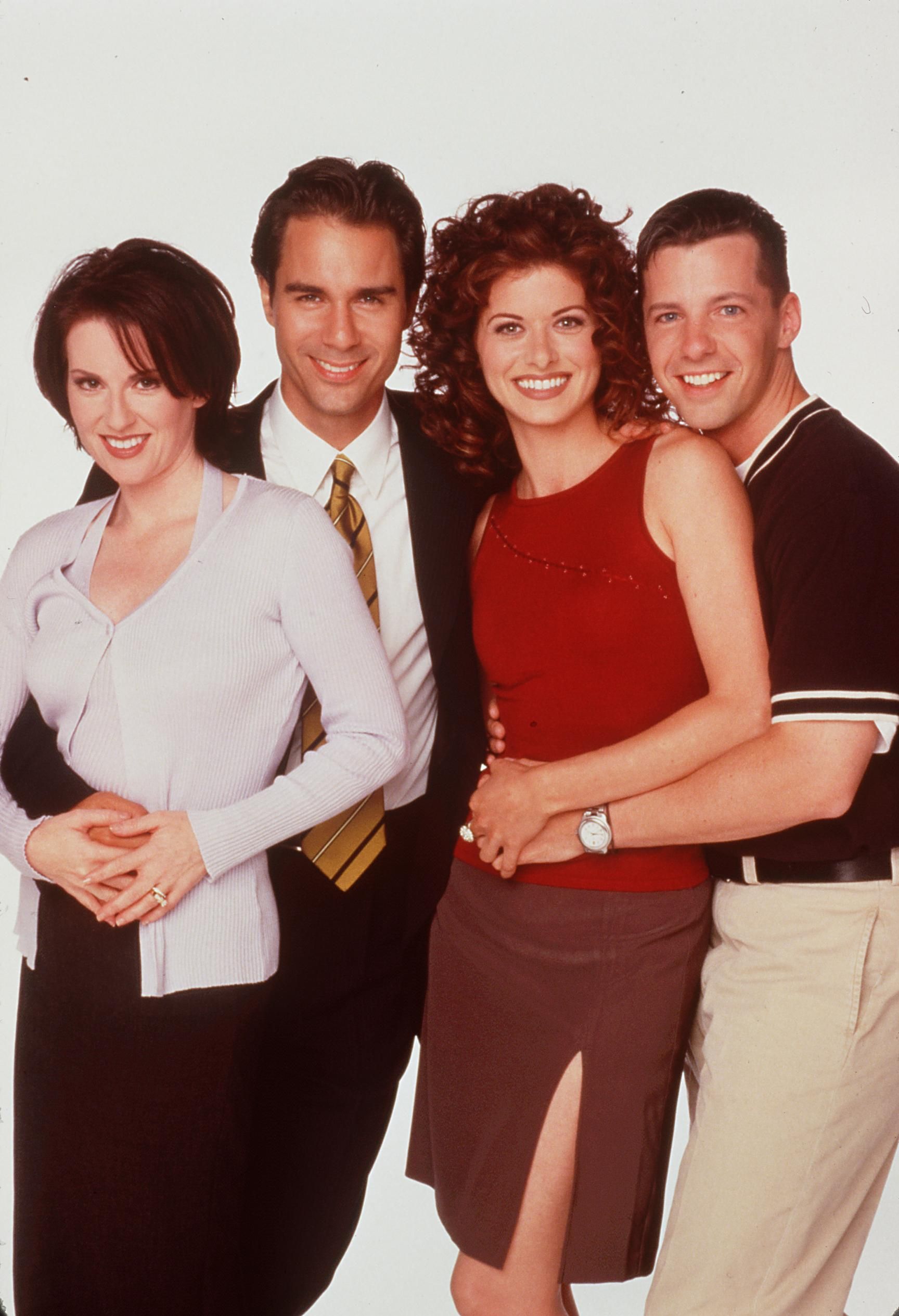 Megan Mullally, Eric McCormack, Debra Messing, and Sean Hayes star in "Will & Grace" in 2000 | Source: Getty Images
TANKING HIS FIRST MOVE
Nevertheless, the lovestruck Nick risked it all by sneaking into the passenger seat of Megan's car one day after rehearsal, and he promptly got kicked out. But Nick was determined to get her to give him a chance, and before long Megan agreed to a date.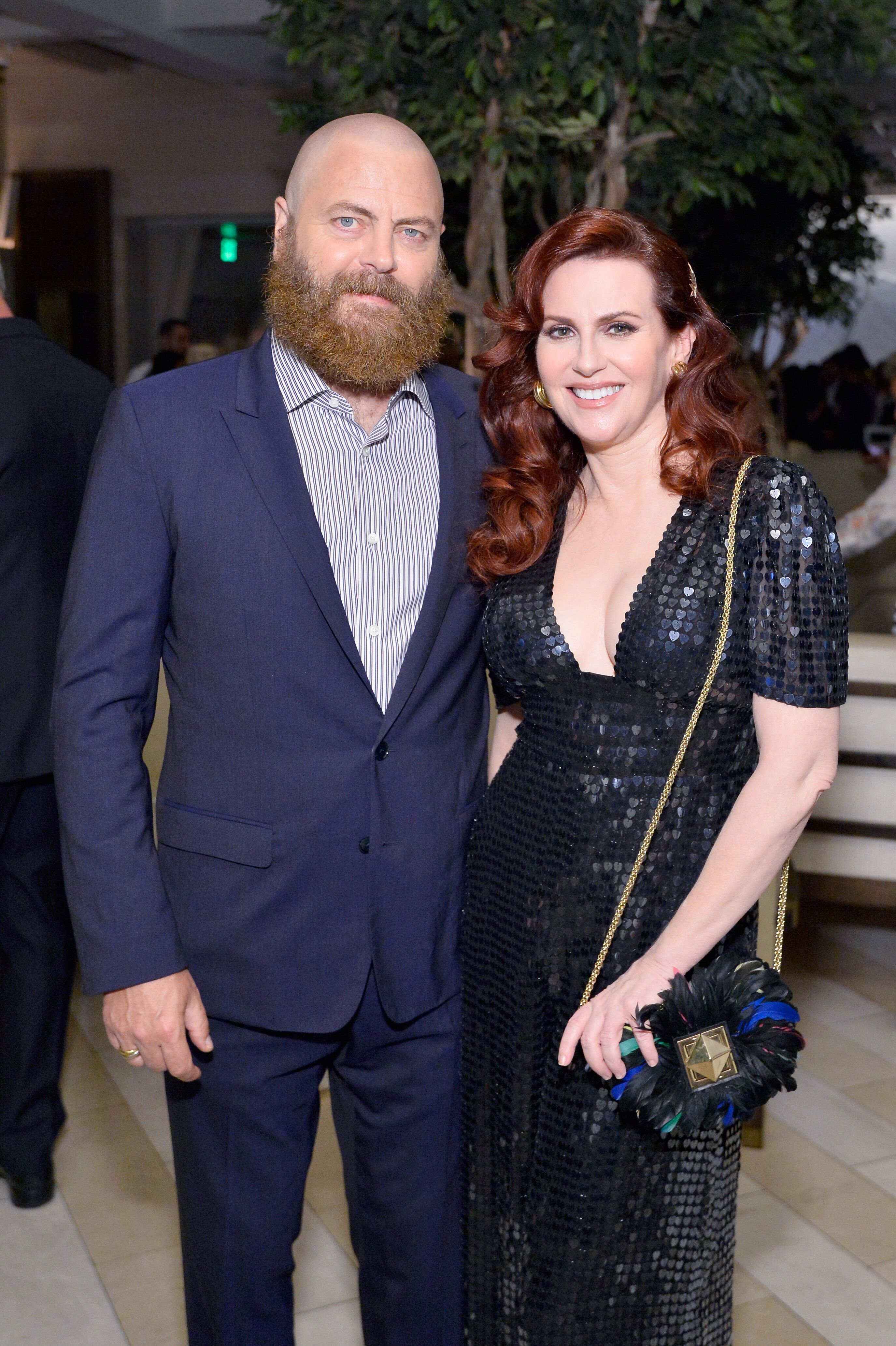 Megan Mullally and Nick Offerman at the Hollywood Reporter & SAG-AFTRA 2nd annual Emmy Nominees Night in 2018 | Source: Getty Images
THE FAKE PROPOSAL
After dating Megan for two years, Nick decided to propose and went about it in a characteristically zany manner. In 2002, while on a trip to Europe, Nick proposed in the city of romance, Paris, three separate times with fake rings. He foiled Megan's expectations each time by staging dramatic and hilarious incidents in which he lost the rings.
THE REAL PROPOSAL
Finally, Nick dropped on his knee for real, with a real engagement ring in his hand, and asked Megan to be his wife. It wasn't Paris, but it was the equally romantic beautiful rose garden in London's Regent Park. The famous gardens were laid out in the 1930s and boast over 12,000 rose bushes. Romance with a vengeance.
A SURPRISE WEDDING
On September 20, 2003, Nick and Megan invited 20 guests -- family and close friends -- to a little get-together, which turned out to be a surprise wedding. Nick and Megan tied the knot surrounded by their nearest and dearest, and with no publicity whatsoever.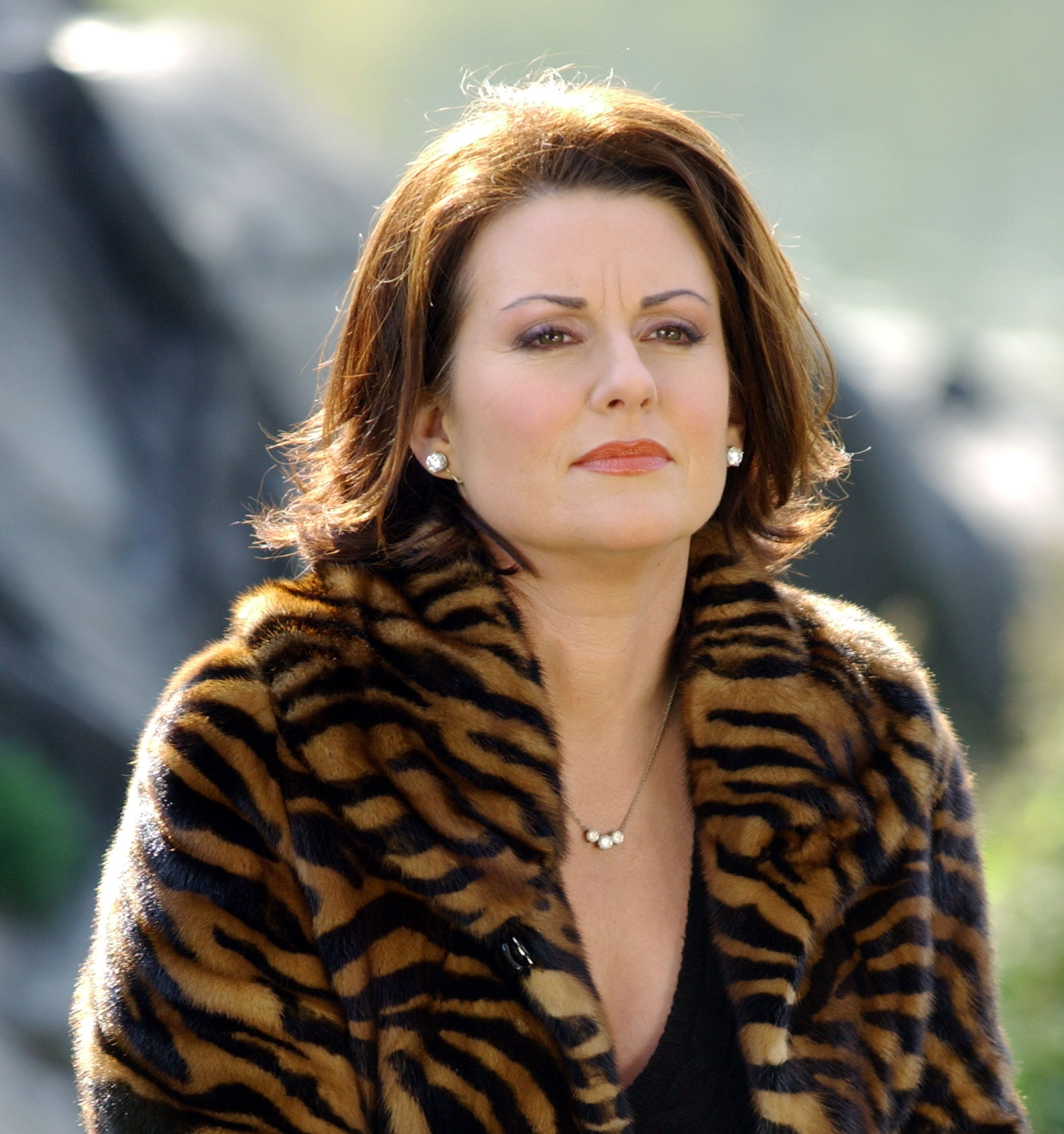 Megan Mullally filming "Will and Grace" in Central Park in New York City - November 8, 2002 | Source: Getty Images
THE AGE DIFFERENCE
As for their 12-year age difference, Nick and Megan have very different takes on the issue. Nick said he's learned a lot from Megan, and the actress quipped, tongue in cheek:
"[being older] Well, I know what's right and Nick doesn't. So he just does what I say and it works great."
THE SECRET OF THEIR LOVE
The couple confesses that their secret is that despite their demanding careers and often hectic schedules, they never spend more than two weeks apart. Nick revealed:
"Because of our two-week rule, I know we'll be together most of the time, and that means everything will be OK."
Megan can't imagine life without Nick, and he knows he would have died if he hadn't met and married the feisty, funny actress. Megan confided:
"I told him that I have to die first. I made him promise. He was like, 'I can't really promise that,' and I was like, 'Promise!' so he said, 'OK.' "
A LEGACY OF LOVE
Nick and Megan's book "The Greatest Love Story Ever Told" became a New York Times Bestseller. Their love story and their dedication to each other and to living a full and loving life have inspired millions of couples around the world to try a little harder.
Above all, Nick and Megan's story is an ode to the healing power of love, and laughter, in equal measures: the perfect recipe for happiness.
Please fill in your e-mail so we can share with you our top stories!