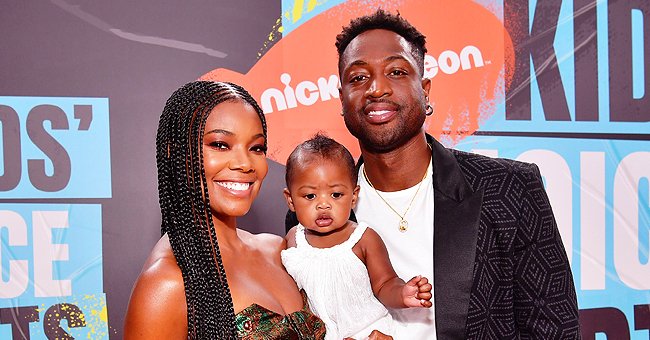 getty images
Gabrielle Union of 'LA's Finest' Shares Photo of Daughter Kaavia James Sitting in a Bucket

Actress Gabrielle Union's adorable daughter, Kaavia James storms Instagram in a lovely photo of the one-year-old sitting in a bucket during playtime.
The official Instagram account of Gabrielle Union's daughter, Kaavia James, released an absolutely breath-taking picture of the toddler sitting pretty in a bucket. The caption read:
"Felt cute. Might delete later."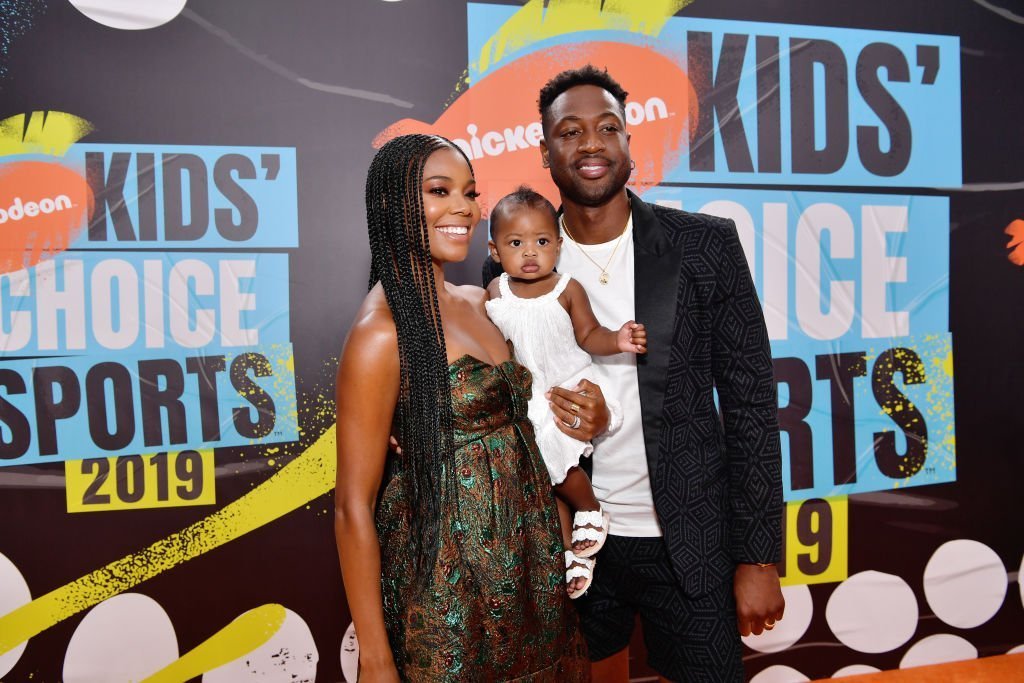 Gabrielle Union, Dwyane Wade and Kaavia James attend Nickelodeon Kids' Choice Sports 2019 at Barker Hangar on July 11, 2019. | Photo: Getty Images
Fans were enamored by the one-year-old's adorable face, even more so, by her pose. Kaavia was sitting in a large bucket, sticking one fuzzy soc-clad leg up.
Clad in a classy black and white ensemble, the little lady was holding a green polka-dotted rattle, showing the camera some teeth.
Some fans protested against the caption, begging that the golden picture should not be deleted any time soon, simply because it was too precious.
The 47-year-old mother has long before quarantine, always shared precious memories with her family posting videos and pictures. The actress especially never hesitates to show off her beautiful bundle of joy.
Since quarantine began, most families have taken to spending quality time together, and Gabrielle's family is no different. On March 20, the pair gave fans a peek into what their isolation looks like, on Instagram. Union wrote:
"A game I see a lot of moms playing during quarantine…'Where did mommy go?'"
The mother of one shared a heart-warming video of her playing an innocent prank on her toddler. Her husband, Dwyane, asked Kaavia where her mommy had gone, and the tot began to look for her around to no avail.
Suddenly, Gabrielle leaped out from behind a corner, causing Kaavia to give a scared squeal, successfully pranked.
Sharing more memorable moments with her daughter, the "Being Mary Jane" star took to Instagram to share a series of "bath time bliss" photos of the little girl.
Little Kaavia looked as cute as a button, sporting a soapy faux mohawk. The one-year-old was rocking a "bath-time-bling" necklace, which fans went crazy over. Dwyane and Gabrielle welcomed their baby girl early in November 2018.
Whether the sweet girl is sitting in a bucket, splashing around in a bathtub, or just sitting around, relaxing with her parents, she has quickly learned the art of charming anyone who sees her and making them fall in love.
Please fill in your e-mail so we can share with you our top stories!