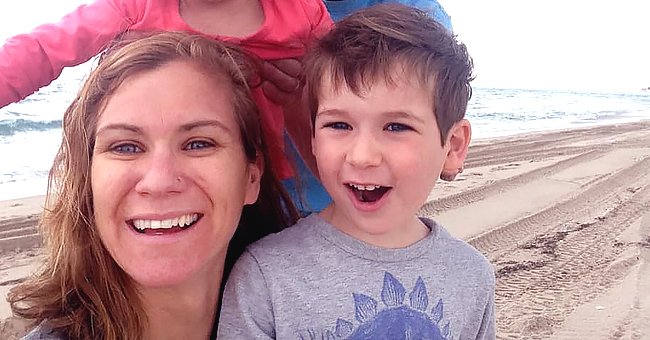 facebook.com/David McKean
Kennedy Family Holds Virtual Memorial for JFK's Late Granddaughter Maeve and Her Son Gideon

The Kennedy family held a memorial for Maeve Kennedy Townsend McKean and her son Gideon, with over 3,000 attendees on Zoom.
Because of the coronavirus pandemic, the Kennedy family had no choice but to hold a virtual memorial for Robert F. Kennedy's granddaughter Maeve Kennedy Townsend McKean and her son Gideon.
MEMORIAL THROUGH ZOOM
The memorial called "A Gathering of Love and Thanksgiving for Maeve and Gideon" was held on Saturday to honor the lives of the departed, who died in an accident last week.
Over 3,000 guests joined the video conference that utilized the application Zoom as the current circumstances can't allow social gatherings.
Maeve's sister and brother-in-law got in touch with Zoom to make the virtual memorial possible. The service included readings, songs, and prayers for the mother and son. Mark Bailey, Meave's aunt's husband, said:
"While we're not in the same space, we can't hug or kiss; we're not physically with each other, they're still with us."
VIRTUAL CEREMONY
The service began with Bailey's opening words, followed by a performance of "Hallelujah" by the Rodean School Choir.
Maeve is survived by her husband David, and two children, seven-year-old Gabriella and two-year-old Toby.
Maeve's husband David held their son as he gave his eulogy. "I had a crush on Maeve from the moment I met her. We said that we loved each other after dating for two weeks," he shared before continuing:
"I've been going back through old letters and we were talking about growing old together before we'd ever even moved into our first apartment. The intense love never dulled at all."
David went on to share their growing love that conquered challenges and manifested in their children throughout the years.
Maeve's mother, Kathleen Kennedy Townsend, also spoke a few words about her daughter and grandson that highlighted the beautiful personality of the 40-year-old. She said:
"Meave wanted to make life less difficult for her friends, for her family, and for all the world, and she always wanted to soar."
Videos were combined by Meave's family and friends to be played during the ceremony, followed by a performance of "Amazing Grace" by Natasha Bedingfield and Kenny Chesney.
MAEVE AND GIDEON'S TRAGIC DEATH
Maeve and her eight-year-old son were found more than 24 hours after they went missing from the Chesapeake Bay to retrieve a ball, which landed on the water.
The mother and son were playing kickball before accidentally kicking the ball to the water. The two then decided to get on a canoe to retrieve their ball.
However, the tide and wind were strong and took the pair beyond the protected cove. Later that evening, the Coast Guard recovered the canoe, with no signs of Meave and Gideon.
Maeve is survived by her husband David, and two children, seven-year-old Gabriella and two-year-old Toby.
Please fill in your e-mail so we can share with you our top stories!