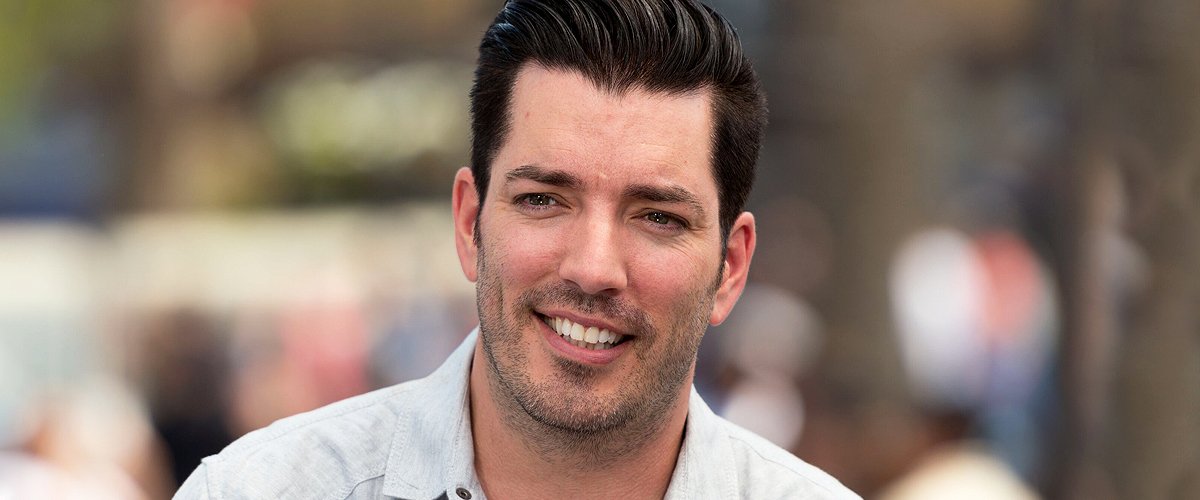 GettyImages
Jonathan Scott from 'Property Brothers' Recalls Instant Chemistry with Zooey Deschanel on Their First Meeting
Jonathan Scott and Zooey Deschanel's relationship has quickly become a favorite of the fans and the media in the past months. The HGTV star and the actress met while filming for carpool karaoke, and sparks flew instantly.
"Property Brothers" star Jonathan Scott and "New Girl" alum Zooey Deschanel have been melting hearts with their public displays of affection and fun-loving relationship on social media for the past four months.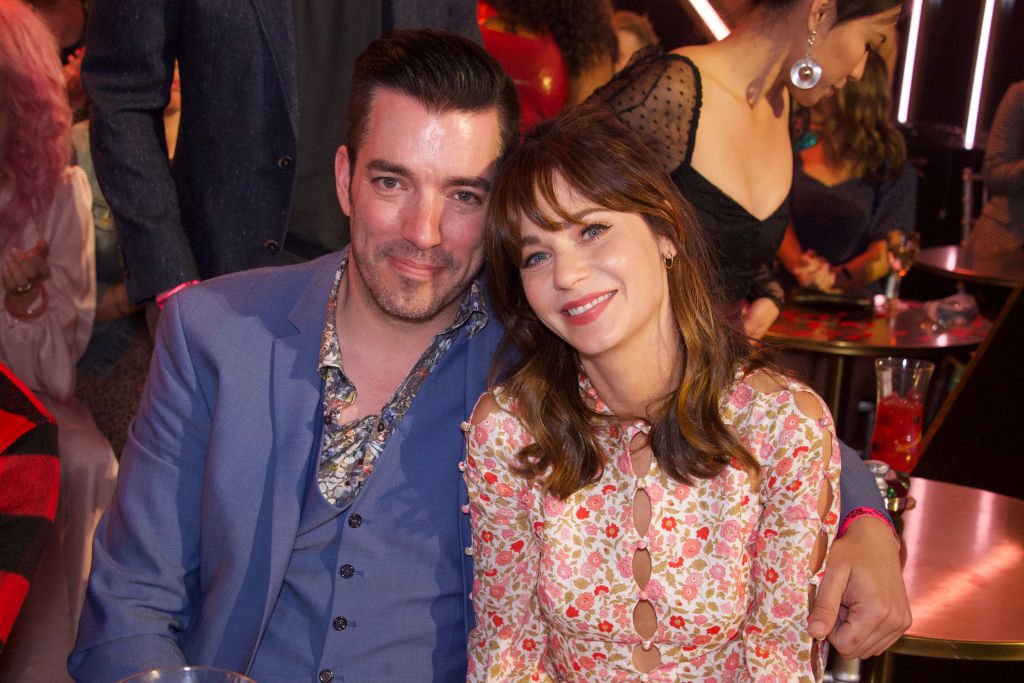 Zooey Deschanel and Jonathan Scott attend "Dancing with the Stars" - "Movie Night" - Lights, camera, action!, September 20, 2019 | Photo: GettyImages
The pair is currently social distancing together amid the COVID-19 pandemic to help stop the spread of the virus, and Scott has claimed he couldn't have chosen a better partner to be on lockdown with.
It's been only seven months since they started dating. Still, Zooey and Jonathan have developed such a sweet bond that the "Property Brothers" star didn't shy away from talking about the possibility of marriage with the actress.
ATTRACTION AT FIRST SIGHT
Jonathan and Zooey met back in August 2019 while filming an episode of James Corden's "Carpool Karaoke" web series alongside their respective siblings, Drew Scott, and Emily Deschanel.
Like many other couples, Zooey and Jonathan are now staying at home and trying to make the best out of social distancing.
In the episode, Zooey took the wheel and had Jonathan as her co-pilot, while their siblings shared the backseat.
According to Jonathan, there was "instant chemistry" between him and Zooey from the start, as he recently revealed in an interview with Access Hollywood from his home:
"We just started chatting and laughing, and we have a strange amount in common, and it was great."
As for what they have in common, Jonathan mentioned Zooey's equestrian background and how he's been riding horses his whole life, their music tastes, as they both love the '70s, and their food tastes among many other things.
"It's impressive when you have these many things in common," Jonathan added. "They say that opposites attract, and I do believe that. But it's so much easier when things are all aligned."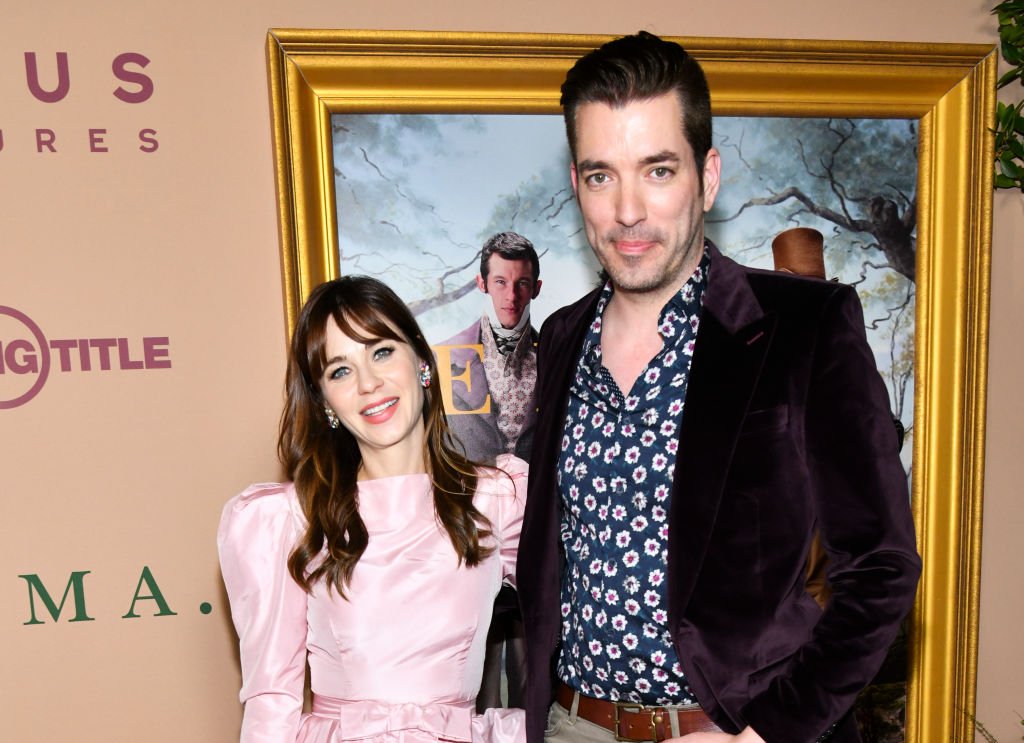 Zooey Deschanel and Jonathan Scott attend the premiere of Focus Features' "Emma." at DGA Theater on February 18, 2020 | Photo: GettyImages
THE DEVELOPMENT OF THEIR RELATIONSHIP
Jonathan and Zooey became friends after shooting "Carpool Karaoke," but they quickly realized there was something more to their relationship.
Then, in September 2019, news broke that Zooey was divorcing Jacob Pechenik after four years together and that they had been separated for a few months before making the announcement.
By October 2019, Zooey and Jonathan made their relationship Instagram official by posing alongside Drew and his wife Linda Phan on a spooky date at Universal Studios' Halloween Horror Nights in Los Angeles.
Talking to US Magazine a week before that, Jonathan revealed that he was seeing someone, and although he didn't mention her name, he said that he was caught off guard by the lady, but it was "definitely a pleasant surprise."
The following month the adorable couple celebrated their first Thanksgiving together, and Zooey was Jonathan's date to his brother J.D's wedding celebration.
That same month, they made their red carpet debut at the Critics' Choice Documentary Awards in Brooklyn, New York.
Jonathan ended 2019 with a series of selfies alongside Zooey shared to Instagram that he sweetly captioned,
"Once in a lifetime you meet someone who changes everything."
LIFE DURING QUARANTINE
Like many other couples, Zooey and Jonathan are now staying at home and trying to make the best out of social distancing by engaging in creative ways to keep themselves and fans entertained.
The 41-year-old HGTV star had only praises for his girlfriend while talking to People magazine, explaining that she's the best person to be on quarantine with because she's a great cook and a musician.
Jonathan also revealed that Zooey is a great hairstylist, as she cut and dyed his hair "better than I think the salon could do it."
"I think we're just taking it one day at a time here, and it's a crazy thing nobody would have predicted," he added. "But I'm glad that I'm with somebody that I love and somebody who's so talented."
On the other hand, while talking with Access Hollywood, the interviewer told Jonathan he should definitely marry Zooey because she's the one for him.
The contractor didn't deny the possibility and only said that he indeed had never felt the way he feels with Zooey with anyone else in the past.
Please fill in your e-mail so we can share with you our top stories!