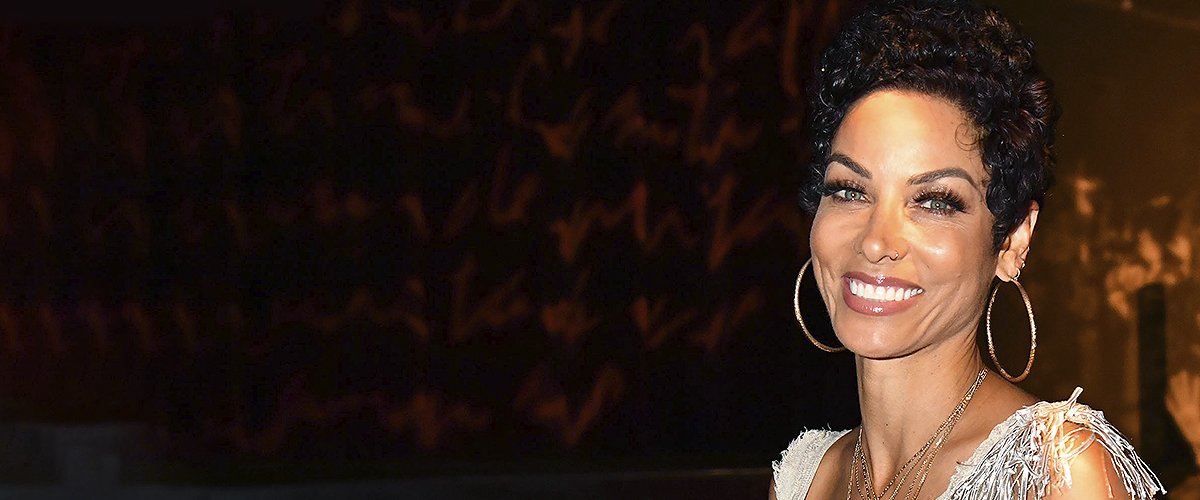 Getty Images
Nicole Murphy's Life 14 Years after Her Divorce from Eddie Murphy

Nicole Murphy's life after her divorce from comedian Eddie Murphy has been incredibly eventful.
Eddie Murphy and Nicole Murphy have been divorced for 14 years, and since then, the stunning model and entrepreneur has hit the headlines as the protagonist of several scandals.
The beautiful former model is a show-stopper at 52, as lovely, or lovelier, than she was as a bride of 25.
Stratos swindled Nicole out of $10 million of her divorce settlement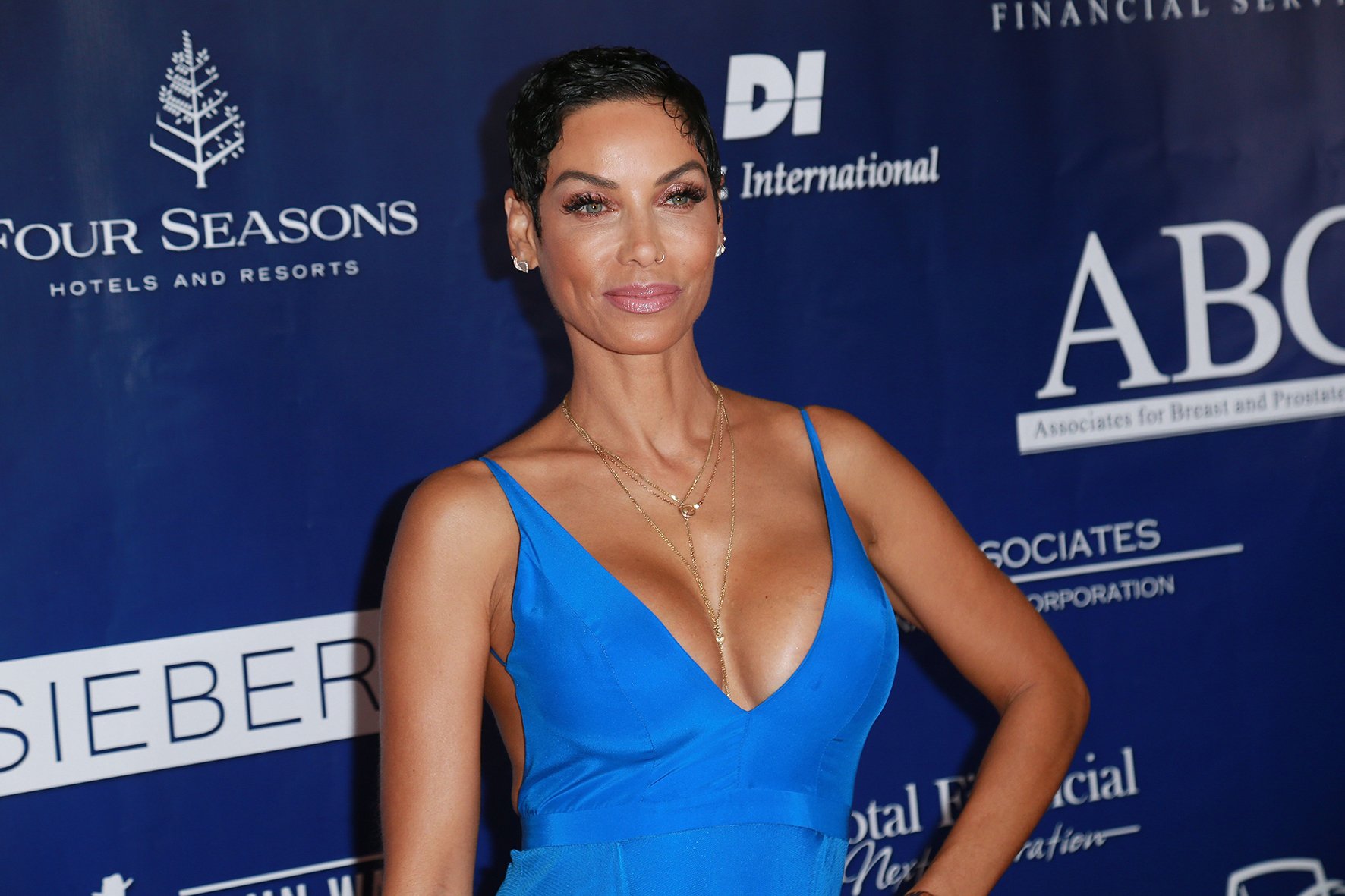 Nicole Murphy at the 28th Annual Talk Of The Town Gala in 2017 in California | Source: Getty Images
MEETING EDDIE MURPHY
The then-Nicole Mitchell met Murphy at the 1988 NAACP Image Awards show, and it was love at first sight.
Murphy was then one of the biggest stars in Hollywood and Nicole a fêted international model walking the runways for Chanel, Valentino, Yves St. Laurent, and Ungaro.
A LAVISH WEDDING
The couple moved in together and welcomed their first child, Bria, in November 1989. In 1993 Murphy and Nicole were married in a lavish ceremony in the Grand Ballroom of The Plaza Hotel in New York.
The wedding cost the comedian a breathtaking $1.5 million -- the equivalent of approximately $2.6 today. That cost was apart from the price of the bride's custom-made gown.
Nicole, attended by her tiny daughter Bria as the flower girl, walked down the aisle in an extravagant low-cut and off-the-shoulder wedding gown with a 12-feet-long cathedral train.
The dress and the veil were lavishly embroidered with pearls and Austrian crystals, and appliqued with rosettes of priceless, handmade French Alençon lace, as was the veil.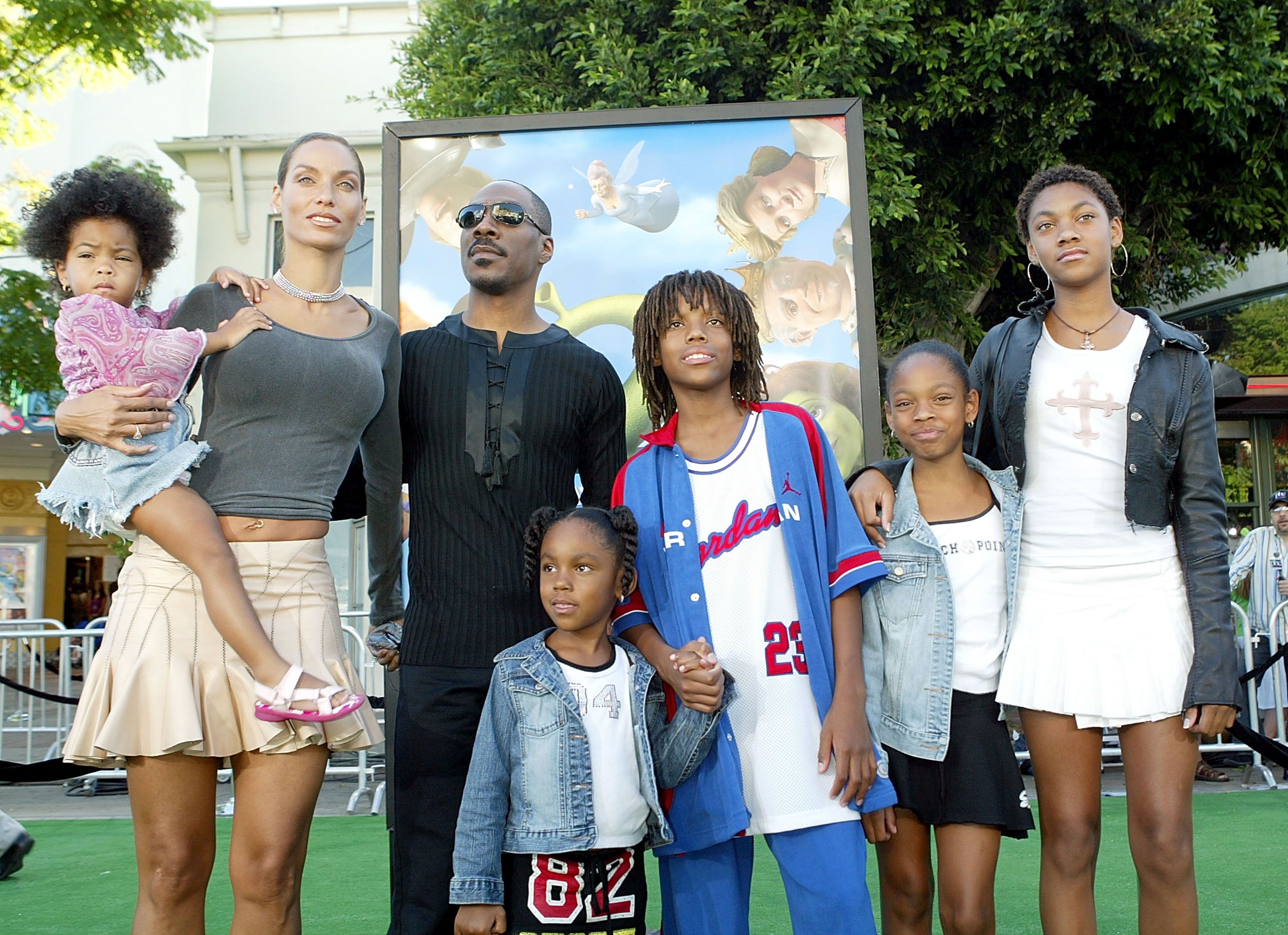 Eddie and Nicole Murphy and family at the Los Angeles premiere of "Shrek 2" in 2004 | Source: Getty Images
BUILDING A FAMILY
Over the next years, the Murphys welcomed another 4 children: Myles, 27, Shayne, 25, Zola, 20, and Bella, 18. But in August 2005, when their youngest was just 3, Nicole filed for a divorce.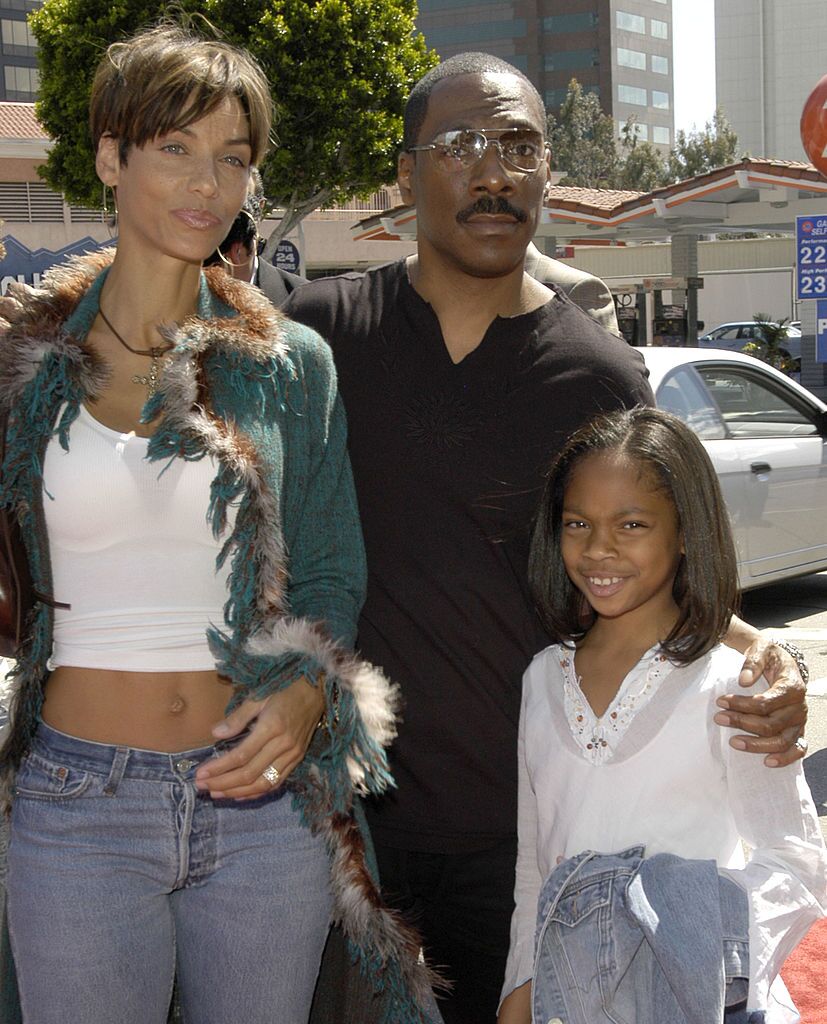 Eddie Murphy with his wife Nicole Mitchell and daughter Shayne at the premiere of "Daddy Day Care" in 2003 in Los Angeles | Source: Getty Images
DIVORCE FROM EDDIE MURPHY
The divorce was settled on amicable terms, and Nicole received a breathtaking $15 million from Murphy. He stated:
"The welfare of our children is our main concern and their best interest is our first priority."
SWINDLED
Unfortunately, Nicole didn't get the chance to enjoy her settlement money. A childhood friend Nicole trusted completely, Troy Stratos, offered to help her invest her money. Unbeknownst to the former model, Stratos was a conman.
Stratos swindled Nicole out of $10 million of her divorce settlement, and in addition, mortgaged her home and her mother's, taking in another $1 million at her expense. Nicole revealed:
"All along, he was just there to steal my money. He was there to steal my children's money. He ruined my life."
In 2016, Stratos was brought to trial for his crimes. He was proved to have conned more than $43 million from several people, including his childhood friend, Nicole.
The presiding judge, Justice Troy L. Nunley sentenced Stratos to 22 years in federal prison. To Stratos' appeals for mercy, Nunley replied:
"He's not sorry for what he did. He's sorry he got caught. You know what he'd be doing right now if he hadn't gotten caught? Defrauding someone."
A BUSINESSWOMAN
Nicole rallied from the blow and started up several business endeavors. With the collaboration of stylist friend Yolanda Brady, Nicole parlayed her experience in the world of fashion into a jewelry line, "FLP Jewelry Design."
Nicole launched a beauty care line in 2018 named Zobela, a series of antiaging products that are made of natural ingredients, without synthetic coloring agents or fragrances.
A SINGLE WOMAN
But if Nicole has made a success out of her professional life as a businesswoman, her personal life has been plagued by a succession of scandals involving married men.
Actress LisaRaye McCoy has accused Nicole of having an affair with her then-husband, Michael Misick, the former prime minister of the Caribean paradise archipelago, Turks and Caicos.
Nicole dismissed the allegations, but the next scandal came with photographic evidence: a paparazzo's snap of the former model kissing married director Antione Fuqua in an Italian hotel in 2019.
A "FRIENDLY HELLO"
Initially, Nicole sought to dodge the bullet, claiming the clearly intimate moment was no more than a "friendly hello," but would later come clean on "The Wendy Williams Show." Nicole apologized to Fuqua's wife of 21 years, Lela, saying:
"It was a moment where I should've thought more through the situation, made better judgments, you know, so it's something that I apologize for."
The incident damaged Nicole's image and she was branded a "homewrecker" by many, with floods of accusations and unpleasant posts targeting her on social media.
Since then, Nicole has been concentrating on her family and enjoying her new granddaughter, Evie Isla Murphy, who was born in October 2019 and promises to be as beautiful as her grandmother.
Please fill in your e-mail so we can share with you our top stories!