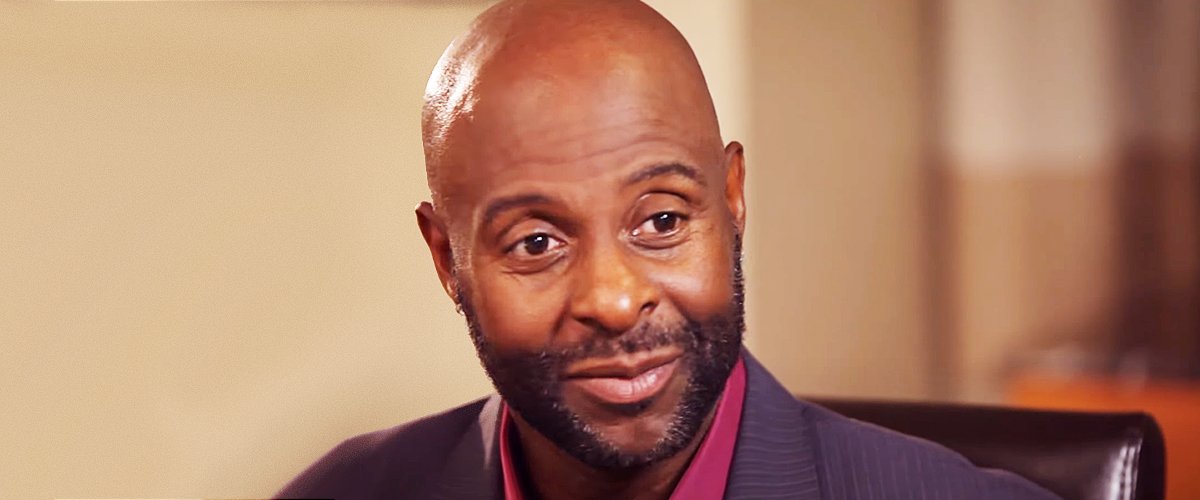 youtube.com/Graham Bensinger
Jerry Rice Has Four Grown-Up Children — a Glimpse into the Legendary NFL Star's Family
Jerry Rice Sr. is often regarded as the greatest wide receiver in NFL history. He has received many accolades throughout his more than two-decades-long career, and now its time for his kids to continue his legacy.
Jerry Rice was the San Francisco 49ers's 16th pick on the first round of the 1985 NFL draft, but his selection was almost by luck.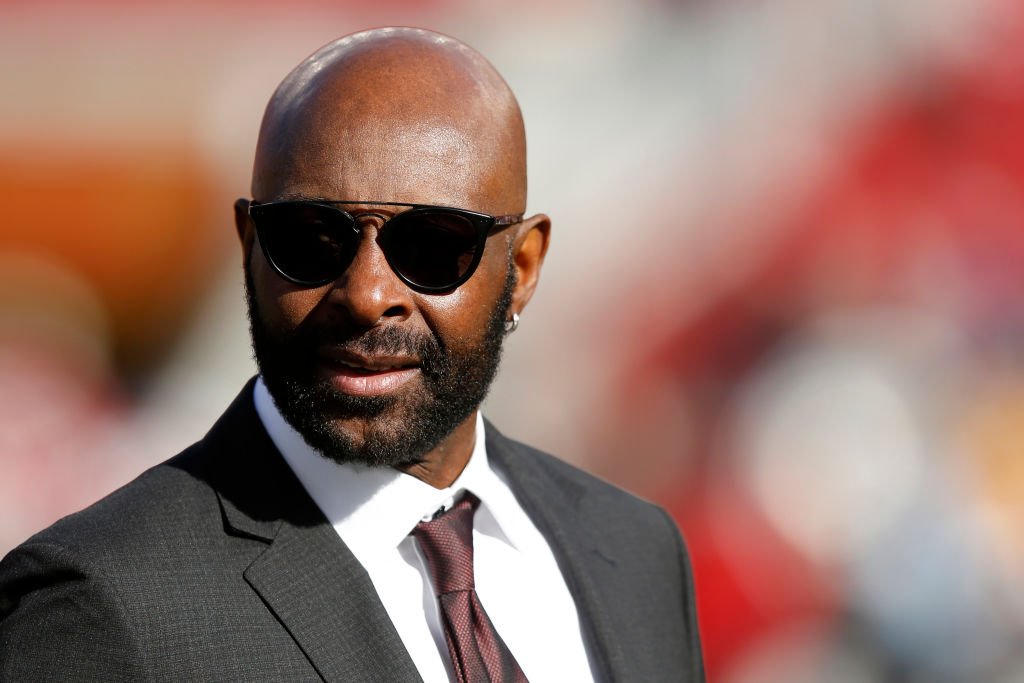 Jerry Rice walks on the field prior to the NFC Divisional Round Playoff game between the San Francisco 49ers and the Minnesota Vikings at Levi's Stadium on January 11, 2020 in Santa Clara, California. | Photo: GettyImages
RICE'S CAREER OVERLOOK
Bill Walsh, who was then the 49ers coach back then, was watching TV to keep with college scores the night before a game when he saw a highlight reel with Rice's best scores with the Mississippi Valley State team.
Brenden didn't grow up under the same roof as his half-siblings, and he didn't have a proper relationship with his father.
Walsh became interested in Rice immediately, and on the drafting day, he made a deal with the Patriots, trading his team's first two round picks for their first-round choice.
Although he had a rough start, Rice didn't disappoint. He went on to win three Super Bowls with the 49ers, was selected to the Pro Bowl 13 times, named All-Pro 12 times, and still holds several NFL records.
Throughout his 20 years on the league, Rice played 16 seasons with the 49ers, four with the Oakland Raiders, and also played six games with the Seattle Seahawks during the 2004 season.
He retired in 2006 after signing a one-day contract with the 49ers so that he could retire as a member of the team he spent most of his NFL career with.
Rice was inducted in the Pro Football Hall of Fame class of 2010—alongside players like Emmitt Smith and John Randle—on his first year of eligibility and is still considered one of the best NFL players in history.
MEET JERRY RICE'S FAMILY
Jerry met his first wife, Jacqueline Bernice Mitchell, while she was a high school senior, and he was a football college star.
Despite their age difference, Jerry saw something in Jackie, and after dating for three years, they married on September 8, 1987.
The couple went on to have three kids: son Jerry Rice, Jr., born in 1991, and daughters Jacqui Bonet, born in 1987, and Jada Symone, born in 1996.
Jerry is also the father of Brenden Rice, a son who was born out of wedlock during his marriage to Jacqueline, whom he shares with a woman named Jackie Edwards.
Jacqueline filed for divorce in 2007, and the proceedings were finalized in 2009. Jerry started dating Latisha Pelayo in 2008, and they finally tied the knot after 11 years together on October 21, 2019.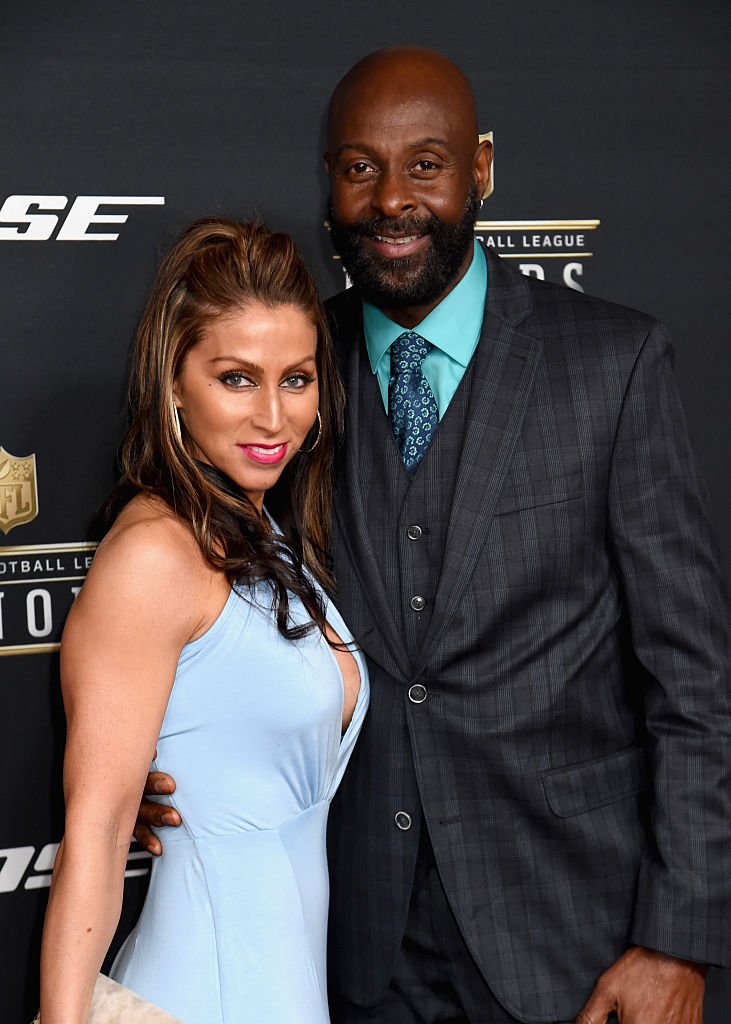 Latisha Pelayo and Jerry Rice attend the 5th Annual NFL Honors at Bill Graham Civic Auditorium on February 6, 2016 in San Francisco, California | Photo: GettyImages
JERRY RICE JR.
Jerry Jr., like many other football stars' children, tried to follow his father's steps into the sport. He's 28 years old and a wide receiver, like Jerry Sr.
After graduating from Menlo School, Jerry Jr. played college football at UCLA for three seasons before transferring to UNLV, where he also pursued his masters' degree.
Jerry Jr. tried out for the Baltimore Ravens and the San Francisco 49ers but went undrafted during the 2014 NFL draft.
He signed a contract with the Washington Redskins but tore the labrum in his left shoulder before he had the chance to show off his talent on the field.
Jerry Jr. was waived by the team in 2015 and went on to sign a contract with the Canadian team Montreal Alouettes. However, the team released him after only one year on their training camp roster.
These days, Jerry Rice Jr. is a real estate agent working with Compass in the Bay Area. He's constantly reminiscing about his football career on Instagram.
JACQUI BONET
The oldest of Jerry Rice's children, Jacqui, tried to break into the music industry under the stage name Qui. She released three songs and music videos in 2015, but then went on to work in real estate.
Then, in 2017, the Georgetown University graduate created Tressley, an online marketplace where users can buy and sell hair extensions and hair products.
She's also the co-founder, alongside her father, of G.O.A.T Fuel, an energy drink and lifestyle brand that offers "health-forward products to help consumers fuel the best version of themselves."
Jacqui is dating songwriter and business partner Trevion "Tempo" Stokes, whom she has called her "twin flame" and her "ride or die."
JADA SYMONE
The youngest of Jerry's children, Jada, made headlines in 2018 when she accused her ex-boyfriend, NFL player Jeremy Liggins, of domestic violence.
According to TMZ, the young couple had a night out clubbing, and afterward, Jada confronted Jeremy about other women approaching throughout the night.
At some point, the discussion turned physical, and Jada called her mom, who called the police. However, no arrests were made or criminal charges filed against any of the parts involved.
When asked for comments at the time, Jada claimed she didn't want to discuss the situation and said she was taking her time to heal both mentally and physically.
Jada is a University of San Francisco graduate, a financial consultant, and she's also involved in the G.O.A.T Fuel company with her father and sister.
BRENDEN RICE
Brenden didn't grow up under the same roof as his half-siblings, and he didn't have a proper relationship with his father for most of his life.
That started changing a couple of years ago, as Brenden showed his talent on the field as a three-star wide receiver playing with Hamilton High School in Chandler, Arizona.
Brenden says his relationship with Jerry went from, "Yeah we talk but nothing too close" to being, "hey, what's up" anytime throughout the day.
The 17-year-old promising football star is conflicted about carrying his father's last name. On one side, he understands that it is a blessing, and he's fortunate, but on the other, he hates comparisons.
"I do not want to be recognized as just Jerry Rice's son, I want to be recognized as Brenden Rice," he told Cronkite News.
Brenden committed to the University of Colorado's 2020 class last year. He claims he likes the school's history and coach Mel Tucker's vision for the team.
Please fill in your e-mail so we can share with you our top stories!