Jay Cutler's 6-Year Marriage to Kristin Cavallari Amid News of Their Divorce — inside Their Journey
Married since 2013, the two celebrities had a rocky and unorthodox love story, but now they have decided to part ways for good and have made their divorce public.
On April 27, 2020, 36-year-old former NFL star Jay Cutler and his former wife 33-year-old actress and reality TV personality Kristin Cavallari took to their respective Instagram accounts to share the sad news of their divorce.
The former husband and wife were married for more than 6 years before Cutler filed for divorce sometime between April 7 and April 21, in Williamson County, Tennesee, where they had lived with their children since August 2018.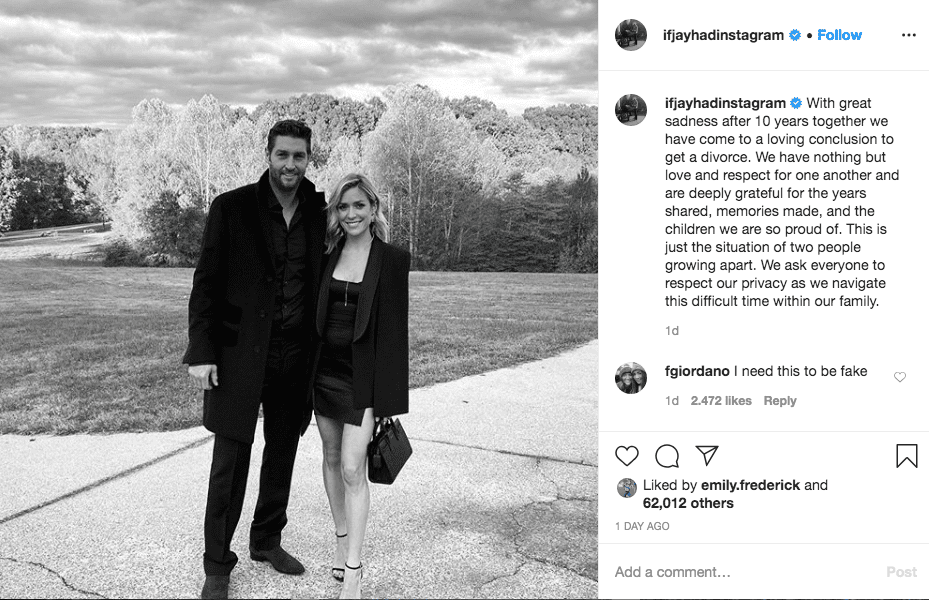 Both Cutler and Cavallari shared the same message on their feeds, writing:
"We have nothing but love and respect for one another and are deeply grateful for the years shared, memories made, and the children we are so proud of."
Here is everything you need to know to better understand how this love story unfolded until it reached this dramatic ending.
BAD TIMING
Before they even met, it was Cutler that made the first move to contact Cavallari, reaching out to her through her publicist after seeing her on TV (his sisters reportedly were fans of "Laguna Beach").
As Cavallari later recalled, she didn't even know who Cutler was, and had to look him up on the Internet after learning about his invitation to fly her to Chicago for a date.
Cavallari was living in Los Angeles and in the middle of filming "The Hills," so the fact that Cutler was living in Chicago was enough for her to discard any romantic relationship with him, and she rejected his offer.
ROMANCE
But to Cutler's luck, Cavallari traveled to Chicago not long after his failed attempt at asking her out, and she attended a Bears game with her mother, who convinced Cavallari to meet the football player once the game was over.
As Cavallari shared in her 2016 book "Balancing in Heels," the two had great chemistry right away, and two nights later they started to see each other. Soon, the two continued their relationship long-distance. 
The TV star found herself flying back to Chicago every two weeks to meet her beau, who reportedly texted and emailed her when they were apart.
CALLING IT OFF
Cutler was so taken by Cavallari that in April 2011, after eight months of dating, he proposed to the actress. She said yes, but in July of that year, it surfaced that the engagement had been called off.
Although it was initially reported that it was Cutler who unexpectedly "dumped her out of nowhere," Cavallari shared in a 2013 interview that it was she that broke up with him "because some things needed to change."
Apparently, Cavallari just wanted to send a strong message to Cutler, and after only three weeks, the two got back together and sought the help of a therapist. The actress later credited the specialist for "saving [their] relationship."
SECRET WEDDING
To disorient their fans a little more, after Cavallari and Cutler solved their communication problems the two went on to marry in secret in June 2013, as Daily Mail reported at the time.
The couple tied the knot at the Woodmont Christian Church in Nashville, Tennesse, in an intimate celebration. 150 guests were invited to the reception at Houston Station.
According to People, taking the step to become parents and welcoming their firstborn in August 2012 convinced Cavallari that she "wanted the security of a legal union" for the baby.
CHILDREN
Cavallari and Cutler's first son Camden Jack was followed by another boy that they named Jaxon Wyatt, born in May 2014. The party of five was complete with the arrival of the couple's only daughter Saylor James in November 2015.
The estranged couple has always been very protective of their children's identities when it comes to sharing images on their social media and given their young ages there is little to know about them.
VERY CAVALLARI
Cutler retired from professional football in 2017 after 12 seasons in the NFL, and as much as he enjoyed dedicating to his family full-time for a while, he had to think of his next professional move, which he did by following his wife's steps.
With "Very Cavallari," which debuted in 2018, Cutler succeeded as a reality TV star alongside Cavallari, and he rapidly became a fan favorite.  
The reality show ran for three seasons, and as Bustle was quick to point out, no announcement of a Season 4 has been made by E! network, which could be related to the impending dissolution of the couple's marriage.
PROBLEMS
Cutler and Cavallari's divorce filing shouldn't be so surprising, since just a few days before, Cavallari opened up about the problems they were facing in their marriage in a clip from an episode of the series, titled "Uncommon Joe."
But as much as Cutler might apparently be doing right, Cavallari admitted in the segment that she wasn't happy with how things were actually going in the relationship, explaining:
"From the outside, like, things are so perfect and things are so great. But actually, like, they're not. And that sucks. It sucks."
20 days after the comment was aired, and upon their return from a vacation trip to the Bahamas, the couple announced their divorce, with Cavallari later admitting that she and Cutler actually separated on April 7, 2020.