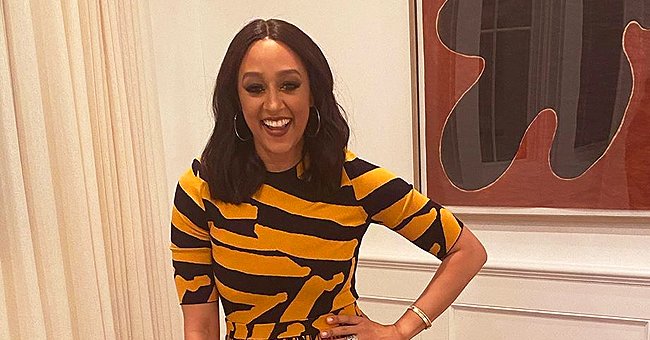 Instagram/tiamowry
Tia Mowry of 'Sister, Sister' & Daughter Cairo Smile in Photo as They Wish Fans a Good Week
Tia Mowry from 'Sister, Sister' sent her fans a positive message as she wished them a wonderful week as she posed with her daughter and showed off their beaming smiles.
Tia Mowry decided to start the week by spreading some positivity when she posted a selfie of herself and her daughter Cairo Hardrict. In her caption, she said:
"Say #cheese ? We want to wish everyone a good week! Ps, she is her daddy's child. @coryhardrict #week #safe at #home #quarantine."
Tia and Cairo looked quarantine comfortable and yet stylish in their trendy outfits. Cairo was dressed in a white embroidered spaghetti dress, and Tia opted for a black pinstriped top.
The mother of two accessorized her look with chunky gold jewelry consisting of gold hoop earrings and a layered necklace. She had her hair pulled back with a leather headband. Her husband, Corey Hardrict, shared his adoration for the picture.

Corey Hardrict commented on a Tai Mowry and her daughter Cairo Hardrict posing for a selfie | Source: Instagram.com/tiamowry
Many fans commented on how cute Cairo looked, showing off a big smile. However, some people were not convinced that Cairo's smile was genuine.
One fan said, "[Cairo] is such a mood!!! You said smile and she letting us all know she forced it just for the pic." Another fan commented on how much Cairo looked like Corey.

A fan commented on a Tai Mowry and her daughter Cairo Hardrict posing for a selfie | Source: Instagram.com/tiamowry
One thing that makes Cairo smile is her favorite food. In an interview with
BET
, Tia revealed that her daughter absolutely loved pancakes.
Tia said she has always enjoyed making pancakes for her family; it is her go-to meal, and something her daughter would eat any time of the day if she could.
Cairo is turning two-years-old next month, and it appears the terrible two's are already creeping up. Tia recently shared a hilarious photo of her toddler getting into her feminine products.
Tia admitted that at first, she tried to stop Cairo from sticking her panty liners on the shower door but eventually let her play with them because it gave her an activity to enjoy.
Tia has been enjoying spending time with her family of four while quarantined at home. However, she admitted to missing her parents and siblings.
It is reported, Tia shares a close bond with her family and is finding it difficult to not being able to see them as often as she used to. However, she has been relying on Facetime to communicate with them.
Please fill in your e-mail so we can share with you our top stories!