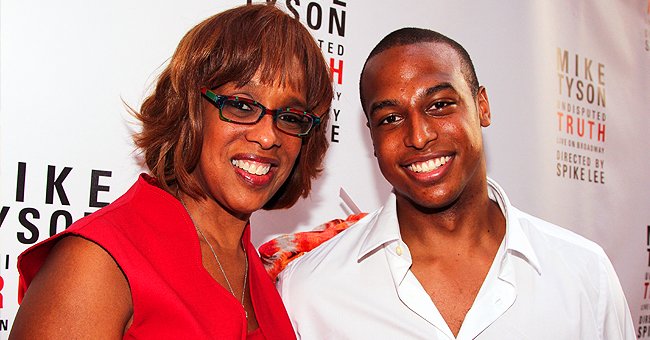 Getty Images
Gayle King Celebrates Son Will Bumpus' 33rd Birthday & Fans Say He Is Handsome
Fans gushed over Gayle King's son, and his good looks in a tribute she posted with rarely seen photos from his childhood in honor of his 33rd birthday.
CBS News co-anchor Gayle King is the proud mother of two children, Kirby and William Bumpus. While she tends to keep her private to herself, she showed off some family photos when she celebrated her only son's 33rd birthday and wrote:
"Do you know what you were doing 33 years ago today?? I do, Ido fav son @willgb3 was born & this is his first official [picture]"
In her caption, she encouraged her followers to view some of the photos from his childhood, and a more recent one, and the proud mother said, "he's changed a bit."
William's changing features since birth aren't the only thing fans noticed. Many fans commented on how handsome he looked. One fan noted that both Gayle and Will's attractiveness.

A fan commented on Gayle Kings birthday tribute to her son William Bumpus for his 33rd birthday | Source: Instagram.com/gayleking
Another fan
admitted
, "he is so handsome. I'd say hot, but you're his mom, and I'm 57, so it would be inappropriate."
According to Oprah Magazine, Gayle shares her children with her ex-husband William Bumpus Sr. She has been raising them as s single mother and affectionately calls them both her "favorite."
Gayle has been broadcasting CBS news from the comfort of her penthouse in New York. But for her son's special day, she engaged in a three-way video call on Zoom with her children in Los Angeles and San Francisco for a special tradition.
She revealed that William has been eating Red Lobster every year for his birthday since he was eight-years-old, and jokingly remarked, "it's the cheddar biscuits."
Shared pictures of their video call that showed William, Kirby, and Kirby's fiancé wearing Red Lobster bibs while enjoying the meals that had been delivered to their home.
Gayle also got in on the seafood action and ordered her favorite lobster, prawns, and biscuits from the restaurant. She joined her family for the feast by eating in front of her laptop during the video call.
Oprah is the godmother to both William and Kirby, and when they were born, she gave her best friend a unique gift.
It is reported, since Gayle'sher children were less than a year, a part in age Oprah gifted her a nanny and offered to foot the bill for as long as she needed the extra help.
Please fill in your e-mail so we can share with you our top stories!