Lamar Odom Wishes Fiancée Sabrina Parr Happy Birthday in a Sweet Post
Lamar Odom took to Instagram with an emotional tribute dedicated to his fiancee, Sabrina Parr, in celebration of her birthday.
Professional basketballer Lamar Odom has caught the love bug! The 6'10 athlete recently took to Instagram to share a touching birthday tribute to his wife-to-be Sabrina Parr.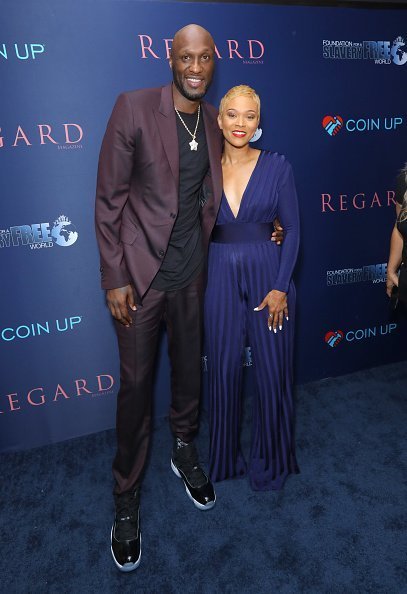 Odom shared a gorgeous photo that featured himself standing beside Parr, who stood taller because of the couch she stood on. 
They had their arms around each other and were dressed elegantly — Odom in a dark blue tuxedo complete with a black bow tie and Parr in an all-black ensemble that she topped off with equally black heels. Odom captioned the post:
"This picture exemplifies exactly how I feel about you. Lol, you're standing taller than me!! You are a giant in my eyes..."
To celebrate, Odom took Parr to a secluded cabin for the weekend. She shared pictures and videos that gave fans a hint of what went down over the weekend. 
The first picture captured an intimate moment between the two lovebirds — Odom sat on the stairs of the cabin with his head cradled by Parr, who was seated on his lap.
They declared that his statement was an insult to Khloe.
Alongside the heartwarming picture were pictures of the cabin, several bottles of wine, Parr's birthday cake, a picnic table filled with all sorts of food, Odom in the kitchen, and another joyful photo of the two. 
"Wow! What a Birthday weekend I had! @lamarodom surprised me with a weekend getaway to this beautiful little cabin in the middle of the woods! No service. No tv. Just the beautiful outdoors and each other!" Parr wrote in her captions.  
She stated that the professional basketballer blew her away with the amount of planning and commitment he put into making the day a memorable one for her.
Odom and Parr got engaged in November 2019 — speculations of their relationship began on July 29, 2019, after they were spotted in Atlanta having romantic moments together.
Since then, the relationship has gotten more serious, and Odom can't stop talking about her. Earlier in January, the NBA star took to Instagram to share a gorgeous photo of himself and Parr while having a night out in town. 
In his captions, he referred to the fitness coach as the best woman he's ever had — a statement that earned him backlash from fans of his former wife, Khloe Kardashian.  
They declared that his statement was an insult to Khloe, who stood by him during his struggle with addiction. Most strongly believe that he wouldn't be the man he is today without her intervention.