Simone Biles Poses in Chic Tiger-Print Swimsuit in a Pool Photo
Simone Biles looked gorgeous as she showed off her athletic figure while basking in the sun and posing a stylish two-piece leopard print bikini.
Olympic gymnast Simone Biles hasn't let the effects of quarantine and being restricted to her home stop her from keeping up with her rigorous fitness routine.
While staying at home, the four-time gold medallist has kept a focus on keeping fit and using her home equipment for regular training sessions.
The results of her hard work are paying off, especially during her downtime. Since self-isolating in her home, Biles has enjoyed spending a lot of time poolside.
Recently, she decided to take a dip in her pool while basking in the sun in a two-piece bikini. She had her hair in a bun and accessorized with dark sunglasses.
Some fans called her a goddess and complimented her on beautiful she looked. One fan praised her look, saying, "that's such a cute bathing suit!"
On her Instagram story, Biles showed off her two-piece leopard bikini while taking a mirror selfie before she hit the water.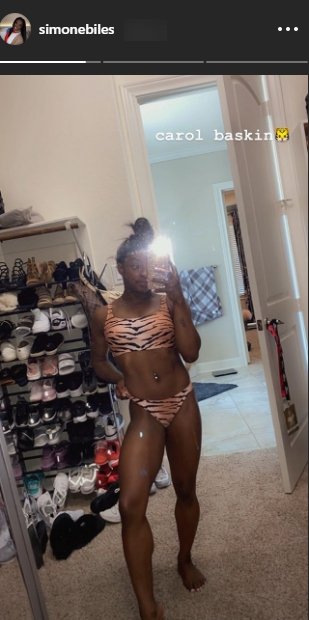 The poolside fun has given Biles some much needed time off from for her strict training schedule. Although, her plans to return have been interrupted since the cancellation of sporting events amid the COVD-19 outbreak. 
In an interview with Today, she revealed that she found out about the Olympics cancellation during a training session. She admitted to crying over the announcement but agreed that it was the right decision.
According to BBC, Biles had planned to retire after the 2020 Olympics in Tokyo. She confessed to feeling doubtful over her ability to stay on top of her game another year. However, since the postponement of the Olympics, she has backtracked on her plans and revealed:
"My motivation now is proving to myself that I can go another year, I can do it again, and I can hopefully be better than I was in Rio."
While focusing on her career, Biles is still fighting for the governing board, USA Gymnastics, to resolve the sexual assault cases against Larry Nassar.
It is reported, during a birthday message from the board, she responded by lashing out at them for not doing the right thing with the case and encouraged them to pursue a private investigation instead of the proposed settlement.