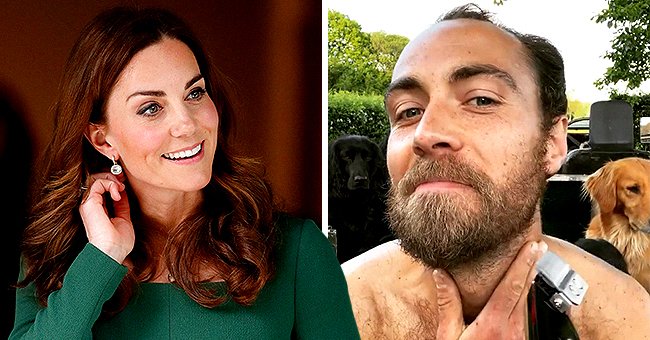 Getty Images Instagram/jmidy
Kate Middleton's Brother James Shaves Beard to Surprise Fianceé Alizee Thevenet during Lockdown

James Middleton looks completely unrecognizable after posting a video of himself shaving for the first time in years on Instagram.
James Middleton shocked everyone when he took to Instagram to share a video shaving his trademark gray and brown speckled beard.
In the video, James is seen shirtless surrounded by his dogs before showing the world what he looks like clean-faced for the first time in seven years.
JAMES MIDDLETON'S GREAT REVEAL
The drastic change came as a surprise to his fiancée Alizee Thevenet who is seen screeching in delighted laughter before backing away from Kate Middleton's brother exclaiming, "It's weird!"
"She's never seen me without a beard, so I thought it was about time she saw what was behind it."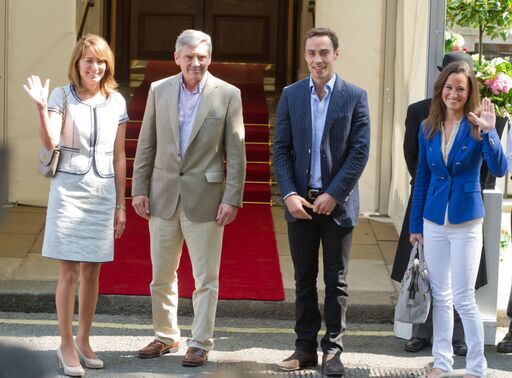 (L-R) Carole, Michael, James and Philippa Middleton depart the Goring Hotel in London on April 30, 2011 in London, England. (Photo by Ian Gavan/GP/Getty Images)
HE MADE THE FIRST MOVE
James and Alizee reportedly first met at the South Kensington Club in 2018, after Alizee, a French financial analyst, said hello to Ella, one of his many Cocker Spaniels. According to a source,
"James asked the waiter to give her a note saying: 'I never normally do this, but would you like to go for a drink with me?"
THE FIRST PUBLIC SIGHTING
It wasn't until weeks after that Alizee realized who he was and they were first spotted in public when they attended a Christmas Carol Service in London.
The two officially went public in September 2019 when James posted a photo of the two in matching sweaters, sailing.
AN ENGAGEMENT IS ANNOUNCED
In October, it was reported that they were engaged after a friend let the news slip saying, "Alizee has been wearing a beautiful sapphire sparkler."
Soon after, James shared that they were engaged with a picture showing Alizee flashing a large sapphire engagement ring.
The Duchess of Cambridge's brother, James Middleton, and his fiancée, Alizee Thevenet, had originally planned on tying the knot with a big society wedding this summer.
However due to government regulations and restrictions regarding large social gathering, the pair were forced to pospone their nuptials.
Other Royals and celebrities, including Princess Beatrice, have also had to delay the ceremonies due to the current climate
Please fill in your e-mail so we can share with you our top stories!