Meet All 6 Members of 'Destiny's Child' — Where They Are Now
Destiny's Child went through a lot of internal adjustments when is started as a group of six and ended with three members before they split in 2005. Get to know it's members today.
When the group was formed in 1990 in Houston, Texas, it went by the name "Girls Tyme." After they competed and lost on "Star Search," Mathew Knowles became their manager.
In 1997, the group's name changed to Destiny's Child and Beyoncé Knowles, Kelly Rowland, LaTavia Roberson, and LeToya Luckett signed a record deal with Columbia Records. 
Years later, LaTavia and Letoya would leave, and shortly after they welcomed Farrah Franklin and Michelle Williams. Down to a trio, the group would go on to win multiple Grammys before they split in 2005.
BEYONCÉ
Beyoncé became the group's breakout star, topping the charts with her record-breaking hits, movie roles, and sold-out tours. She married rapper, Jay Z, and the couple has a daughter, Blue Ivy and twins Rumi and Sir.
KELLY ROWLAND
Kelly's successful solo career earned her four Grammy Awards. She has gone on to judge on the "X-Factor" USA and UK, and "The Voice" Australia. 
She is married to a talent manager named Tim Weatherspoon, and have a son named Titan. Kelly revealed to PEOPLE that her son did not grow up knowing that she was in Destiny's child.
She revealed that Titan found out in 2018 when she was preparing to perform with her group members at Coachella, he explained:
"Titan didn't know anything about Destiny's Child before Coachella. All he knew was that's Auntie Bebe and that's Auntie Meme."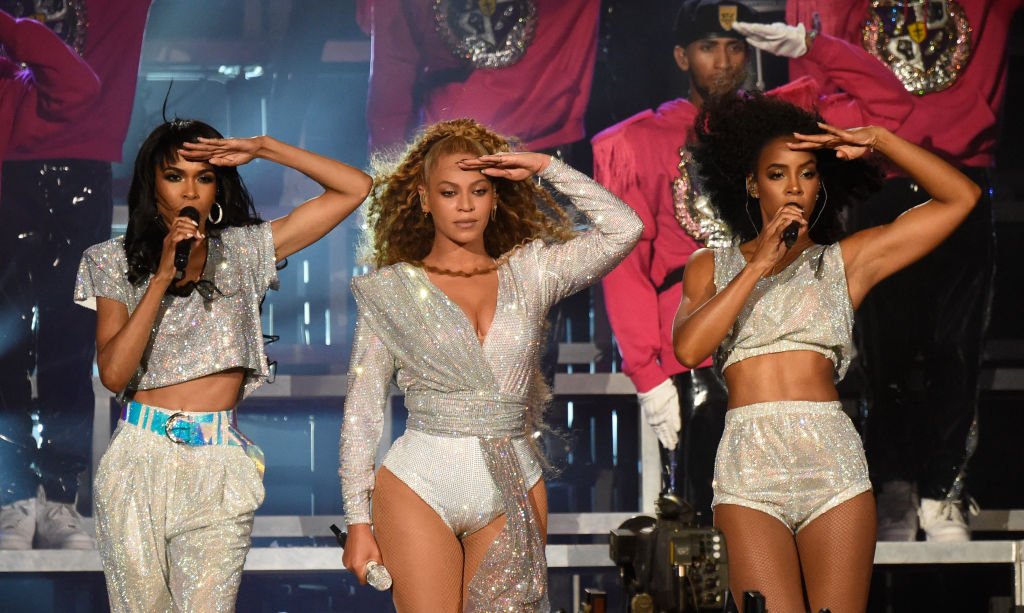 In 1999, shortly after the success of Destiny's Child sophomore album "Writings on The Wall," Letoya and LaTavia left amid claims that Mathew was showing favoritism to Kelly and Beyoncé, and was pocketing more of their profits.
LaTavia Roberson
After battling depression, sexual abuse, and substance abuse, LaTavia now has two children, Londyn and Lyric, with music producer, Don Vito.
LaTavia has not released an album since leaving the group. However, she has starred in stage plays, and in 2017 she released a single titled "Best Time of Your Life." In an interview with Billboard, she disputed any claims of tension with her former group members. 
LeToya Luckett
LeToya released her first album in 2006, "LeToya." In 2009 she released "Lady Love" and "Back 2 Life" in 2017. She has started in movies such as "Preachers Kid" and "Unsolved."
She is married to Tommicus Walker and has a daughter Gianna, and another baby on the way. They star in the reality show "T.I. & Tiny: Friends & Family Hustle."
Farrah Franklin
Farrah joined the group with Michelle to replace LeToya and LaTavia. She left abruptly after only six months.
According to US Weekly, her solo career didn't produce and mainstream songs, and she starred in a  few independent films. In 2016, she was arrested in Atlanta for public intoxication.
Michelle Williams
Michelle took her music into the gospel genre, where she scored many hits. She also starred on Broadway in "The Color Purple" and "Chicago."
After a brief engagement with a pastor named Chad Johnson, the two split in 2018. Michelle has since opened about her battle with depression. She recently appeared on the masked for an emotional reveal.
Kelly, Michelle, and Beyoncé last performed together in 2018 during Beyoncé's Coachella performance, and while there has been speculation about the group reuniting, they have all shut down the claims.