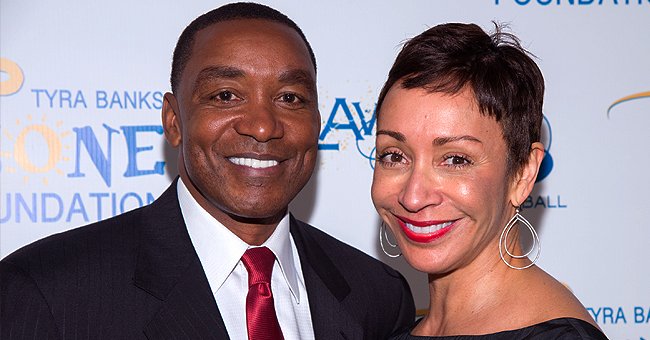 Getty images
Inside Isiah Thomas' Marriage to Lynn Kendall and His Controversial Paternity Case after an Affair

Thomas Isiah has been married to his wife, Kendall Lynn for over two decades. However, the union has had some issues, including a legal paternity battle that almost ended their marriage.
Former NBA star Isiah Thomas got married to his longtime love, Lynn Kendall, in 1985, and only a few months after, he became involved in a paternity battle that dragged on for almost a decade.
Thomas and Lynn had met at Indiana University, where the basketball star played for a team coached by Bobby Knight.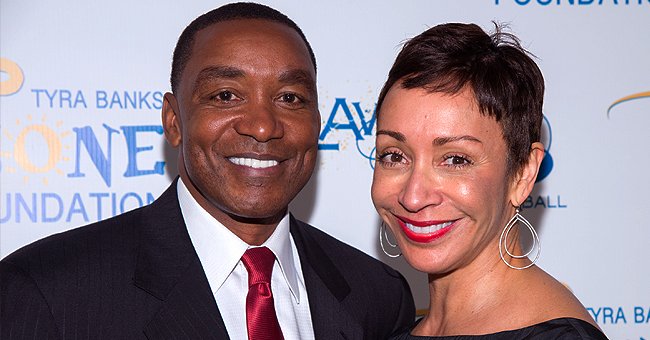 Isiah Thomas and wife Lynn Kendall at the Tyra Banks' Flawsome Ball on May 6, 2014 | Photo: Getty Images
The lovebird's bond became stronger over time, and by 1981, Isiah had gotten a four-year contract with the "Pistons," which was worth $1.6million.
However, after spending just three years with the team, Thomas was offered a decade-long contract, which was worth a total of $12 million. That same year, Thomas proposed to his girlfriend.
By July 1985, the couple had a beautiful wedding ceremony, but months later, Thomas was slammed with a lawsuit.
In the 1985 lawsuit filed against the athlete, a woman named Jenni Dones made claims about having an intimate and exclusive relationship with Thomas just months before his nuptials.
An insider involved in the case had reportedly described Dones as a beautiful young lady who wanted nothing more than to give her son, Marc Edward Thomas Dones, a fair chance at having a good life.
Kendall and her husband have managed to keep their love strong.
Although Jenni allegedly wanted Thomas to get involved in his son's life, this didn't end up being the case.
After a long legal struggle, Isiah agreed to a payment of $52,000 as well as a provision of $2764.78 for Marc every month until he turned 18. At 18, the young man was expected to receive a total of $100,000 from his father.
In 2006, Isiah's love child, Marc Edward Thomas, Dones opened up about how the star athlete had been absent in his life.
According to the then 19-year-old, he had tried to reach out to his father several times, but Isiah never responded to any of his messages.
Despite the lack of a proper relationship between the father and son duo, they share a common love for literature and, most notably, poetry.
Presently, Isiah is still married to his wife, and the pair have two children, a son named Joshua, who was born in 1988, and a daughter named Lauren, born in 1991.
Although the several controversies have rocked their marriage, Kendall and her husband have managed to keep their love strong.
Please fill in your e-mail so we can share with you our top stories!