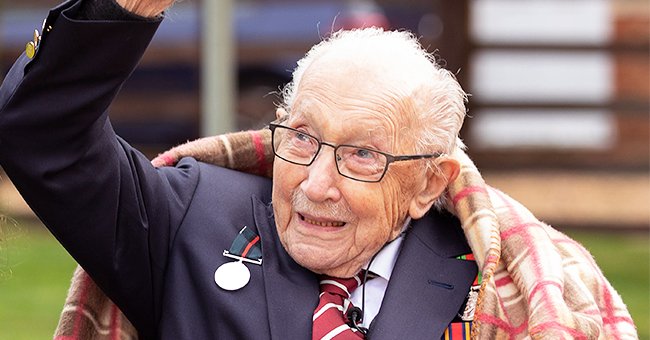 Getty Images
WWII Veteran Captain Tom Moore to Be Knighted after Raising $40 Million for Charity
A veteran of the Second World War, Captain Tom Moore, aged 100, will become a knight following his nomination by the British Prime Minister after his efforts in raising $40 million in funds for the National Health Service.
War veteran Captain Tom Moore, who served in India and Myanmar during World War II, will be knighted after he completed 100 laps of his garden before his centenary birthday in April.
The Captain wished to raise approximately $1,245 for "NHS Charities Together" by completing the laps but ended up raising $40 million after his actions inspired many people. The war veteran walked 100 laps of the 25m loop in his garden in Marston Moretaine, Bedfordshire.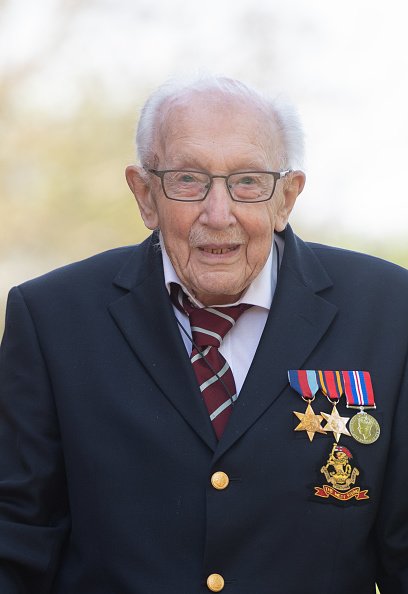 Captain Tom Moore at his home in Marston Moretaine, Bedfordshire on April 16, 2020. | Photo: Getty Images
After he completed the laps, Captain Moore was given the honorary title of colonel on his 100th birthday but is now to receive an even greater honor of knighthood.
British Prime Minister, Boris Johnson, who nominated the Captain specially for the knighthood, described him as a beacon of light through the fog of the virus.
With the knighthood added to his honorary colonel, Captain Moore would officially be referred to as Captain Sir Thomas Moore under the Ministry of Defense Protocol.
The knighthood, which got approval from Queen Elizabeth, was announced on Wednesday. Boris Johnson, in a statement, said that Captain Moore's fantastic fundraising smashed records and inspired the whole of Britain.
His story is remarkable and gave hope to many people including Rebecca Osborne.
He thanked the Captain for his efforts and described him as a national treasure. Sir Keir Starmer, the Labor Party leader, congratulated the new knight, saying he brought inspiration to millions.
Captain Tom Moore was born in Keighley, Yorkshire, and attended Keighley Grammar School. He earned an apprenticeship as a civil engineer and was enlisted in the 8 DWR (145 RAC) of the British Army at the start of World War II.
Few people knew the Captain until he captured the hearts of many after completing his walk in April. He addressed the camera after his impressive feat, telling people in difficult situations that the sun will shine on them again, and that the clouds will go away.
His story is remarkable and gave hope to many people, including Rebecca Osborne, who said that she had gotten used to seeing the COVID-19 figures going up. However, with the Captain's feat, she could watch the money go up for the NHS.
The money raised by Captain Moore would go to the NHS Charities together, an umbrella organization supporting over 140 member health charities. These charities have links with special hospitals or NHS trusts.
Most funds donated to NHS Charities Together are distributed to these smaller health charities to be used at local levels.
Please fill in your e-mail so we can share with you our top stories!