See Muhammad Ali's Daughter Laila's Impressive Boxing Skills That Prove She Has Still Got It
Laila Ali, the daughter of boxing legend, Muhammad Ali, let off some steam on a punching bag as she showed off her impressive boxing moves.
It has been 13 years since Laila Ali, the daughter of boxing legend, Muhammad Ali, and a record-breaker in her own right last took to the boxing ring for a professional match.
In the years since her retirement, Laila has continued to support the boxing industry. She has turned her love for sports into health and wellness products. 
Laila hasn't completely hung up her boxing gloves since pursuing a life outside of the ring. She also maintains a regular workout routine that is mostly inspired by her boxing roots.
In a recent video, she showed off her impressive strength and revealed that boxing is another way to help her let off a lot of steam.
With Kendrick Lamar's hit song "Loyalty" playing in the background, Laila looked focused as she swung several knockout punches on the bag in front of her.
"Great way to let off steam. May God bless you and your family," said one of her fans. Another fan praised her skill and added, "still got it, champ." Laila got into a little friendly banter with her brother-in-law Kevin Casey, who is married to her sister, Hana Ali.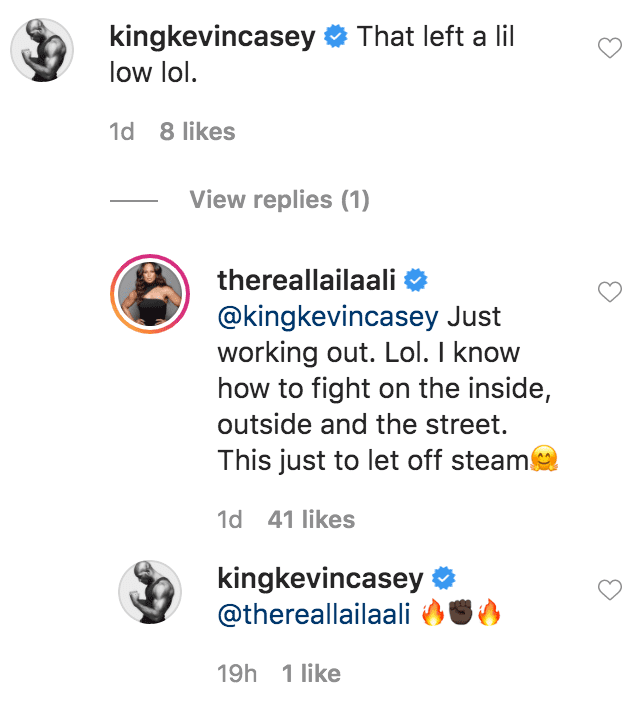 During an interview with 
WBUR-FM
, Laila revealed that her father wasn't supportive of boxing career when she started training as a teenager. 
She admitted that contrary to the idea that people assumed she fell in love with boxing by watching Muhammad, she said it was seeing a woman box for the first time inspired her to join the sport.
Laila said she started training in secret, and Muhammad found out about her boxing when she was in the process of going professional. While recalling their conservation, he told her that he wasn't supportive of women boxing.
Laila said her father was concerned about her getting knocked out during a fight. In her response to him at the time, she said, "well, if I get knocked down, I'm going to get back up, just like you did."
Muhammad's worries about Laila getting knocked out during a fight would never happen. According to The New York Times, Laila ended her career with an unbeaten record that left her undefeated.
While reflecting on her career, Laila also recalled her mother, saying that her success in boxing helped change the way her father viewed women and boxing, something she took as a major accomplishment.