NASCAR Star Bubba Wallace Wears 'I Can't Breathe' Shirt Ahead of Folds of Honor QuickTrip 500
Darrell "Bubba" Wallace joined the nationwide protesters when he wore an "I Can't Breathe" shirt and shared a picture on Twitter. 
Since the death of George Floyd in police custody, several events have occurred, including nationwide protests against police brutality and racial injustice.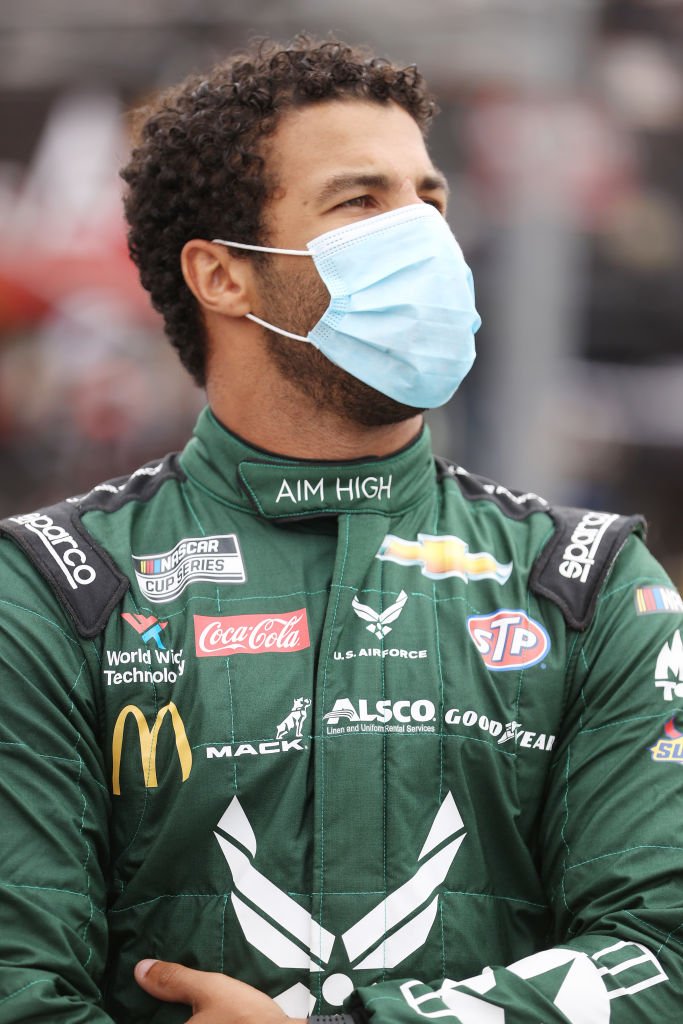 The latest to join in those protests is NASCAR star, Darrell "Bubba" Wallace, who recently shared an image of him rocking an "I Can't Breathe" shirt on Twitter.
Bubba's father, Darrell Sr., is one of the most significant parts of the racer's success as he [Darrell] was Bubba's first sponsor.
June 7, 2020
The image showed the only full-time African-American driver in the NASCAR Cup Series rocking a US-flag face mask, a face cap, tinted glasses, and the Black Lives Matter shirt.
The picture has since garnered over 2,000 retweets, 14,000 likes, and hundreds of mixed reactions from fans.
While one person applauded the professional racer for taking a stand with his shirt, another claimed that it made them "sick" to see that Bubba "was allowed to wear a shirt of segregation." 
A third person said that the 26-year-old had taken his protests too far, just as a fourth fan wrote it was a "significant" move. A fifth and sixth person noted that they loved the shirt and that it was a "class act" from Bubba. 
Another significant moment today. Bubba Wallace wearing a "I Can't Breathe/ #blacklivesmatter shirt pic.twitter.com/tXAq8qW2ta

— Alan Cavanna (@AlanCavanna) June 7, 2020
Just before he posted the image on Twitter, CBS Sports reported that the stock car racing driver had appeared on the "Dale Jr. Download" podcast where he spoke about his personal experience with police brutality.
According to Bubba, one of the most unforgettable experiences from his childhood occurred in 2003 when police authorities killed his unarmed 9-year-old cousin, Sean.
Recounting the incident, Bubba stated that he was in the gym when he heard a scream and saw his mother, Desiree, running out the door.
That experience has gone on to shape the life of the 26-year-old whom NASCAR published a six-time winner of the Gander RV & Outdoors Truck Series.
His Series wins led Bubba to become the first African-American to win a NASCAR race when he went to Victory Lane at Martinsville in 2013.
According to Heavy, Bubba's father, Darrell Sr., is one of the most significant parts of the racer's success as he [Darrell] was Bubba's first sponsor, despite his mother's initial hesitation to let him become a NASCAR star.
A moment of silence and a message from NASCAR President Steve Phelps and drivers. pic.twitter.com/jy1U48qeLX

— FOX: NASCAR (@NASCARONFOX) June 7, 2020
Bleacher Report noted that NASCAR President Steve Phelps made its stand on the issue of racism known when he addressed concerns about racism recently. 
Steve's statement, which talked about the effects of racism inside the sport and the country, was released just before Sunday's race at the Atlanta Motor Speedway.