Getty Images
Joel McHale's Wife Sarah Williams Is a Doting Mother to Their Two Sons — Everything We Know about Her
Joel McHale's wife, Sarah Williams, has been supporting her comedian husband for over two decades! The couple tied the knot only one year after their first meeting.
Born in November 1971, McHale has been involved in the entertainment industry since the mid-90s when he portrayed different roles in "Almost Live!" From that point on, he landed parts in "Will & Grace," "Spider-Man 2," and "The Onion Movie."
I got the best one out of a lot of women in the world.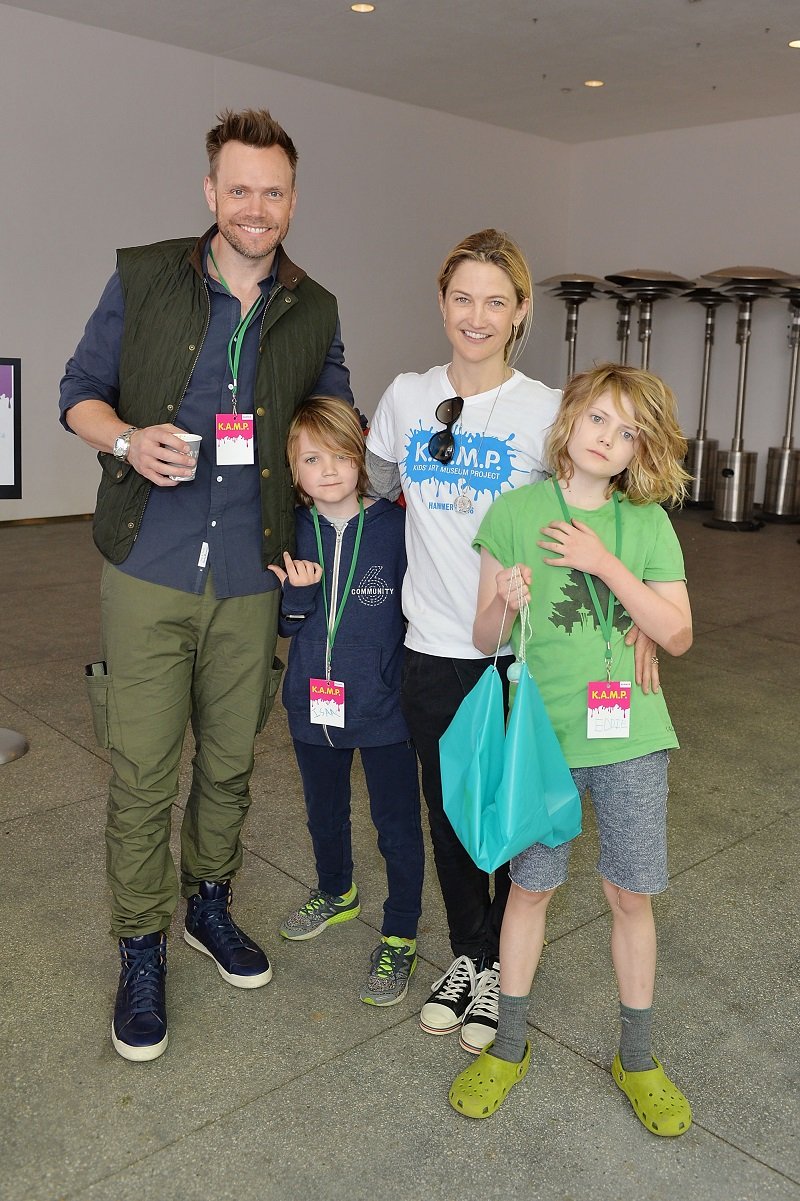 Joel McHale, his wife Sarah Williams, and their children Isaac and Eddie on May 22, 2016 in Los Angeles, California | Photo: Getty Images
JOEL MCHALE'S CAREER
In 2009, he started portraying Jeff Winger in the very successful TV series "Community." Due to his outstanding performance, he was nominated to a Critics Choice Television Award for Best Actor in a Comedy series in 2011 and 2012.
McHale was also nominated to Online Film & TV Association, Satellite, and Gold Derby awards.
Joel McHale has had an undeniably successful acting career. However, he is probably best known as a host of different programs, being "The Soup" the most famous one so far.
It was thanks to the E! TV series that McHale, who also served as a writer and producer, earned his celebrity status, making hilarious jokes out of the most absurd moments of several reality TV shows.
JOEL MCHALE'S WIFE, SARAH WILLIAMS
As per his love life, he has been married to Sarah Williams for over 20 years. Joel McHale met his wife in 1995, just one year after graduating from the University of Washington. Their relationship evolved fairly quickly from that point on as they tied the knot in July 1996.
The couple shares two sons, Eddie, 15, and Isaac, 12. Unfortunately, the birth of their first kid was filled with angst as he was born with two holes in his heart.
Thankfully, he got better after undergoing open-heart surgery. However, McHale and his wife would later discover that it was not the only health-related issue that Eddie would face. He has dyslexia.
In fact, both of Joel McHale's kids and the actor himself were diagnosed with the learning difficulty the same day.
In a conversation with Dax Shepard in his podcast "Armchair Expert," McHale revealed that, when the doctor started describing all of the symptoms of dyslexia, he realized that he had dealt with them, as well.
He admitted to being anxious while working on "The Soup" because he had to read a teleprompter and, due to his condition, he couldn't really read.
JOEL MCHALE'S WIFE HAD A MISCARRIAGE
Another setback in Joel McHale and his wife's relationship has rarely been mentioned in public. One of the only times that the "Community" star talked about it was at Dr. Drew Pinsky's 60th birthday party in 2018.
There, he confessed that his family and Dr. Pinsky were very close because he helped them after Sarah Williams had a miscarriage even though he was not their physician.
After saying that they felt very comfortable with Dr. Pinsky, who is an internist and addiction medicine specialist, McHale pointed out that his family was "forever in debt" to him.
At the moment, it is unclear when the miscarriage happened.
HE FEELS LUCKY FOR HIS WIFE
Joel McHale and his wife have definitely gone through some tough times, but they have supported each other no matter what, which is probably the reason why they are so close.
The actor once admitted that Sarah Williams was his "queen," and that the secret to keeping a marriage together for over 20 years was to "lay down and die to your spouse."
Before pointing out that he was lucky that she agreed to marry him, he said that the fact that he got "the best one" was also one of the reasons for their successful relationship. McHale added:
"I got the best one out of a lot of women in the world, so that's going to be hard for anyone to get someone better than her. Because they don't exist."
At the moment, the couple is still together and busier than ever! Due to the novel coronavirus pandemic, the actor has been homeschooling his two children while also promoting his two latest films and recording his podcast, "The Darkest Timeline," with Ken Jeong.
Fortunately, Joel McHale's wife ― or "SuperMom," as he calls her ― has been there for him and her family the whole time!
Please fill in your e-mail so we can share with you our top stories!